Newnan Theatre Company Presents YOUNG FRANKENSTEIN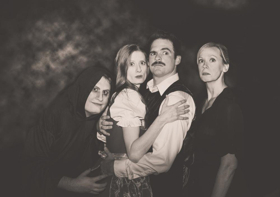 It's highly traditional that children follow in their ancestors' footsteps, but what if your grandfather was a mad scientist who stumbled upon the secret of bringing the dead back to life? Do you join the "family business" or do you stick to your life as the dean of anatomy at a prestigious New York university? Such is Frederick Frankenstein ("... it's pronounced FRONK-EN- STEEN...) in Young Frankenstein: The Musical, written by Mel Brooks and Thomas Meeker, based on the screenplay by Mel Brooks and Gene Wilder. Young Frankenstein: The Musical opens at Newnan Theatre Company on October 18, and runs through October 28.
When Frederick finds out that he is the only surviving relative of the infamous Frankenstein family, he heads to Transylvania to tie up a few loose ends, so he can come home, marry the lovely Elizabeth, and get on with his life. But when he arrives in Transylvania and meets Igor ("... it's pronounced EYE-gor..."), he suddenly finds himself torn between the simple life in New York and following in his grandfather's footsteps. The people of the village are not too thrilled with his arrival, having lived through the nightmare of a murderous creature being created in Castle Frankenstein, so they will be keeping a sharp eye on this intruder. Until one night, during a horrific thunderstorm, with the lightning flashing everywhere... well, you get the idea...
Director Tony Daniel has long been a fan of Mel Brooks. "I think Brooks is one of those rare individuals you can call a comedy genius. He has been making people laugh since he was the youngest writer on the old Sid Caesar show, 'Your Show of Shows.' When he got behind the camera, his genius only multiplied."
"Brooks has the ability to make you laugh in a way like few others ever have. It's almost like being a target for him to throw everything he can at you, knowing most of it is going to hit you somewhere."
Casting the show became one of the bigger challenges for Daniel, because, when Brooks made his classic film into a musical, he, once again, pulled out all the stops, adding dance routines as well as songs. "I am very lucky that I found some incredible people who were willing to try their best to learn how to tap dance, sing, and deliver lines, all within a matter of a couple of weeks, and they have all become 'triple threats,' singers, dancers, and actors!"
Daniel also credits Tammy Kimbell, the musical director, for all her hard work. "Tammy is a miracle worker, helping this cast find their voice and how best to use that voice onstage."
Cody Baum plays the successful young doctor who reluctantly takes up his family's tradition. "I have always been a fan of the movie, but when I heard NTC was doing the show, I jumped at the chance! I'm a relative newcomer to the company, but they've quickly become like family to me. What's better than enjoying being with family?"
Along with Baum, the show's cast includes Andrew Miller as the doctor's assistant, Igor; Megs Free as Inga, Dr. Frankenstein's "personal assistant," Michelle Mason as Frau Blucher, the castle's mysterious housekeeper, and Hannah Beth Potter as Elizabeth, Dr. Frankenstein's New York socialite fiancée. Robert Grgetic, plays Inspector Kemp, the Transylvanian constable who lives with the scars of his last encounter with a member of the Frankenstein family. The ensemble, who all play several roles, include Kelly Banks, Emma Bush, Charles Ferguson, Emily Kimbell, Kelsey Melvin, Ann Moore, Joseph Moore, Russ Moore, Eric Thomas, Emily Weiss, and Kallie Yanney.
Young Frankenstein: The Musical opens on October 18th and runs through October 28th on the NTC Mainstage. Shows start at 8 pm on Thursday through Saturday nights, and 3 pm for the Sunday matinee performances. Tickets can be purchased through the Newnan Theatre Company website, www.newnantheatre.org , or by calling the NTC office at 770.683.6282.
Related Articles View More Atlanta

Stories

Shows
More Hot Stories For You