BWW Review: EVIL DEAD THE MUSICAL is a Camp-Filled Bloody Brilliant Masterpiece at StageWorks Theatre
The cast led by Max Dalton is KILLER on every level and every sense of the word!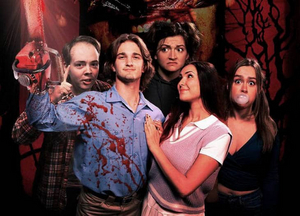 "The book served as a passage way to the evil worlds beyond. It was written long ago when the seas ran red with blood. It was this blood that was used to ink the book."
- The Voice in Evil Dead the Musical
"I Bitch-Slapped Evil with my one good hand!"
-Max Dalton as Ash in Evil Dead the Musical
-"You'll all be Dead by Dawn!"
-Katie Terres as Cheryl in Evil Dead the Musical
Somewhere in a world on a road less traveled, between the likes of The Rocky Horror Picture Show, American Psycho, Carrie, and the more recently conceptualized Beetlejuice lies the twisted campy world in which the characters of Evil Dead the Musical reside. First performed in 2003 in Toronto, this campy rock-filled musical made its transfer to Off-Broadway at New World Stages in 2006. In 2012 a production opened in Las Vegas as a 4-D Experience and complete with a 100 chair "Splatter Zone," and as of 2017 making it the longest-running theatrical experience on the strip. With Book, Lyrics, and Music by George Reinblatt, Evil Dead the Musical brought Sam Raimi's characters to life in a true blood-filled fashion. In partnership with the University of Tampa, Stageworks Theatre and Producing Artistic Director Karla Hartley made the decision to open their 2021/2022 season of Emerge with this blood-soaked campy rock-fest complete with "Splatter Zone" for the 40th anniversary of the Sam Raimi film. As theatres slowly but steadfast begin their "Emerge" out of the darkest times in recent history Karla Hartley promised one thing with Stageworks new season, "I made the conscious decision to bring you a 2021-2022 season that was big and bold. Every show this season is big. Big casts. Big sets. Big everything. Big risks. Big rewards." As I sat in the almost completely full audience on Friday's opening night, I can say with full confidence that Karla and friends over at Stageworks have done just what they promised and more. It would be incredibly remiss of you if you happen to find yourself without a ticket to Evil Dead the Musical as it is deathly good, and I'll be damned if you find something any better than this for some time to come.
The plot here is simple but complex in all its campy-goodness. Ashley "Ash" Williams, his girlfriend, and three friends decide to break into a cabin during a Spring-Break getaway none will soon forget. Upon entering the "Cabin in the Woods" Ash and his friends soon discover lots of items of history and ancient lore amidst the cabin's rustic decor. One of these being the "Book of the Dead," whose inscription and writings when read aloud evoke an evil that succumbs all that encounter it. While trying to ward off the vengeful spirits Ash and his friends must decide to fight and stay alive until dawn or allow the evil to take hold of them one by one. Filled with songs of a campy-rock score such as "Cabin in the Woods", "Houseware's Employee", "Look Who's Evil Now," and "All The Men in My Life Keep Getting Killed by Candarian Demons," this musical is filled with as much '80s-'90s camp its as if John Waters, Sam Raimi, and Stephen King had a blood-soaked necromancing love-fest that birthed a child as sick and twisted as the world in which the characters reside.
Leading the cast of dysfunctional Spring-Breakers is Max Dalton as Ash Williams. Complete with a blue-collar shirt, khakis, and work boots, Bruce Campbell better watch out for there is a new hero in town. Max completely embodies all the camp and over-the-top hero persona that is a cross between Bruce Campbell and Judd Nelson at best and will make anyone swoon with a single word. He gets several moments to show off his incredible singing chops especially in his duet "Houseware's Employee" with girlfriend Linda. The appeal here is not only his devilishly good looks and hero/jock persona but it's in the physical tour-de-force in which Ash delivers from one moment to the next. In Act 1 he has a fight with his hand that has to be witnessed for all its glory. He left it all on the stage and the physical stamina shows, and I cannot imagine another performer leading our band of misfits than the enigmatic Max Dalton. This is the kind of performance that is Best-of-the Bay worthy and will be on the top of my list for Performance of the year, Max is a bad-ass and his portrayal of Ash Williams is a devilishly good time and he should be commended for the outstanding work he presents.
As Ash's girlfriend Linda, Dylan Bange is a standout. She's the good girl next door but when given a moment to shine she can turn a head quicker than Linda Blair in The Exorcist. She is our Cady Heron of the tale if you will. Beautiful and sweet but will get what she wants no matter the cost. Dylan has an impressive vocal range and shows it off several times in the show. Her performance makes heads roll and she is a joy to watch.
Scotty, Ash's aloof and almost "Stiffler-Esque" friend played by Jaryn McCann is the comedic knockout of our tale. Every time he yells, "Stupid-Bitch" it's so funny you're almost crying from laughing so hard. His duet "What the **** Was That," is the perfect bro-camaraderie with Ash and reminiscent of George Salzar's performance in Be More Chill. His performance is so perfect and cringe-worthy you never want it to stop. His performance is so on-point with comedic levels that would make even the most seasoned comedians bow out.
Hannah Perreault's Shelly is the Karen Smith of our story. She plays dumb so well and is the perfect addition to our band of misfits. She's the girl in every scary movie that you know will be the first to die, and the campiness here is on-par with such roles as Anna Farris in any movie. She should be commended here for no scary movie, story, or sequence is complete without a Shelley and she is outstanding in every second.
As Cheryl, Ash's younger sister Katie Terres is a show-stopper. Spending most of the show in a trap door is no small feat, and every time she appears, Cheryl adds another layer to an already insane storyline. In true comedic fashion and campiness you know Cheryl purposefully goes out of the way for laughs but it works so well here. Her character has so many one-liners that you laugh every time she opens her mouth. There is even a moment where a dig is made at Sam Raimi's Spiderman fiasco. You wait with bated breath to see what she will do next. The chemistry she brings to each moment of Evil Dead is a comedic masterpiece and she should be exceptionally proud of her outstanding work here.
Hannah Bergman as Annie is a stellar knockout. Coming in as the daughter of the parents who own the cabin, who happens to know all about the "Book of the Dead" is a great juxtaposition to those already introduced to the story. Her show-stopping number, "All the Men in My Life Keep Getting Killed by Candarian Demons," is outstanding. From poise to choreography, Hannah's performance is one to watch. It's like when you go to shows such as Hamilton, or Hadestown you make sure to watch the Supporting Performers and Chorus just as much as the Leads because they add such a dynamic layer to the story being told. That is exactly the case here, and Hannah is incredible in every second.
Jamey Feshold as Ed is the perfect nerdy boyfriend. His moment of being inhabited by evil and combining it with slick dance moves makes his performance leap off the stage. From breakdancing moves and the solo, "Bit Part Demon," Jamey is triple-threat material and one to watch and should be commended for his performance.
Jake played by John Perez is the loveable back-woods countryman who wants to see the good in everything if others see it in him. His shining moment is the solo, "Old Reliable Jake." His soulful voice would make Jennifer Hudson throw her shoe. It's a breakout moment in the show and his character is a joy to watch on stage.
The cast is rounded out by a Chorus of Players (Donovan Whitney, Jason Ebbers, Ella Jurusz, Briana Lopez, and Wray Szenderski) making up several roles within the story, and the dance-heavy, "Do the Necronomicon" is like a demonic Footloose complete with a bloody send-off.
Top to bottom this cast is an outstanding group that could be on the road tomorrow traveling far and wide. Full of talent this is the best ensemble work by a company in quite some time and work that has stuck with me long after the show was over. It doesn't get any better than this.
Packed full of Talent both on-stage and off Evil Dead the Musical is a Technically- Beautiful Masterpiece that needs to be seen. Karla has assembled a team of the finest Artistic Minds to create this Devilishly Stunning world in which we traverse.
Jarrod Bray's set design is one of the most beautifully stunning sets I've seen in recent years. Karla promised bigger sets, and Jarrod delivered ten-fold. With the use of a scrim and projections to bring us into different parts of the world and the unveiling of the Cabin is so jaw-dropping you have to witness it in person. Everything from the talking animal heads to the trap door works on every level. There were so many moving pieces to this set that it makes the likes of even Hamilton look tame. Including the greenery that drapes the outside of the set creating a completely immersive experience and the Scenic Paint by Tea Roberts is the perfect rustic feel to the world in which this show is set. It's spooky and eerie in all the right ways and makes you feel secluded in the middle of the woods even as you sit in the theatre. Karla Hartley's Sound Design adds the right amount of creepy when needed and allows us to succumb to the secluded environment. Joseph Oshry created a complex and beautiful Lighting Design that helped develop a beautiful and spooky world. It's always a plus when the lighting is so strategically conceptualized that it almost becomes a character in the world itself and here is no exception. Heather Krueger's Choreography and Costume Design are stunning. Each move shows off the performer's strengths and the cohesiveness of the choreography allowed for it to flow naturally in and out of the sequence of songs. Her costumes were wonderfully designed and evoked each character in their campy fashion. I can only imagine the work it takes to remove all the blood each time. The Artistic Team behind Evil Dead the Musical deserves recognition for being one of the top technically designed shows as of late and a true marvel to uphold.
For Direction, the incredible Karla Hartley has assembled and created a show that is so seamless in design, and in execution, one can see why she has been named Best of the Bay's Best Director several times over. Karla truly knows how to navigate a world in which she has been given and such is the case here. Expertly paced, and seamlessly executed Evil Dead is an exceptional piece of Live-Theatre that will go down in memory as being one of the finest pieces seen in the bay area for some time. Matt Acquard and Karla Hartley created a stunning piece and as Assistant Director and Director make a dynamic duo and should be commended as such.
My only quibble and albeit a minor one is I wish the song list was included in the program. With the use of an incredible live 4-piece band, it made it slightly difficult at times to know which songs they were singing. Like I said a minor quibble but if one is unfamiliar with the music in the show, this would be a nice "road-map" through the woods if you will. Speaking of the live band, Musical Director Juan Rodriguez assembled a fine combo. This four-piece combo lends itself expertly well to the show and at times the band is so crisp you almost forget your hearing live instruments it's that damn good.
Again as I said earlier you would be remiss to not witness this Stunning and Devilishly executed work. Evil Dead the Musical is still with me so much in my thoughts the next day that I even could see thinking twice about vacationing in a "Cabin in the Woods." A perfect Halloween-themed spectacle with the perfect amount of blood and camp we would come to expect from its namesake. Stageworks Theatre promised BIG with its season of"Emerge" and with a stunning line-up of shows to come I have a feeling Stageworks has harnessed something great here. With Evil Dead the Musical, they have captured lightning in a bottle. Only on stage through Sunday, October 31st, head on over to stageworkstheatre.org for tickets. Come on "Join-Us!" for live theatre in full-swing with Stageworks Theatre and I promise when I tell you, you DO NOT want to miss this Bloody-Good time.
PHOTO CREDIT: Stageworks Theatre