Tampa Interviews
The latest interviews about live + streaming theatre in Tampa.
Ciara Alyse Harris of DEAR EVAN HANSEN at Straz Center
by Deborah Bostock-Kelley - February 01, 2022
, Tampa
Ciara said, 'I got this beautiful message the other day from a mom telling me her daughter felt so connected to Alana. She was crying and said, 'Mom, that's me.' That changed my whole world because I have this mission that I'm going to change a lot of the ways people think about Alana. The fans are ...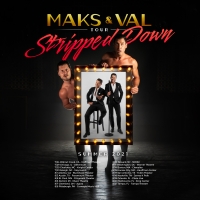 Maks and Val Chmerkovskiy Talk MAKS & VAL: STRIPPED DOWN Tour, DANCING WITH THE STARS & More!
by Chloe Rabinowitz - August 10, 2021
, Tampa
Maks and Val Chmerkovskiy are back on stage with their 'Stripped Down' tour, showing audiences a whole new side of the dancing duo. Featuring dance, comedy, and personal stories from the lives of the Chmerkovskiy brothers, the Maks & Val: Stripped Down tour will make you laugh, cry, and everything i...