SHOW
DATES
THEATRE
HOT PICK


Steel Magnolias


On stage at Powerstories Theatre from September 15 through October 2 is the poignant tribute of a brother to his deceased sister, Robert Harling's STEEL
9/15 - 10/2/2022


Powerstories Theatre
2105 W Kennedy Blvd, Tampa, FL 33606
Tampa

Picasso at the Lapin Agile


In his first comedy written for the stage, the original wild and crazy guy plays fast and loose with fact, fame, and fortune as two
9/14 - 10/9/2022

Straz Center for the Performing Arts
1010 N Macinnes Pl
Tampa

Twelfth Night


Shakespeares hilarious tale of love, cross dressing, gender-misidentification, secret crushes, and sexual chicanery kicks off St Pete Shakes 22-23 season. Our production is directed by
9/30 - 10/9/2022

St Petersburg Shakespeare Festival
Williams Park
St Petersburg

Twelfth Night


Shakespeares hilarious tale of love, cross dressing, gender-misidentification, secret crushes, and sexual chicanery kicks off St Pete Shakes 22-23 season. Our production is directed by
9/30 - 10/9/2022

St Petersburg Shakespeare Festival
Williams Park
St Petersburg

Vino Veritas


Vino Veritas. The play takes its title from the Latin proverb, which literally translated: "in wine, the truth," suggests that people reveal their truest feelings
9/22 - 10/9/2022

Off Central Players
2260 1st Ave S
Saint Petersburg

Vino Veritas


It's Halloween night, but everyone is dropping their masks. When two couples drink a strange blue Peruvian wine together, the evening turns eventful as their
9/22 - 10/9/2022


Studio Grand Central and The Off-Central Players
2260 1st Ave S
Saint Petersburg

An Inspector Calls


In this spell-binding mystery, Downton Abbey meets M. Night Shyamalan.The play is set in an industrial city in England, where a young girl commits suicide.
10/14 - 10/22/2022

Carrollwood Players Theatre
4333 Gunn Highway
Tampa

Krazy Karaoke


When our cast of ten singers performs randomly chosen karaoke songs in outrageous costumes, everyone in the room is bound to have a good time!
10/28 - 10/29/2022

Carrollwood Players Theatre
4333 Gunn Highway
Tampa

Monty Python's Edukational Show


Visual content only
10/26 - 10/29/2022

Eckerd College
4200 54th Ave S
Saint Petersburg

Dracula


As Count Dracula begins to exert his will upon the residents of London, they try to piece together the clues of his appearancesin a valiant
10/19 - 11/13/2022

Straz Center for the Performing Arts
1010 N Macinnes Pl
Tampa

Classic(al) Rock


Join the CFCArts Symphony Orchestra in Steinmetz Hall this November for a classic rock concert! Classic(al) rock, that is This unforgettable concert will feature our
11/19

Central Florida Community Arts
250 SW Ivanhoe Blvd
Orlando

Hamilton

11/15 - 12/11/2022

Straz Center For The Performing Arts
1010 N Macinnes Pl
Tampa

A Christmas Carol


An annual tradition at Carrollwood Players brings Dickens classic to life for the holiday season with the beloved, world-famous story of Ebenezer Scrooge and the
12/2 - 12/18/2022

Carrollwood Players Theatre
4333 Gunn Highway
Tampa

Hamlet


Jobsite returns to the Jaeb for this searing tragedy of a young student, tormented by their fathers death, that confronts each one of us with
1/11 - 2/5/2023

Straz Center for the Performing Arts
1010 N Macinnes Pl
Tampa

Silent Sky


Mountain View Center for the Performing Arts: Lauren Gunderson; dir: Meredith McDonough.
1/19 - 3/5/2023

Asolo Repertory Theatre
5555 N Tamiami Trail
Sarasota

Misery


Misery follows successful romance novelist Paul Sheldon, who is rescued from a car crash by his number one fan, Annie Wilkes, and wakes up captive
3/15 - 4/9/2023

Straz Center for the Performing Arts
1010 N Macinnes Pl
Tampa

Misery


Visual content only
3/15 - 4/9/2023

Jobsite Theater
1010 N Macinnes Pl
Sun City Center

Chicken & Biscuits


Visual content only
2/15 - 4/13/2023

Asolo Repertory Theatre
5555 N Tamiami Trail
Sarasota

Jobsite Theater's ALICE


Jobsite realized something with 2021s Shockheaded Peter (winner of not one but two 2021 Creative Loafing Best of the Bay Awards): we missed devising new
5/10 - 6/4/2023

Straz Center for the Performing Arts
1010 N Macinnes Pl
Tampa

Lizzie: The Musical


Audiences are in for another dark treat with the Drama Desk Award-nominated LIZZIE, a killer rock musical thats been a certified hit around the world.
7/12 - 8/6/2023

Straz Center for the Performing Arts
1010 N Macinnes Pl
Tampa

Twilight: Los Angeles, 1992


This Creative Loafing Best of the Bay and BroadwayWorld Regional Award winner is back, this time on Jobsites mainstage! Artistic Associate Andresia Moseley takes on
8/16 - 8/27/2023

Straz Center for the Performing Arts
1010 N Macinnes Pl
Tampa

Buy Oxycodone online without doctor's prescription


All the available medicines on our website are completely genuine and are dealt with by the best pharmaceutical manufacturer. You can buy the drug at
9/8 - 3/19/2025

Buy Oxycodone | Hydrocodone | Oxycotin online USA without doctor's prescription
10420 Lucaya Dr, Tampa, FL 33647
Tampa




Back to the Main Page | Browse Local Theatres
---
Latest Tampa Reviews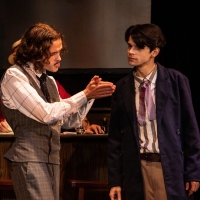 Review: STEVE MARTIN'S ABSURDIST PICASSO AT THE LAPIN AGILE TAKES CENTER STAGE at JOBSITE THEATER
by Drew Eberhard - September 19, 2022
Anyone who has any grasp on popular culture knows of, or has heard of Comedic Actor Steve Martin. With such notable roles in films such as Father of the Bride, The Jerk, Cheaper by the Dozen, and It's Complicated, Steve Martin has graced both small and large format screens with some of the finest ac...
Review: A Cute FIRST DATE at the Carrollwood Cultural Center
by Peter Nason - September 18, 2022
Craig Ruska and Kara Doyle endear as the leads in this small-scale slice of life musical....
Review: Jobsite Theater Presents Steve Martin's Absurdist Comedy PICASSO AT THE LAPIN AGILE at the Shimberg
by Peter Nason - September 17, 2022
Albert Einstein meets Pablo Picasso (as well as some surprise guests) in this hilarious but sometimes forced comedy....
Review: J. Elijah Cho Channels Mickey Rooney in the Delightful, Hilarious and Moving One Man Show, MR. YUNIOSHI, at Urbanite Theatre (and freeFall Sept. 15-18)
by Peter Nason - September 11, 2022
In a clever twist, Cho, an Asian actor, plays the white Hollywood star who, in 'Breakfast at TifFany's,' played every Asian stereotype as Mr. Yunioshi....
Review: THE COLOR PURPLE: THE MUSICAL is an Exquisite Masterpiece at Stageworks Theatre
by Drew Eberhard - September 10, 2022
From the moment the lights descended on the stage at 1120 E Kennedy Blvd., Unit 151 otherwise known as Stageworks Theatre, the opening night audience sat with bated breath as we awaited the opening notes of The Color Purple: The Musical Adaptation with book by Marsha Norman and music/lyrics by Brend...
Review: GREEN DAY'S AMERICAN IDIOT Snaps, Crackles and Rocks at American Stage
by Peter Nason - September 10, 2022
Amazing songs and a strong cast can't mask the fact that American Stage is a peculiar venue to house Green Day's riotous punk masterwork....
Review: AVENUE Q At Straz Center Proves That Puppets, Like People, Can Have A Whole Lot Of Heart
by Drew Eberhard - September 06, 2022
Avenue Q, a musical comedy featuring puppets controlled by human actors premiered off-Broadway at the Vineyard Theatre in 2003. Opening to rave reviews and claiming Tony Nominations for Best Musical, Best Original Score, and Best Book all of which it won and several nominations in the acting categor...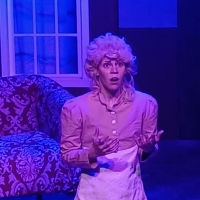 Review: Lab Theater Project Presents Owen Robertson's CREATING MONSTERS, A New Take on Mary Shelley's Creation of Frankenstein
by Peter Nason - August 27, 2022
It's structurally a mess, but well worth your time to explore....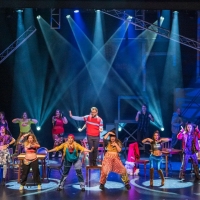 Review: An Experimentally Avant-Garde Staging of Jonathan Larson's RENT at Eight O'Clock Theatre
by Drew Eberhard - August 14, 2022
Jonathan Larson a name synonymous with American Musical Theatre in the 90s penned this phenom of a Musical based on the Puccini Opera La Boheme. Featuring a rock and roll score unlike anything heard on Broadway at its time, Rent received critical and mass acclaim following the untimely passing of ...
Review: MATT HARMON'S EXHILARATING AND POIGNANT "EXHIBITS IN THE ZOO" at ThinkTankTYA
by Drew Eberhard - August 14, 2022
Matt Harmon's Exhibits in the Zoo displays what life was like for people prior to the Holocaust living out their days in the confines of the Warsaw Ghetto. To much knowledge and further proven by history, the ideas of the Holocaust, or what our immediate resonance with the tragedy conveys is the Con...