The Prom - 2018 - Broadway
THERE'S NO BUSINESS LIKE GETTING IN OTHER PEOPLE'S BUSINESS.
See the next hit from Broadway's Musical Comedy Dream Team - the geniuses behind The Book of Mormon, Aladdin, The Drowsy Chaperone, Elf, Mean Girls...must we go on?
What happens when four stars leave the bright lights of Broadway and take leading roles in a small-town controversy making national headlines? Big drama. Bigger laughs. And the biggest musical showstopper in years!
Starring Tony Award nominee Brooks Ashmanskas (Something Rotten!), Tony Award winner Beth Leavel (The Drowsy Chaperone) and two-time Tony Award nominee Christopher Sieber (Shrek) leading a cast of 27.
"COMIC GOLD! A LEGITIMATELY FUNNY CROWD-PLEASER THAT SENDS YOU OUT WITH A SMILE." - THE HOLLYWOOD REPORTER
"AS PURE A BROADWAY THRILL AS YOU CAN GET! THE PROM DESERVES THE CROWN! A JOYFUL NEW MUSICAL AND OUTRAGEOUS SHOWBIZ SATIRE THAT'S THE PERFECT BLEND OF SALT AND SWEET - ITS WIT, CRAFT AND HEART COUNT FOR A LOT." - THE OBSERVER
Casey Nicholaw directs and choreographs, with book by Bob Martin and Chad Beguelin, music by Matthew Sklar, and lyrics by Chad Beguelin.
Video preview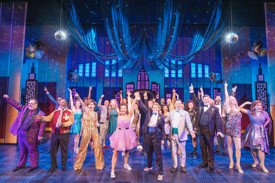 Photo preview
Schedule
Running Time: Two hours and 25 minutes, with one intermission
Featured Reviews For The Prom
'The Prom': Theater Review - Hollywood Reporter
The legitimately funny book is co-written by Bob Martin, who won a Tony Award (as did Leavel) for his work in the same capacity on The Drowsy Chaperone; and Chad Beguelin, who penned Disney's Aladdin, another Nicholaw musical. The two-pronged score, which has distinct styles for the Hoosier teens and the Manhattanite interlopers, is by composer Matthew Sklar, with clever lyrics by Beguelin; the two last teamed on yet another Nicholaw show, Elf. Any musical that makes it to Broadway these days without a familiar movie source or a popular jukebox score is an achievement, so this original story is a rainbow unicorn that wins points right there.
'The Prom' Review: Broadway Comedy Razzle-Dazzles Small Town Bigotry - Deadline
As the full-of-themselves hoofers and belters, Beth Leavel, Brooks Ashmanskas, Christopher Sieber and Angie Schworer, along with their more spirited than effective publicist, played by Josh Lamon, chew the scenery to great delight, descending on small town America like bedazzled locusts. Their big numbers - "Changing Lives," "It's Not About Me," "The Lady's Improving" - show just the hoped-for levels of All About Eve level self-satisfaction anyone could want.