POTUS: Or, Behind Every Great Dumbass are Seven Women Trying to Keep Him Alive - Broadway Tickets, News, Info & More
One 4-letter word is about to rock 1600 Pennsylvania Avenue. When the President unwittingly spins a PR nightmare into a global crisis, the seven brilliant and beleaguered women he relies upon most will risk life, liberty, and the pursuit of sanity to keep the Commander in Chief out of trouble.
Directed by five-time Tony Award® winner Susan Stroman, POTUS is an uproarious Broadway debut by playwright Selina Fillinger. Lilli Cooper, Lea DeLaria, Rachel Dratch, Julianne Hough, Suzy Nakamura, Julie White and Vanessa Williams star in this riotous comedy about the women in charge of the man in charge of the free world.
Video preview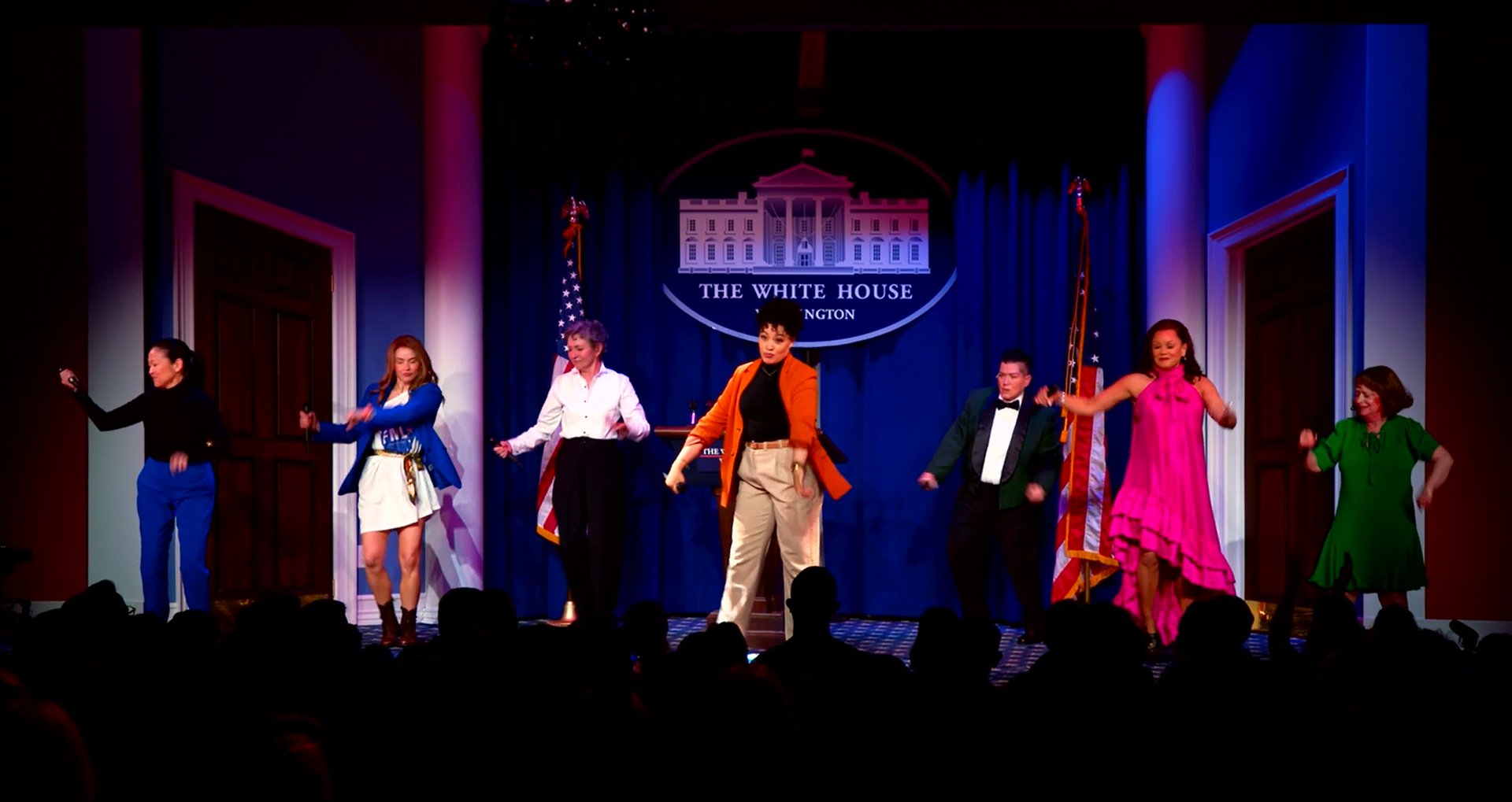 Photo preview
Running Time:
One hour and 45 minutes, with one intermission
Schedule:
Tuesdays: 7 p.m.
Wednesdays: 2 p.m. and 8 p.m.
Thursdays: 7 p.m.
Fridays: 8 p.m.
Saturdays: 2 p.m. and 8 p.m.
Sundays: 3 p.m.
About the Theatre
(New York, NY)
225 West 44th St.
Seating Chart
Featured Reviews For POTUS: Or, Behind Every Great Dumbass are Seven Women Trying to Keep Him Alive
'POTUS' Broadway Review: The President Can't Be Held Responsible for This Mess - The Wrap
Beowulf Boritt's massive West Wing set goes round and round, featuring everything from the chief of staff's office to the ladies' loo, but its ultimate effect is to scatter the comedy all over the place. Williams has the least to do and doesn't look happy doing it. White tries especially hard, screaming to the point that she gives a pretty good vocal imitation of Harvey Fierstein. And Cooper may be the first actor to use breast pumps on a Broadway stage.
POTUS: FOUL-MOUTHED WOMEN ON COMEDY RAMPAGE - New York Stage Review
What has indisputably been established throughout both acts is that the seven cast members are each worth whatever salary they're getting and more. Each, as cleverly dressed by Linda Cho, deserves a separate order-of-appearance rave: White for her unmitigated fury, Nakamura for her dignified uppityness, Dratch for her vague otherworldliness (especially when calling attention to her covered nipples), Williams for her dignified but no-nonsense great lady, Cooper for her sneakiness, Hough for her unabashed cheer, DeLaria for her never-abating brazenness. Susan Stroman, apparently on leave from musicals, directs. She's so creative at this song-and-dance-less assignment that the leave is likely to be extended. She never falters at keeping the stage lively. That goes for the stretches where the Fillinger script stalls. Yes, Stroman lovers, she does slip in a brief dance routine or two.
POTUS: Or, Behind Every Great Dumbass are Seven Women Trying to Keep Him Alive Broadway Cast
Buy at the Theatre Shop
T-Shirts, Mugs, Phone Cases & More