Head Over Heels - 2018 - Broadway Tickets, News, Info & More
HEAD OVER HEELS is the bold and fierce new musical comedy from the visionaries that rocked Broadway with Hedwig and the Angry Inch, Avenue Q and Spring Awakening. Set to the iconic music of the 1980's all-female rock band The Go-Go's, it includes the hit songs "We Got the Beat," "Our Lips Are Sealed," "Vacation," Belinda Carlisle's "Heaven is a Place on Earth," and many more!
It's a hilarious and sexy celebration of love in all its infinite varieties, told through the story of a royal family that must embark on an extravagant journey to save their beloved kingdom and find love and acceptance.
"HEAD OVER HEELS is simply an outrageously over-the-top good time. It may be the most fun you will ever have in a theater!" (Bay Area Theatre Critics Association)
Video preview
Photo preview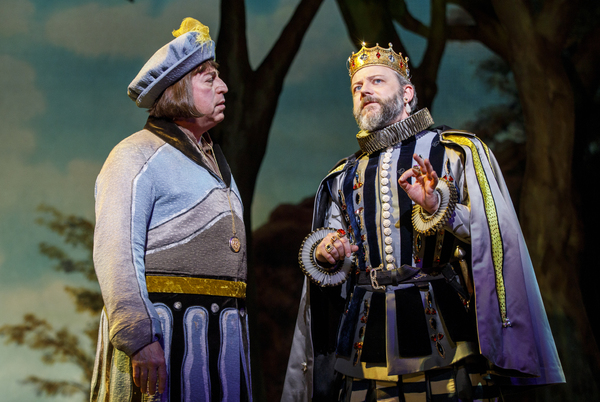 Schedule
Running Time:
Two hours and 10 minutes, with one intermission
Featured Reviews For Head Over Heels
Broadway Review: Go-Go's Musical 'Head Over Heels' - Variety
It's really hard to laugh when somebody's holding a gun to your head. That's the way this Go-Go's feels in "Head Over Heels," an over-written, over-designed, and generally overdone production directed by Michael Mayer. From the sets and costumes to the performance style, the basic principle seems to be: Less is boring and more is never enough. Thanks, no doubt, to the Oracle of Delphi (played here by the impishly funny Peppermint), it's a miracle that at least some of the wit in Jeff Whitty's original book gets through.
'Head Over Heels' review: Go-Go's jukebox musical has not 'got the beat' - amNY
Um, no. Contrary to the affirmatively cheery chant of its opening number, "Head Over Heels," a new jukebox musical on Broadway in which the hit songs of the all-female 1980s pop-punk band The Go-Go's are inserted into a ridiculous Elizabethan-era pastiche, has not "got the beat." That probably got lost long ago in the development of this oddball property
Head Over Heels Broadway Cast