Head Over Heels - 2018 - Broadway
HEAD OVER HEELS is the bold and fierce new musical comedy from the visionaries that rocked Broadway with Hedwig and the Angry Inch, Avenue Q and Spring Awakening. Set to the iconic music of the 1980's all-female rock band The Go-Go's, it includes the hit songs "We Got the Beat," "Our Lips Are Sealed," "Vacation," Belinda Carlisle's "Heaven is a Place on Earth," and many more!
It's a hilarious and sexy celebration of love in all its infinite varieties, told through the story of a royal family that must embark on an extravagant journey to save their beloved kingdom and find love and acceptance.
"HEAD OVER HEELS is simply an outrageously over-the-top good time. It may be the most fun you will ever have in a theater!" (Bay Area Theatre Critics Association)
Video preview
Photo preview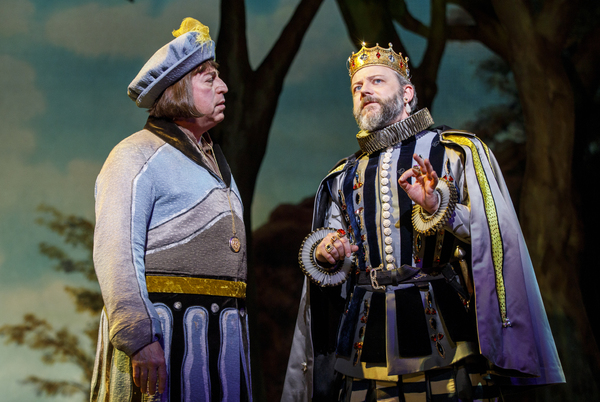 Schedule
Running Time: Two hours and 10 minutes, with one intermission
Featured Reviews For Head Over Heels
Go-Go's musical 'Head Over Heels' hasn't got the beat - New York Post
The new musical "Head Over Heels," which opened Thursday on Broadway, takes the songs of '80s American girl group the Go-Go's, plops them in a British story from the 16th century and adds a bunch of modern, self-referential jokes. It's an idea that's so crazy, it just might work! It doesn't. This indulgent show is wackier than it is fun, and elicits more "huh?" than "ha". Worse, it treats the catchy pop music like a side of spinach.
Head Over Heels - TimeOut NY
To enjoy Head Over Heels, which offers quite a lot to enjoy, it is probably best to kick up your heels and put your head on hold. That's not to say that this saucy, boisterous musical doesn't have a brainy side, starting with its ambitious crossbreeding of four time periods: It grafts a 2010s queer sensibility onto songs from the 1980s-by the all-girl pop-punk quintet the Go-Go's (plus two hits from lead singer Belinda Carlisle's solo career)-and fits them into a 16th-century story that is set in ancient Greece. The dialogue, in iambic pentameter liberally sprinkled with thou and thee, contrasts amusingly with the unornamented lyrics of such go-to Go-Go's bops as "Vacation," "Our Lips Are Sealed" and "We Got the Beat."
Head Over Heels Broadway Cast