Head Over Heels Broadway
HEAD OVER HEELS is the bold and fierce new musical comedy from the visionaries that rocked Broadway with Hedwig and the Angry Inch, Avenue Q and Spring Awakening. Set to the iconic music of the 1980's all-female rock band The Go-Go's, it includes the hit songs "We Got the Beat," "Our Lips Are Sealed," "Vacation," Belinda Carlisle's "Heaven is a Place on Earth," and many more!
It's a hilarious and sexy celebration of love in all its infinite varieties, told through the story of a royal family that must embark on an extravagant journey to save their beloved kingdom and find love and acceptance.
"HEAD OVER HEELS is simply an outrageously over-the-top good time. It may be the most fun you will ever have in a theater!" (Bay Area Theatre Critics Association)
Video preview
Photo preview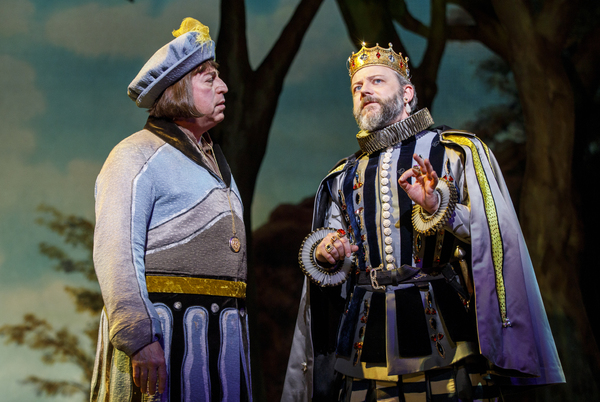 Schedule
Running Time: Two hours and 10 minutes, with one intermission
Featured Reviews For Head Over Heels
Review: 'Head Over Heels' on Broadway has a breezy plot that can't keep up with the Go-Go's - Chicago Tribune
A lot of harder-edged Go-Go's fans who find their way through the door will wonder what on earth all of these silly theater people are doing with their beloved music, not just because it feels so far removed from its original pioneering context but also because the sensibility here so doubles down on fluttery theatricality at the expense of raw, charged, visceral, feminist pop.
Review: Ye Olde Go-Go's Songs Hit the Renaissance in 'Head Over Heels' - New York Times
You would think that a sexually polymorphous musical that combines a Renaissance pastoral romance with the songs of the 1980s California rock group the Go-Go's would at the very least be a hoot, a show that could get sloppy drunk on its own outrageousness. Yet "Head Over Heels," which opened on Thursday night at the Hudson Theater, feels as timid and awkward as the new kid on the first day of school.
Head Over Heels Broadway Cast