Beautiful: The Carole King Musical - 2014 - Broadway
YOUR KIND OF MUSIC. YOUR KIND OF MUSICAL.
For five years, BEAUTIFUL, the Tony and Grammy Award-winning Carole King musical, has thrilled Broadway with the inspiring true story of one woman's remarkable journey from teenage songwriter to the Rock & Roll Hall of Fame.
From the string of pop classics she wrote for the biggest acts in music to her own life-changing, chart-busting success with Tapestry, BEAUTIFUL takes you back to where it all began- and takes you on the ride of a lifetime.
Featuring over two dozen pop classics, including "You've Got a Friend," "One Fine Day," "Up on the Roof," "You've Lost That Lovin' Feeling," "Will You Love Me Tomorrow," and "Natural Woman," this crowd-pleasing international phenomenon is filled with the songs you remember- and a story you'll never forget.
Video preview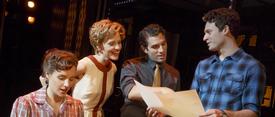 Photo preview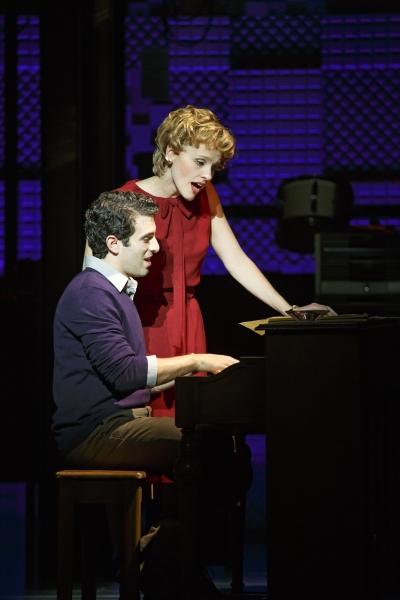 Schedule
Running Time: Two hours and 20 minutes, with one intermission
Featured Reviews For Beautiful: The Carole King Musical
Broadway Review: 'Beautiful — The Carole King Musical' - Variety
The early life and career of legendary singer-songwriter Carole Kingsurely deserves more imaginative treatment than the corny chronological storytelling (And then we wrote ...) and old-fashioned musical format (scene/song/scene/song) of "Beautiful." But whenever this bio-musical stumbles over Douglas McGrath's flat-footed book, helmer Marc Bruni rushes to the rescue with some snazzy piece of stagecraft for the sleek production numbers. And all is forgotten, even momentarily forgiven, whenever Jessie Mueller, in the modest person of Carole King, sits down at the piano and pours heart and soul into familiar favorites from the composer's songbook.
'Beautiful: The Carole King Musical' review: Fans will love - Newsday
With Marc Bruni's crisp direction and Josh Prince's precision choreography, the hits segue seamlessly on Derek McLane's industrial grid set -- from drab office to glittery concert stage -- with the efficiency of a snappy line (libretto by Douglas McGrath) as we encounter live replicas of The Drifters, Shirelles, Righteous Brothers and Little Eva...Jessie Mueller strikes a delicate balance between spunk and humility, making it impossible not to root for her as she morphs into an inspired Carole King. Jake Epstein reflects Gerry's conflicted soul while Anika Larsen and Jarrod Spector offer comic contrast to their songwriting rivals' discord. As Kirshner, Jeb Brown is a softy for anyone who writes a hit, while Liz Larsen struggles to rise above the mother-of-the-star cliches she's assigned.If there's one song among a dozen to hum on the way out of "Beautiful," it should be "Will You (Still) Love Me Tomorrow," exemplifying both the professional and personal side of this Gershwin Prize-winning genius.
Beautiful: The Carole King Musical Broadway Cast