Click Here for More Articles on OPERA - SAN FRANCISCO
San Francisco Opera Announces 2018/19 Season and Casting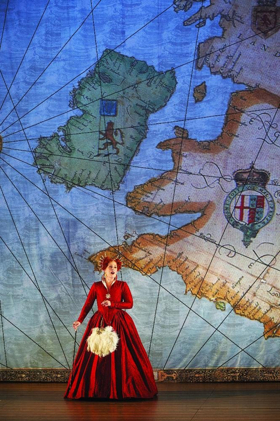 San Francisco Opera General Director Matthew Shilvock today announced plans for the 2018-19 Season. The Company's 96th Season will open Friday, September 7 with a gala double-bill performance of Pietro Mascagni's Cavalleria Rusticana and Ruggero Leoncavallo's Pagliacci in José Cura's production with an international cast featuring Lianna Haroutounian, Ekaterina Semenchuk, Roberto Aronica, Marco Berti and Dimitri Platanias, conducted by Daniele Callegari. To usher in the new opera season, San Francisco Opera Guild will produce its signature benefit event, Opera Ball 2018.
The Company's new season features nine operas presented in eight productions never before mounted by San Francisco Opera. The variety of works, spanning the Baroque to the contemporary, features repertory favorites Cav / Pag, Giacomo Puccini's Tosca, Georges Bizet's Carmenand Antonín Dvo?ák's Rusalka; Richard Strauss' 20th-century romantic gem Arabella; Gaetano Donizetti's resurgent Bel Canto masterpieceRoberto Devereux; George Frideric Handel's powerful and rarely performed Orlando; and, opening in time for the holidays, It's a Wonderful Life, the new opera by composer Jake Heggie and librettist Gene Scheer which the Houston Chronicle observed "feels like a dream, conjured from the mind of an angel, existing in a plane that's somewhere between the real and the otherworldly." Special events of the season include opening weekend galas, free Opera in the Park, and a concert featuring Plácido Domingo on October 21.
General Director Matthew Shilvock said: "This is a season of the new: eight productions never before seen on the War Memorial Opera House stage, including a spectacular new Tosca, and eight conductors-six of whom will be new to our mainstage season-will bring exciting musical insights. The world's finest guest artists will join our acclaimed orchestra, chorus, dance corps and crew to create thrilling moments of visceral expression and the kind of artistic excellence that is a hallmark of San Francisco Opera. I am also particularly pleased to welcome Plácido Domingo back to San Francisco Opera for a special concert led by Jordi Bernàcer."
For the 2018-19 Season, San Francisco Opera has invited many of the finest singers and emerging artists to perform at the War Memorial Opera House. They include: sopranos Kearstin Piper Brown, Andriana Chuchman, Ellie Dehn, Christina Gansch, Carmen Giannattasio, Lianna Haroutounian, Anita Hartig, Hye Jung Lee, Ana María Martínez, Sondra Radvanovsky, Golda Schultz, Heidi Stober, Rachel Willis-Sørensen; mezzo-sopranos Jamie Barton, J'Nai Bridges, Sasha Cooke, Jill Grove, Ekaterina Semenchuk; countertenor David Daniels; tenors Roberto Aronica, Marco Berti, William Burden, Arturo Chacón-Cruz, Plácido Domingo, Brian Jagde, Keith Jameson, Daniel Johansson, Brandon Jovanovich, Matthew Polenzani, Russell Thomas; baritones Rod Gilfry, Scott Hendricks, Joshua Hopkins, Brian Mulligan, David Pershall, Dimitri Platanias, Artur Ruci?ski; bass-baritones Kyle Ketelsen, Christian Van Horn; and bass Ferruccio Furlanetto.
Featured conductors include Marc Albrecht, Jordi Bernàcer, Daniele Callegari, Riccardo Frizza, James Gaffigan, Leo Hussain, Eun Sun Kim, Christopher Moulds, Patrick Summers; Chorus Director Ian Robertson prepares the San Francisco Opera Chorus; and productions are by Tim Albery, José Cura, Harry Fehr, Leonard Foglia, Stephen Lawless, Shawna Lucey, David McVicar and Francesca Zambello.
2018 FALL SEASON
Mascagni: Cavalleria Rusticana / Leoncavallo: Pagliacci (September 7-30)
The 2018-19 Season opens with two one-act operas, Mascagni's Cavalleria Rusticana and Leoncavallo's Pagliacci; a pair of Italian tragedies long matched for their similar stories of torrid, small-town love affairs, powerful music and dramatic onstage action. Cavalleria Rusticana, often translated as "Rustic Chivalry," centers on the abandoned Santuzza and her errant lover, Turiddu, who meets his fate in a duel of honor.Pagliacci, or "Clowns," follows a group of traveling players whose theatrics are shattered by the jealous passions in their off-stage lives. Famed Argentinian tenor José Cura, known for his intense portrayals of the leading tenor roles in both works, has emerged in recent years as a director, designer and conductor. His production of the verismo double-bill, originally staged by Opéra Royal de Wallonie-Liège and later at the Teatro Colón, sets both operas in the La Boca district of Buenos Aires, a historically Italian barrio known for its colorful row houses and tango performances.
Russian mezzo-soprano Ekaterina Semenchuk, whom the Mercury News called "simply riveting" as Amneris in San Francisco Opera's production of Verdi's Aida, sings the role of Santuzza in Cavalleria Rusticana. The Financial Times praised her recent portrayal at the Metropolitan Opera as "an astonishing role debut, mezzo-soprano Ekaterina Semenchuk as Santuzza carries the weight of her distress with an elegant, refined voice, singing 'Voi lo sapete' and the 'Easter Hymn' with tenderness." Turiddu will be sung by Italian tenor Roberto Aronica, known for his "big vibrant tenor with plenty of ringing on the high notes, plus a burly, masculine stage presence" (London Observer). Greek baritone Dimitri Platanias, whose portrayal of the title role in Verdi's Rigoletto at the Royal Opera, Covent Garden was praised by The Guardianas "imposing on stage, handsome of voice, and deeply touching in his duets," makes his United States debut as both Alfio in Cav and Tonio inPag.
Pagliacci features tenor Marco Berti as Canio, the betrayed husband who sings the famous aria "Vesti la giubba" while applying his clown make-up. Armenian soprano Lianna Haroutounian, who thrilled San Francisco Opera audiences in recent seasons as Puccini's Tosca and Cio-Cio-San in Madama Butterfly-"a Butterfly for the ages" declared the Mercury News-returns as Nedda. Baritone David Pershall portrays Nedda's lover, Silvio.
Italian conductor Daniele Callegari has led some of the world's greatest symphonic and opera house orchestras and has an extensive catalog of recordings. The renowned conductor makes his Company debut leading the San Francisco Opera Orchestra and Chorus. Argentinian directorJose Maria Condemi guides Cura's production in revival.
Donizetti: Roberto Devereux (September 8-27)
Gaetano Donizetti's Roberto Devereux returns to the War Memorial Opera House stage for the first time in nearly four decades in a production by British director Stephen Lawless. The third of Donizetti's famed trio of Tudor Queen operas, Roberto Devereux is a masterpiece of Bel Canto vocalism and dramatic power requiring an ensemble of exceptional lyric artists. San Francisco Opera has assembled a first-rank cast led by soprano Sondra Radvanovsky, mezzo-soprano Jamie Barton, tenor Russell Thomas and baritone Artur Ruci?ski.
In 2014, Sondra Radvanovsky's performances of the title role in Bellini's Norma were heralded by the San Francisco Chronicle as "a catalog of operatic virtues." The American soprano makes her highly-anticipated return to San Francisco Opera as the embattled Elisabetta (Queen Elizabeth I) at the heart of Roberto Devereux. Radvanovsky's recent feat of singing the leading roles in Donizetti's "triple crown" (Anna Bolena, Maria Stuarda and Roberto Devereux) in a single season at the Metropolitan Opera made headlines while simultaneously announcing Radvanovsky as an heir to this exclusive repertory espoused by such greats as Beverly Sills and Montserrat Caballé.
Russell Thomas, an artist the Los Angeles Times called "thrilling, powerful vocally and without excess," will take on the title role of Roberto for the first time. Jamie Barton, who sings Fricka and Waltraute in San Francisco Opera's presentations of Wagner's Ring this summer, brings her "gleaming vocal tone ... and ability to shape a vocal line with both precision and emotional urgency" (San Francisco Chronicle) to her role debut as Sara. Polish baritone Artur Ruci?ski made a "commanding, full-throated" (San Francisco Chronicle) Company debut in 2017 as Germont in Verdi's La Traviata. He returns in Roberto Devereux as the Duke of Nottingham.
Internationally admired Italian conductor Riccardo Frizza leads the San Francisco Opera Orchestra and Chorus in this searing lyric tragedy. Lawless' production sets the action in a theater resembling London's Globe Theater during Elizabethan times.
Puccini: Tosca (October 3-30)
Giacomo Puccini's Tosca will be unveiled in a new production featuring Italian soprano Carmen Giannattasio, tenor Brian Jagde and baritoneScott Hendricks. Tosca holds a distinguished place in the history of San Francisco Opera. The work was featured during the Company's first season in 1923 at the Civic Auditorium, inaugurated the War Memorial Opera House on October 15, 1932 and was chosen to reopen the opera house in 1997 following a closure for seismic retrofitting. Tosca has been presented in 38 previous seasons with extraordinary casts.
A leading artist at Milan's Teatro alla Scala and London's Royal Opera, Covent Garden, Carmen Giannattasio has triumphed in many of opera's most treasured roles on the world's premier stages. In her highly-anticipated San Francisco Opera debut, Giannattasio brings her "fiery style and panache" (London Observer) to the title role of Tosca for the first time in her career. One of the leading international singers of his generation, American tenor Brian Jagde will perform Cavaradossi, a role he first performed here in 2012 and later with Lyric Opera of Chicago, Oper Stuttgart and Deutsche Oper Berlin. Baritone Scott Hendricks, about whom the Washington Post observed "he has a strong voice, and his singing is produced with such utter conviction, such commitment to every note," portrays the pivotal role of Baron Scarpia. San Francisco Opera veteran bass-baritone Dale Travis is the Sacristan and tenor Joel Sorensen is Spoletta.
British conductor and former music director of the Opéra de Rouen and Salzburg Landestheater, Leo Hussain makes his first San Francisco Opera appearance leading the cast, orchestra and chorus. American director Shawna Lucey stages Puccini's drama in a new San Francisco Opera production with sets and costumes by production designer Robert Innes Hopkins, whose previous work on the War Memorial Opera House stage includes Janá?ek's Cunning Little Vixen (2004), Rossini's L'Italiana in Algeri (2005) and Wagner's Lohengrin (2012). Michael James Clark is the lighting designer.
"From the first chords, Puccini tells us we are in Scarpia's world-a place of corruption and violence that leaves no person unscathed," said Lucey. "In conceiving this production, we found ourselves stimulated by the primary reds and soaring heights of the Duomo di San Giorgio in Ragusa, Sicily, and the work's historical settings in Rome. The opera itself is perfectly lean while at the same time absolutely gorgeous; our design and staging are inspired by that perfection."
Strauss: Arabella (October 16-November 3)
Arabella, the final collaboration in the storied artistic partnership between composer Richard Strauss and librettist Hugo von Hofmannsthal, returns to the Company's repertory in a celebrated production by Tim Albery. The British director updates the tender Viennese love story about a woman who wishes to marry for love rather than money from 1860 to the period just before World War I. First unveiled in 2012, the co-production between the Santa Fe Opera, Minnesota Opera and Canadian Opera Company, which Now Toronto appraised as "clear and full of fin-de-siècle elegance," was recently hailed by the New York Times as one of its top critics' picks for 2017.
German maestro Marc Albrecht, chief conductor of the Dutch National Opera and acclaimed interpreter of Strauss and Wagner, makes his American operatic debut leading the San Francisco Opera Orchestra and Chorus. Sets and costumes are by production designer Tobias Hoheisel.
The dynamic cast is headed by soprano Ellie Dehn and baritone Brian Mulligan. Earlier this season, Dehn performed the title heroine in Massenet's Manon for the first time earning praise for her "purity of voice, impeccable technique and refined musicianship" (Opera Today). The American soprano makes another exciting role debut as the titular character in Strauss' emotionally charged work. Baritone Brian Mulligan, "possessed of an imposing build and a rugged, perfectly articulated baritone" (Opera News), is her true love, Mandryka. Soprano Heidi Stoberis Arabella's younger sister, Zdenka, and Swedish tenor Daniel Johansson makes his Company debut as Matteo. Korean soprano Hye Jung Lee, who was "sweetly stratospheric" (Musical America) as Ah Sing in the world premiere of John Adams' Girls of the Golden West, is the high-flying Fiakermilli. Count Waldner and Adelaide will be performed by baritone Richard Paul Fink and mezzo-soprano Michaela Martens, respectively, while tenor Scott Quinn portrays Count Elemer and mezzo-soprano Jill Grove is a Fortune-Teller.
Heggie: It's A Wonderful Life (November 17-December 9)
San Francisco Opera presents the West Coast premiere of composer Jake Heggie and librettist Gene Scheer's new work, It's a Wonderful Life. A San Francisco Opera co-commission and co-production with Houston Grand Opera and Indiana University's Jacobs School of Music, the opera in two acts is based in part on Frank Capra's 1946 film It's a Wonderful Life™ and The Greatest Gift, a story by Philip Van Doren Stern. The new opera has been revised since its November 2016 world premiere in Houston and will be presented in nine performances through December 9, including two Sunday matinee performances and a special Saturday matinee on November 24.
Synonymous with the holiday season, Capra's classic of American cinema, which starred James Stewart, Donna Reed and Lionel Barrymore, tells the story of George Bailey, who on Christmas Eve is contemplating suicide until the angel Clarence grants him a vision that restores George's vigor for life. Heggie and Scheer's opera departs from the film in important ways. "You can't put a movie onto the opera stage," said Heggie, "so one big challenge was to find a way to reconceive the story of It's a Wonderful Life as an opera. That meant lots of changes, cuts and tough choices. One of the most obvious is that Clarence, the angel of the movie, has become Clara. This change allowed us to have a soprano voice (Clara) and a tenor voice (George Bailey) as our two leads instead of two male voices."
Drawn to the subject for the enlightening journey of its central character, Heggie said: "The music and soundscapes attempt to capture both the otherworldly side of the story and the earthly music of each decade we explore with George: from childhood games and a high school dance, to soaring love scenes, a wedding, the despair of the economic crash of 1929 and World War II, the threat of a suicide and the extraordinary, transformative power of a community coming together to help."
The cast features tenor William Burden as George Bailey. Burden has earned praise for many portrayals on the War Memorial Opera House stage, including Laca in Janá?ek's Jen?fa, Tom Rakewell in Stravinsky's The Rake's Progress, Dan Hill in Christopher Theofanidis' Heart of a Soldier and Peter in Mark Adamo's The Gospel According to Mary Magdalene, and returns in the role he performed with "searing conviction" (Opera News) at the 2016 world premiere. South African soprano Golda Schultz, who won acclaim for her singing-"buoyant yet substantial, creamy but never heavy" (New York Times)-at her recent Metropolitan Opera debut as Pamina in Mozart's Die Zauberflöte, joins the Company as the angel, Clara. Soprano Kearstin Piper Brown sings Clara in the final performance on December 9.
Baritone Rod Gilfry, who created the role of Stanley Kowalski in André Previn's A Streetcar Named Desire at San Francisco Opera in 1998, portrays the banker Mr. Potter. Soprano Andriana Chuchman makes her first appearance with the Company as George's wife, Mary Hatch. Tenor Keith Jameson is Uncle Billy Bailey, baritone Joshua Hopkins is Harry Bailey and mezzo-soprano Catherine Cook sings the role of Mother Bailey. Houston Grand Opera Artistic and Music Director Patrick Summers, who has conducted all of Heggie's world premieres, will be on the podium for this West Coast premiere.
The production is directed by Leonard Foglia and features the work of set designer Robert Brill, costume designer David C. Woolard, lighting designer Brian Nason, projection designer Elaine J. McCarthy and choreographer Keturah Stickann. It's a Wonderful Life reunites Heggie and Scheer with Maestro Summers, Foglia, Brill, McCarthy and Stickann, the creative team behind the acclaimed premiere production of Moby-Dick.
Early in 2017, Pentatone released a CD recording of It's a Wonderful Life with Maestro Summers conducting the Houston Grand Opera Orchestra and world premiere cast. Gramophone remarked, "Gene Scheer is such an accomplished librettist in his understanding of how words and music collude in the theatre ... Heggie, for his part, is a born melodist, purveyor of the most grateful, 'singable' vocal lines and a word-setter of real eloquence."
With It's a Wonderful Life, Jake Heggie returns once again to San Francisco Opera where his career as an opera composer began. His first opera, Dead Man Walking with a libretto by Terrence McNally, had its world premiere at San Francisco Opera in 2000 and has since been presented around the world by more than 60 companies. The award winning composer and San Francisco resident has won praise for his more than 250 songs, as well as chamber, choral and orchestral works, and is one of today's leading opera composers. His other works for the Lyric Stage include Out of Darkness: Two Remain (2016), Great Scott (2015), Moby-Dick (2010), Three Decembers (2008), To Hell and Back (2006) and The End of the Affair (2003; revised 2005). In 2017, Merola Opera Program issued its first commission for If I Were You, a new work by Heggie and Scheer, and it is scheduled to premiere in 2019.
Plácido Domingo in Concert, October 21 at 2 p.m.
For one performance only, legendary Plácido Domingo returns to San Francisco Opera for a concert of popular arias and duets. Spanish conductor Jordi Bernàcer will be on the podium for this special event, which also features Puerto Rican soprano Ana María Martínez, Mexican tenor Arturo Chacón-Cruz and the San Francisco Opera Orchestra.
Domingo's partnership with San Francisco Opera is one of the most notable in the Company's history. The distinguished artist, who was awarded the San Francisco Opera Medal in 1994, has portrayed 14 roles on the War Memorial Opera House stage, including unforgettable performances in the title roles of Verdi's Otello, Giordano's Andrea Chénier, Saint-Saëns' Samson et Dalila, Offenbach's Les Contes d'Hoffmannand most recently Alfano's Cyrano de Bergerac; Puccini's heroes Rodolfo in La Bohème, Cavaradossi in Tosca, Dick Johnson in La Fanciulla del West; Don José in Bizet's Carmen, Manrico in Verdi's Il Trovatore, Vasco da Gama in Meyerbeer's L'Africaine, Turiddu in Mascagni'sCavalleria Rusticana, Canio in Leoncavallo's Pagliacci and Jean in Massenet's Hérodiade. Domingo has also appeared with the Company in concerts at the War Memorial Opera House and the Civic Auditorium.
The October 21 concert marks Domingo's first return to San Francisco Opera since 2010 and also the 35th anniversary of the season opening performance of Verdi's Otello that he sang on short notice. Stepping in for an ailing singer who cancelled on the morning of September 9, 1983, Domingo flew from New York and opened the San Francisco Opera season later that night at 10:30 p.m.
Tickets for this concert are currently available to Full Series subscribers only, with a limit of two tickets per household. Restrictions apply; see Tickets and Information for more information.
2019 SUMMER SEASON
Bizet: Carmen (June 5-29)
The 2019 Summer Season opens with Bizet's Carmen in a production by internationally-renowned opera director Francesca Zambello. Originally staged as a co-production of London's Royal Opera, Covent Garden and Norwegian National Opera and recreated by Opera Australia, the San Francisco Opera presentation will feature a thrilling cast headed by mezzo-soprano J'Nai Bridges, tenor Matthew Polenzani, soprano Anita Hartig and bass-baritone Kyle Ketelsen, with American conductor James Gaffigan on the podium.
J'Nai Bridges recently won acclaim for her "glowing, searing performance" (The New Yorker) and "glowering intensity and a beautiful dark tone" (San Francisco Classical Voice) as Josefa Segovia in the world premiere of Adams' Girls of the Golden West. Proclaimed a "rising star" byOpera News and the Los Angeles Times, the American mezzo-soprano will sing Carmen for the first time in her professional career. American tenor Matthew Polenzani, known for his mastery of a diverse repertory including works by Mozart, Donizetti and Puccini, returns to San Francisco Opera to perform his first Don José. The famed artist last appeared with the Company in 2013 in another role debut, Hoffmann in Offenbach's Les Contes d'Hoffmann.
Romanian soprano Anita Hartig makes her Company debut as Micaëla. American bass-baritone Kyle Ketelsen who has performed Escamillo around the world-Classical Review declared him a "perfect fit for the role in every way, combining charismatic swagger with a rich, bristling bass"-reprises the role of the bullfighter.
Handel: Orlando (June 9-27)
Handel's rarely performed Orlando was mounted by San Francisco Opera in 1985 in one of the opera's first American productions. The psychologically complex masterwork returns in a bold production by Harry Fehr which sets the action in London during the Second World War and recasts the hero Orlando as an injured pilot recuperating in a military hospital. Staged by Scottish Opera in 2011, Fehr's vision for the work was praised for its "theatrical confidence and clarity of purpose" by The Telegraph and declared "a triumph." Filled with Handel's customarily intricate and expressive music, Orlando flouts Baroque conventions in its portrayal of the hero's troubled state of mind and remains a unique, forward-looking example of the composer's genius.
Mezzo-soprano Sasha Cooke returns to San Francisco Opera in a thrilling role debut as Orlando, a part which Handel originally composed for the legendary castrato Senesino. A celebrated role creator in contemporary works including Mason Bates' The (R)evolution of Steve Jobs and Adamo's The Gospel According to Mary Magdalene, Cooke has earned acclaim in a variety of contexts, with the San Francisco Chroniclepraising her "extraordinary wealth of tonal color" and observing "anytime you add Cooke into the mix, there's a whole new level of magic involved." Countertenor David Daniels, who has enlivened many Baroque works at San Francisco Opera including Monteverdi'sL'Incoronazione di Poppea and Handel's Giulio Cesare, Rodelinda, Xerxes and Partenope, sings the role of Medoro for the first time in his illustrious career.
Soprano Heidi Stober, whose recent performances as Cleopatra in Giulio Cesare at Houston Grand Opera were applauded for "managing to be vocally ravishing, seductive and funny all at once" (Houston Chronicle), sings the role of Angelica. Austrian soprano Christina Gansch makes her United States debut as Dorinda. Bass-baritone Christian Van Horn is Zoroastro, a psychologist who councils Orlando.
Acclaimed for conducting operas by Monteverdi, Handel and Mozart in the world's premiere opera houses, Christopher Moulds bows with San Francisco Opera for the first time with Orlando. The English maestro's performance of Handel's Semele at the Brooklyn Academy Of Music was praised by the New York Times for its "winning vitality and feeling for the style."
Dvo?ák: Rusalka (June 16-28)
For only the second time in Company history, San Francisco Opera will present Rusalka, Antonín Dvo?ák's enchanting fairytale about a water nymph who trades her voice for love. One of the symphonic composer's only operas to be regularly performed, Rusalka earned its place in the repertory through its fanciful yet sympathetic characters and the haunting, melodic invention of Dvo?ák's score. Rusalka's heartfelt soliloquy, "Song to the Moon," remains one of the most beloved soprano arias.
American soprano Rachel Willis-Sørensen, whose 2015 performances as Eva in Wagner's Die Meistersinger von Nürnberg were declared "a tremendous company debut" by the San Francisco Chronicle, returns to sing the lovelorn water sprite for the first time. The Walther to Willis-Sørensen's Eva at San Francisco Opera, American tenor Brandon Jovanovich, returns as the Prince. Jovanovich, who will perform Siegmund and Froh in the Company's presentations of Wagner's Ring this summer, has been called "dramatically fearless" by the New York Times and earned praise for his "rich tone and boundless vitality" (Mercury News). Revered Italian bass Ferruccio Furlanetto, who was Philip II in Verdi'sDon Carlo at San Francisco Opera in 2016, makes his role debut as Vodník, the water gnome. Jamie Barton, acclaimed mezzo-soprano and 2017 recipient of the Metropolitan Opera's Beverly Sills Artist Award, portrays the witch, Ježibaba. Soprano and current San Francisco Opera Center Adler Fellow Sarah Cambidge is the Foreign Princess.
South Korean maestra Eun Sun Kim, who recently debuted with the Berlin State Opera, Royal Opera Stockholm, Semperoper Dresden and Cologne Opera, makes her first appearance with the Company. The New York Times hailed Kim's 2017 debut at Houston Grand Opera: "a major star of La Traviata was Eun Sun Kim, a young Korean conductor making her North American debut, who led the performance with great sensitivity and flexibility."
David McVicar's productions of Les Troyens, Die Meistersinger von Nürnberg, Don Giovanni, Il Trovatore and Andrea Chénier have thrilled San Francisco Opera audiences in recent years. The British director's staging of Rusalka was declared "a powerful new production that is as thoughtfully conceived and brilliantly executed as one could wish" (Chicago Tribune).
TICKETS AND INFORMATION
Subscriptions for San Francisco Opera's 2018-19 Season are priced from $172 to $3,024 for Full Series (8 productions) and $71 to $1,512 for Half Series (3-4 productions). For information about subscriber benefits and special series subscriptions, including the Out of Town Series offering two or three operas over a 2-3 day period; the Student & Teacher Series offering 50% off select Full and Half Series; and San Francisco Opera's Rainbow Series for the LGBTQ community, visit sfopera.com/subscribe. 2018-19 Season subscriptions go on sale to new and renewing subscribers beginning Wednesday, January 17, 2018 at 1 p.m. PST at the San Francisco Opera Box Office, by calling (415) 864-3330and online at sfopera.com. San Francisco Opera Box Office hours are Monday 10 a.m.-5 p.m.; Tuesday through Friday 10 a.m.-6 p.m.; Saturday 10 a.m.-6 p.m. (Saturdays phone only).
Tickets for Plácido Domingo in Concert on Sunday, October 21, are currently available on a first-come, first-served basis to 2018-19 Full Series subscribers only. Limit two tickets per household. Seating is at the discretion of the Box Office. Prices range from $77-$353.
Single (non-subscription) tickets for San Francisco Opera's 2018-19 Season will go on sale in June 2018.
All War Memorial Opera House performances (except the September 7 season opening night and Plácido Domingo in Concert) feature an informative 25-minute Pre-Opera Talk beginning 55 minutes prior to curtain. Pre-Opera Talks are free of charge to patrons with tickets for the corresponding performance. Visit sfopera.com/learn for information about Pre-Opera Talks, preview events and enrichment programs.
OperaVision screens, suspended from the ceiling of the balcony section at select performances (see calendar), show close-ups of the action on stage in high-definition video and with English subtitles. OperaVision is made possible by the Koret/Taube Media Suite.
The War Memorial Opera House is located at 301 Van Ness Avenue. Patrons are encouraged to use public transportation to attend San Francisco Opera performances. The War Memorial Opera House is within walking distance of the Civic Center BART/Muni Station and near numerous bus lines, including 5, 21, 47, 49 and F Market Street. For further public transportation information, visit bart.gov and sfmta.com.
For details of past San Francisco Opera presentations of Cavalleria Rusticana, Pagliacci, Roberto Devereux, Tosca, Arabella, Carmen, Orlandoand Rusalka, visit the online performance archive at archive.sfopera.com.
All casting, programs, schedules and ticket prices are subject to change. For further information about San Francisco Opera's 2018-19 Season, visit sfopera.com.
Photo: Sondra Radvanovsky as Elisabetta in Donizetti's "Roberto Devereux."
Photo Credit: Michael Cooper/Canadian Opera Company