Arc Stages To Present COMPANY Beginning Next Week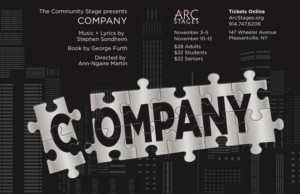 Pleasantville theatre company Arc Stages announces Company as the fall show for their Community Stage. The Community Stage is the second wing of a company that also includes a thriving Educational Stage and a professional stage, the Next Stage.
Performances will be held at Arc Stages, located at 147 Wheeler Avenue in Pleasantville NY.
Friday, November 3 at 8pm
Saturday, November 4 at 8pm
Sunday, November 5 at 2pm
Friday, November 10 at 8pm
Saturday, November 11 at 8pm
Sunday, November 12 at 2pm
Tickets are $28 for adults, $22 for students/seniors. To purchase tickets, please visit Arcstages.org or call 914-747-6206.
Company will be directed by Ann-Ngaire Martin, musical directed by Marcus Baker and feature: Patrick Gallagher, Louie G. Quintero Jr.,Jocelyn Jones, Hannah Kluger, Alexander Rosenthal, Jeremy Sapadin, Galit Sperling, Reid Aronson, Tamara Hayes, Ann Mounty, Arnie Toback, Jennifer Helen Morris, Lara Paul, Ruth Kenote

Company is a musical comedy by Stephen Sondheim and George Furth. On the night of his 35th birthday, confirmed bachelor Robert Contemplates his unmarried state. Over the course of a series of dinners, drinks and even a wedding, his friends - "those good and crazy people [his] married friends" - explain the pros and cons of taking on a spouse. The habitually single Robert is forced to question his adamant retention of bachelorhood during a hilarious array of interactions.
About Arc Stages
Arc Stages is a multifaceted arts organization in Pleasantville, New York, which is composed of three theatre companies under one roof.
The Educational Stage: an educational theatre company where students of all ages (youth and adult) can explore the world of theatre through a professional rehearsal process, master classes, outreach and intensive ensemble work.
The Community Stage: a community theatre company for actors, singers and technicians from all walks of life that offers the best in American musicals and dramas.
The Next Stage: a professional theatre company that endeavors to produce high quality contemporary theatre as well as new works, cabaret, workshops and staged readings.
More Hot Stories For You