Thousands Of Newark School Children to Become Budding Instrumentalists Thanks to Charitable Donation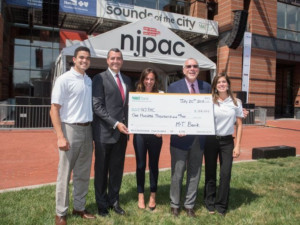 Funding from M&T Bank benefits R.A.M.P. (Recorder Arts for Musical Pathways) - an arts learning program for elementary school students - as well as the Horizon Foundation Sounds of the City, Presented by M&T Bank summertime concert series at NJPAC (Newark, New Jersey - November 8, 2017) A lively music program for Newark third- and fourth-graders has experienced a growth spurt this academic year, thanks to the generosity of M&T Bank in supporting arts education at New Jersey Performing Arts Center (NJPAC).
As part of a $100,000 grant from M&T Bank, NJPAC will add seven Newark Public Schools to the roster of 18 participating in R.A.M.P. (Recorder Arts for Musical Pathways), now in its fifth year. About 3,500 children are currently learning to read sheet music and play their new recorders in preparation for a culminating concert in the Arts Center's Prudential Hall on June 13, 2018. "The outcome of M&T Bank's deeply appreciated gift will be that so many children will one day remember that it was here that they first developed a love for music," said Alison Scott-Williams, NJPAC's Vice President of Arts Education. "Some will grow up to continue their performance studies at NJPAC, but all will benefit from learning about composers and different kinds of music, while gathering life skills in teamwork, confidence-building and creativity." "An investment in public education is an investment in our community's future, and music education enriches the lives of students in many different ways. Working through NJPAC, we're able to provide additional resources for the Newark Public Schools to benefit our local students," said M&T Bank Regional President Tom Comiskey. Under the guidance of NJPAC Teaching Artist Patricia Billings, who consults with classroom teachers, children are introduced to the Recorder Karate Motivational Method, which awards colorful "belts" affixed to students' instruments as they learn more notes and fingerings. Other musicianship skills include correct embouchure (mouth to instrument placement), breath control, hand position and posture. For the concluding performance in NJPAC's concert hall, students selected from each school play recorders from their seats with a professional chamber ensemble and jazz group positioned onstage. An All-Star Recorder Choir performs alongside the professional musicians. The youngsters master traditional songs like "Merrily We Roll Along," "Twinkle, Twinkle Little Star," and eventually others that incorporate jazz rhythms ("Oye Como Va"). The second-level jazz curriculum covers creating jazz riffs, composing a blues song, improvising, and other musical skills. In addition, M&T Bank is the presenting sponsor of
Horizon
Foundation Sounds of the City, Presented by M&T Bank: free concerts held
Thursday
evenings in July and August at the Arts Center's outdoor
Chambers
Plaza. Hailed by The New York Times as "Newark's town social," Sounds of the City attracts thousands of music and dance fans who enjoy great entertainment under the stars. About M&T Bank
M&T Bank Corporation (NYSE:MTB)("M&T") is a financial holding company headquartered in Buffalo, New York. M&T's principal banking subsidiary, M&T Bank, operates banking offices in New York, Maryland, New Jersey, Pennsylvania, Delaware, Connecticut, Virginia, West
Virginia
and the
District
of Columbia. Trust-related services are provided by M&T's Wilmington Trust-affiliated companies and by M&T Bank. New Jersey
Performing Arts Center
(NJPAC), located in downtown Newark, N.J., has the most diverse programming and audience of any performing arts center in the country, and is the artistic, cultural, educational and civic center of New Jersey - where
Great Performances
and events enhance and transform lives every day. NJPAC brings diverse communities together, providing access to all and showcasing the state's and the world's best artists while acting as a leading catalyst in the revitalization of its home city. Through its extensive Arts
Education
programs, NJPAC is shaping the next generation of artists and arts enthusiasts. NJPAC has attracted more than 8 million visitors (including over 1.6 million children) since opening its doors in 1997, and nurtures meaningful and lasting relationships with each of its constituents.
More Hot Stories For You