Review: ROD SERLING'S STORIES FROM THE ZONE Journeys into a Wondrous Land Whose Boundaries are that of the Imagination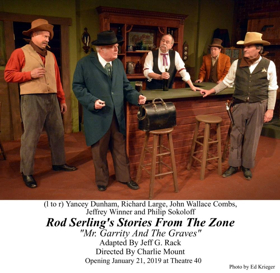 Rod Serling's television anthology series The Twilight Zone was a popular and critical success when it ran on CBS for five seasons from 1959 to 1964, shot entirely in black and white. The series introduced many Americans to appreciate stories in various genres including fantasy, science fiction, suspense, horror and psychological thrillers, often concluding with a macabre or unexpected twist, usually ending with a moral explained by the writer himself. It has remained so popular that you can often find The Twilight Zone marathons running on various television stations, especially on holidays.
As a fan of the show, I often watch episodes when they are shown, keeping my The Twilight Zone Companion handbook close by to check on facts and cast information from each episode. So I made plans to attend when I heard Theatre 40 was going to be presenting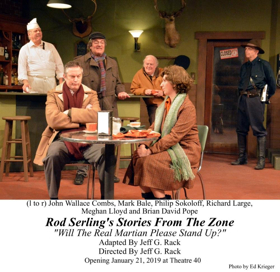 Rod Serling'S STORIES FROM THE ZONE adapted and co-directed by multiple Ovation Award winning set designer Jeff G. Rack, made up of two episodes:"Mr. Garrity and the Graves" and one of my favorites "Will the Real Martian Please Stand Up?" At the beginning of both, Rack enters as Serling after the familiar introduction to the show is screened, reminding us we will be traveling through another dimension, a dimension not only of sight and sound but of mind, inviting us to take a journey into a wondrous land whose boundaries are that of the imagination.... and then returns at the end to offer Serling's moral lesson.
The production is co-directed by Charlie Mount, a playwright who is also a professional illusionist and an actor who most recently portrayed Ray Bradbury in Martians: An Evening with Ray Bradbury, produced by his and Rack's Arcane Theatreworks company. The frequent collaborators and science fiction fans will no doubt be bringing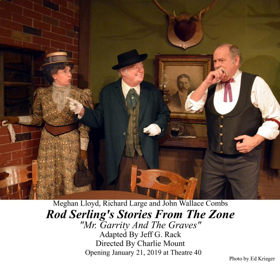 other great and thought-provoking productions to Los Angeles stages in the future.
The cast of Rod Serling'S STORIES FROM THE ZONE includes Mark Bate, John W. Combs, Yancey Dunham, Henry Herman, Richard Large, Meghan Lloyd, Brianna Parcel, Brian Pope, Jeff G. Rack, Philip Sokoloff, Toni Trenton and Jeffrey Winner, all of whom deliver great character performances in both episodes, beautifully dressed to period perfection by Shon LeBlanc, owner of The Costume House in NoHo.
And now a bit about the two episodes presented, selected because each contained the same number of actors and could be adapted to appear on the same set design, which is also featured in IT IS DONE, also directed by Jeff Rack which runs in rep with this production through February 17.
"Mr. Garrity and the Graves" originally aired on 5/8/64 near the end of the show's run. In the Old West circa 1890,
Jared Garrity (Richard Large) arrives in The Town of Happiness, Arizona, claiming to have the ability to resurrect the dead. Of course, the locals don't believe him until a man rushes in with a dead dog in a basket, asking for help to revive him. It's all a set up, with Garrity paying off his accomplice for his assistance in gaining the support of the town, each of whom paid at least $750 to review their loved ones. But when the townspeople figure that resurrecting the folks planted on Boot Hill might not be the best idea, the plot twist at the end reveals Garrity actually has done what he even thought he could not do!
"Will the Real Martian Please Stand Up?" first aired on 5/26/61 during the show's second season and remains one of the series most popular episodes due to its premise that aliens from other planets were in fact living among us, disguised as humans while planning their invasion.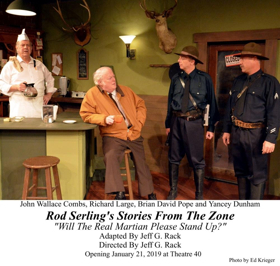 Taking place on a snowy night in February in upstate New York in a diner (recycled from Theater 40's recent production of BUS STOP which Rack designed) run by Haley (John Wallace Combs), passengers on an old bus originally bound for Boston become stranded when a bridge becomes impassible. But just before they arrive, there is a loud crash (thanks to sound designer Joseph "Sloe" Slawinski) outside near the diner, after which a local woman calls in to report the landing of a UFO, causing two local State Troopers (Yancey Durham and Brian David Pope) to arrive soon after the bus passengers to investigate the UFO report, finding tree tops broken off and a large hole left in a local, snow-covered field with footprints leading to the diner.
After checking with the bus driver and finding out
he counted six passengers, and then determining seven actually arrived at the diner when the bus stopped then, a growing realization that one of their number might actually be an invader from Mars soon causes the passengers to question each other as to which of them was not really on the bus and arrived on the reported UFO. And why are the lights inside the diner flashing and the juke box coming on when no one is near it? Of course, the twist at the end reveals there are two aliens from different planets in the diner, each of whom is convinced their soon-to-be arriving troops will be the ones to take over the Earth. Special kudos go to Jeffrey Winner and Philip Sokoloff for keeping us guessing who is the alien as they blame each other, while we wait for the truth to be revealed.
Rod Serling'S STORIES FROM THE ZONE adapted by Jeff G. Rack, directed by Jeff G. Rack and Charlie Mount,
is produced by David Hunt Stafford for Theatre 40 in association with Arcane Theatreworks. Performances continue daily through February 17, 2019 in the Reuben Cordova Theatre, 241 S. Moreno Dr., Beverly Hills, CA 90212, located on the campus of Beverly Hills High School. Ample free parking is available in the lot adjacent to the theater when you enter from the intersection of Durant and Moreno Drives. Tickets are $25, available by calling (310) 364-3606 or online at www.theatre40.org where a complete performance schedule by date is available.
Photo credit: Ed Krieger