Review: LINDA VISTA Offers a Comically Unsettling Look at the Contemporary Dating Scene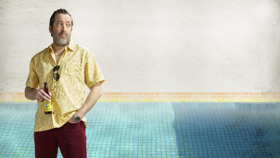 Tracy Letts is an award-winning playwright whose latest play LINDA VISTA was commissioned by and the world premiere presented at Steppenwolf Theatre Company in Chicago, IL in April 2017. His anti-hero protagonist, Wheeler, is a 50-year-old man who is first seen carrying boxes into his new apartment, a big step up from the cot in his ex-wife's garage. And even though his job as a camera repairman is mundane at best and the best years of his life appear to be behind him,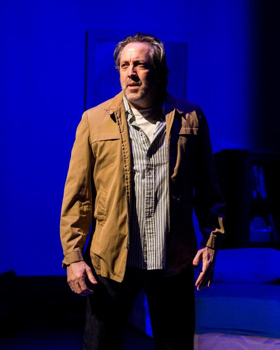 Wheeler seems to hope this new move will open up new possibilities for love, sex and maybe a taste of redemption. But is he really ready to face the necessary self-examination to reconcile the man he has become with the man he wants to be?
Now being presented by Center Theatre Group at the Mark Taper Forum, directed by Dexter Bullard who also helmed the Steppenwolf production, LINDA VISTA features actor Ian Barford who has originated four roles in Letts' canon of plays, and has remained friends with the playwright for 30 years. But no doubt Letts' very contemporary and biting social commentary on the immaturity of men when it comes to dealing with women and adult life will no doubt upset many in the audience when it becomes apparent Wheeler will never be ready to grow up. After all, it seems the older he gets,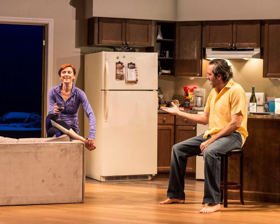 the younger he wants to become even when his body won't go along with the idea. It's comically unsettling and all too real when it comes to the contemporary dating scene.
Right off to bat I will say that I think the author likes his male anti-hero a lot more than I did. But then I am a woman fed up with men like his character Wheeler who are so self-centered and shallow they never take into account the feelings of the women they use and toss away. But I do admit I laughed a lot at his foolishness and loved all the Steely Dan music, even though it was blasted way too loud.
Before I go on any further, I must alert you that there is quite a bit of full-frontal nudity during sexual encounters between
Wheeler and the two women with whom he becomes involved during the play, both of them just as needy and co-dependent as he is. First introduced to Life Coach Jules (Cora Vander Broek) by his married friends Paul (Tim Hopper) and Margaret (Sally Murphy), Wheeler is immediately intrigued after an evening of karaoke and drinking leads to initiating his new apartment to the joy of sex. The two seem to be a good match since both of them are still reeling from recent break-ups, but thankfully her independent nature and training will help her survive his decision to stop seeing her after spending a month of nights together.
You see, someone needs him more: a beautiful, young and outspoken Asian woman
he met at a local pub who happens to live in the same building as Wheeler does. So when Minnie (Chantal Thuy) interrupts the new lovers by ringing his doorbell with all her belongings in a laundry basket, confessing to have been abused and probably pregnant by her drugged-out boyfriend, Wheeler offers her his extra bedroom as a safe place to stay until she figures out how to live her life. All this while Jules waits for him to come back to her in his bedroom! His reasoning becomes apparent later on when we learn about his dysfunctional relationship with his own son,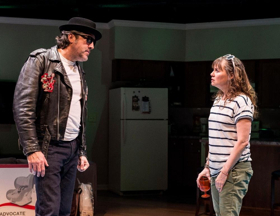 hoping to do better this time as a father to Minnie's baby.
Of course, Minnie's real need for his help, both financially as well as emotionally, and her youthful sexual drive and interests, lead Wheeler to dress as a "greaser," which flabbergasts his friends to the point of questioning his sanity, or perhaps proving that we lose whatever we had in common with old friends as time takes us in different directions.
After Wheeler winds up with a broken heart when the very pregnant Minnie decides to leave town to seek out her baby's real father, the play's final scene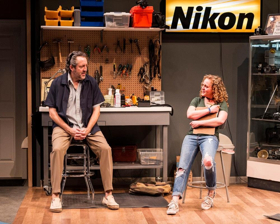 will leave you wondering if Wheeler will turn to his co-worker Anita (Caroline Neff) for attention, following in his serial conquests just so he won't have to be alone. One can only hope she sees through him and as Jules did and decides to value herself more than succumbing to the wiles of a man only looking to fill his bed until someone better comes along. I'd like to think their mutual interest in photography will guide Wheeler to pick up his old camera and develop his long-lost artistic creativity to assist in him taking positive steps in a new direction.
This very contemporary tale set near San Diego
reflects the ever-changing single scene in beachside California towns where there are lots of people searching for some answer or some dream as they look for self-fulfillment. As Barford shares, "They may not even know what they are looking for," which is exactly how Wheeler will probably continue to exist his entire life. And while Letts' dialog is hilarious, it is certainly poignant and painful at the same time, just like real life.
What I can tell you I loved about the production was Todd Rosenthal's scenic design with a rotating circular centerpiece set broken into three rooms: the living room/kitchen and bedroom in Wheeler's apartment, and a third room which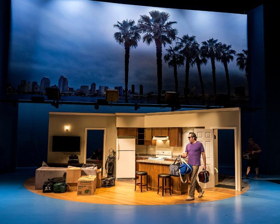 silently transforms into many different locations when unseen by the audience as the set turns. This allows movement between scenes via doors in each wall as the rooms turn to take center stage. I found the visual aspect it added to the play even more appealing than Letts' bitingly hilarious story, and credit director Dexter Bullard for his insight into keep the action constantly moving between scenes, creating the ever-hopeful notion that Wheeler will eventually walk through the right door and come to his senses, unless of course co-worker Michael's (Troy West) comment about committing suicide via cheese grater takes Wheeler in that direction!
LINDA VISTA continues through February 17, 2019 Tuesday through Friday at 8 p.m., Saturday at 2:30 and 8 p.m., Sunday at 1 and 6:30 p.m. Dark Mondays. Tickets range from $30 - $99, available online at CenterTheatreGroup.org, by calling Audience Services at (213) 628-2772 or in person at the Center Theatre Group Box Office (at the Ahmanson Theatre at The Music Center where the Mark Taper Forum is also located at 135 N. Grand Avenue in Downtown L.A. 90012. Due to nudity and very adult conversations about and depictions of sex, this play is not suitable for children.
Photos by Craig Schwartz