Latest News on Craig Schwartz
Craig Schwartz News
BLUES FOR AN ALABAMA SKY to Open This Week at the Mark Taper Forum
by Chloe Rabinowitz - Apr 11, 2022
The revival of Pearl Cleage's rich and beautiful work "Blues for an Alabama Sky" opens Wednesday, April 13, 2022, at 8 p.m. at Center Theatre Group / Mark Taper Forum and continues through May 8.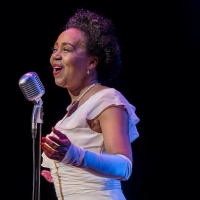 BWW Review: LADY DAY AT EMERSON'S BAR AND GRILL at FreeFall Theatre
by Drew Eberhard - Apr 1, 2022
Lady Day at Emerson's Bar and Grill is a play with music written by Lanie Robertson and this production is directed by Wren T. Brown. The musical premiered in 1986 in Atlanta, Georgia and its story recounts some events of Billie Holiday's life leading up to this performance at Emerson's four months shy of her death in 1959. Emerson's is a small bar in South Philadelphia and the time is a midnight performance by Lady Day. Set to the backdrop of a piano center stage and a few cocktail tables around the space, we relive some events of Ms. Holiday's life as told through stories found deep in her memory but living on the surface as if they just happened yesterday.
BWW Review: ALMA at Kirk Douglas Theatre
by Tracey Paleo - Mar 18, 2022
National LatinX Playwriting Award winner Benjamin Benne's stunning nee play, ALMA, launches the new theater season at the Kirk Doulas Theater and it is triumphantly resonant.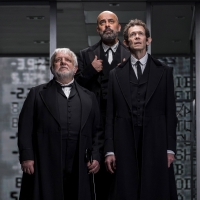 BWW Review: THE LEHMAN TRILOGY at Ahmanson Theatre
by Jonas Schwartz-Owen - Mar 10, 2022
Three men stand on a stage for over three hours, trekking through 150 years of history in The Lehman Trilogy and it's the most invigorating evening imaginable. Directed by Sam Mendes and written by Stefano Massini—and adapted by National Theatre dramaturg Ben Power -- the play is a remarkable journey of three immigrant brothers from Bavaria, who travel to America to start a small business that evolves into the money-making machine known as Lehman Bros.
ALMA Will Premiere at Center Theatre Group's Kirk Douglas Theatre on March 13
by Nicole Rosky - Mar 10, 2022
The world premiere of "Alma" opens Sunday, March 13, 2022, at 6:30 p.m. at Center Theatre Group's Kirk Douglas Theatre and continues through April 3, 2022. Written by up-and-coming playwright Benjamin Benne and directed by Juliette Carrillo, this new work will reopen the Douglas after more than two years. Produced in cooperation with American Blues Theater, the cast of "Alma" features Sabrina Fest as daughter Angel and Cheryl Umaña as mother Alma.
BWW Review: ALL'S WELL THAT ENDS WELL at A Noise Within
by Evan Henerson - Feb 21, 2022
ALL'S WELL THAT ENDS WELL undeniably has at its center, a butterfly-in-waiting and a marvelous performer waiting to take her on. From leading lady Erika Soto to company stalwart Deborah Strang, Nike Doukas's solidly entertaining production of ALL'S WELL boasts a particularly strong core of women who anchor this effort with great skill.
BWW Review: SLAVE PLAY Considers and Probes
by Evan Henerson - Feb 21, 2022
Unquestionably, we all should listen...and talk...and occasionally laugh, and sometimes we should even be screaming until our lungs are on the brink of explosion. And we can be doing some of this to a Rihanna soundtrack.
Photos: Photos: First Look at Vivian Reed & More in BLUES IN THE NIGHT
by Chloe Rabinowitz - Nov 18, 2021
Ebony Repertory Theatre in Association with International City Theatre is presenting the Tony and Olivier Award-nominated musical BLUES IN THE NIGHT, conceived by Sheldon Epps, directed by ERT Producing Artistic Director Wren T. Brown, choreographed by Keith Young, and music directed by William Foster McDaniel.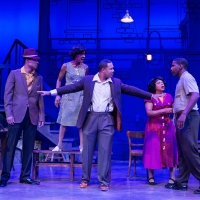 BWW Review: The Sweet Sounds of August Wilson: SEVEN GUITARS at A Noise Within
by Evan Henerson - Nov 2, 2021
Music and musicality run through the works of August Wilson like a sweet and impenetrable blues lick. There figures to be notes aplenty in any opus titled SEVEN GUITARS, the fifth play of Wilson's cycle which is enjoying a muscular revival directed by Gregg T. Daniel at Pasadena's A Noise Within.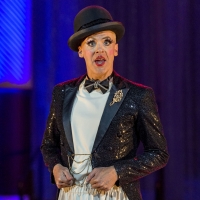 BWW Review: THE TROUBIES' LIZA-STRADA at Getty Villa
by Jonas Schwartz-Owen - Sep 15, 2021
During the opening number, the Troubadour Theatre Company, affectionately known to all as the Troubies, comment how thrilled the troupe, and the audience by extension, is to have returned to live theatre. The audience responded with glorious applause, and both the occasion and the Troubies deserve that adulation. The Troubies, who have rocked Los Angeles for the last 25 years, are one of the most creative teams in the city. Their imagination and gumption has entertained with parodies of classical works infused with a musical motif such as Alice In One-Hit Wonderland, Much ADoobie Brothers About Nothing, and A Charlie James Brown Christmas. Their latest, Lizastrata, based on both the Greek Aristophanes comedy Lysistrata and the songs made popular by Liza Minnelli, could have been a dazzler, but with a gossamer plot, too many recycled jokes, and a venue ill-equipped to allow the cast to sing with heft, the latest production is uninspired.
Craig Schwartz Videos