Chris Isaacson Presents Announces Winter 2018 Slate Of Entertainment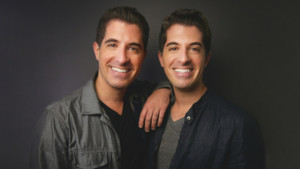 Chris Isaacson Presents has announced a full slate of winter entertainment at three venues: Catalina Bar & Grill in Hollywood, Martinis Above Fourth in San Diego, and The Purple Room in Palm Springs. The lineup begins with vocal powerhouse Crissy Collins and continues with Will & Anthony Nunziata; Alisan Porter (winner of NBC's The Voice); Emmy Award-winner Leslie Jordan in his new show Exposed; and American Idol's Anthony Fedorov with Australian singer/songwriter Shelley Segal.
Acclaimed actress, singer, and powerhouse member of Beyoncé's The Mamas, Crissy Collins will make her solo debut with her show Heart to Heart. Perhaps best known for her acting and singing roles in Tyler Perry's films Diary of a Mad Black Woman, Medea's Big Happy Family, Medea Goes to Jail and as famed back-up singer for Beyoncé, Collins will bring her brand of neo-soul, jazz, and pop to an evening of love songs and audience favorites from Anita Baker to Bob Marley, Sade to Tina Turner, Aretha Franklin to Angie Stone, and of course, Beyoncé. [Catalina Bar & Grill on Wednesday, February 7, at 8:30pm; Martinis Above Fourth on Thursday, February 8, at 8pm; The Purple Room on Friday, February 9, at 8pm.]
Acclaimed recording artists, actors, and songwriters Will & Anthony Nunziata will perform their show From Broadway With Love at Catalina Bar & Grill. The twin brothers recently filmed featured roles in the upcoming Netflix comedy The Last Laugh with Chevy Chase and Richard Dreyfuss and headlined two sold-out concerts at Carnegie Hall with The New York Pops Orchestra. Hailed by The Huffington Post as, "a nearly impossible pairing of talent, stage presence and charisma," the Brooklyn-born twin brothers bring their signature wry wit and high energy two-part harmonies to popular songs from Broadway and beyond to the stage for a one-night-only performance. [Catalina Bar & Grill on Sunday, February 11, at 7:30pm.]
Alisan Porter could sing with perfect pitch when she was a baby. Born to a Broadway singer mom and rocker dad, she went from wowing America on Star Search at the age of five to starring in the 1991 John Hughes film classic Curly Sue. She has appeared on Broadway, starring in the first production of Footloose and the 2006 revival of A Chorus Line. She has released two solo albums, Alisan Porter (2009) and Who We Are (2014). Porter made history on NBC's The Voice, winning Season 10 and becoming the first victor for a female coach representing "Team Christina Aguilera." She then turned down a major label record contract in order to follow her heart as an independent artist and has conjured a style steeped in booming gospel, soulful blues, and rock 'n' roll energy. [Martinis Above Fourth on Thursday, February 15, at 8pm.]
Best known for his stand-out roles in Sordid Lives, American Horror Story, The Help, and as the beloved Beverley Leslie on Will & Grace, Leslie Jordan has charmed fans for over four decades. In Exposed, he invites the audience behind the scenes of his childhood and career, offering a charming and hilarious look back at his life experiences as a flamboyant youth raised as a Southern Baptist, along with the unbelievable real-life stories and treasured anecdotes from his renowned stage and television performances. [Catalina Bar & Grill on Sunday, March 4, at 7:30pm.]
Singer and guitarist Anthony Fedorov (American Idol finalist) and Australian singer-songwriter Shelley Segal will be in residence for six months at Martinis Above Fourth performing an evening of contemporary jazz to classic and concert rock, as well as original songs written and recorded by the duo. Fedorov recently celebrated the release of his debut album Calling On You and Segal released her new song Somebody Like You in December 2017. Admission is free; food and drink minimums apply. [Martinis Above Fourth on Saturdays - February 10, March 10, April 14, May 12, and June 9, at 7:30pm.]
Chris Isaacson Presents (CIP) has created, produced, and promoted over 700 events since the company's founding in 2004. From small clubs to major theatres, CIP has presented some of the most influential stars of this generation. CIP's summer event in 2016 - Broadway Under the Stars: Celebrating the 35th Anniversary of "Dreamgirls" - was a complete sellout at the John Anson Ford Amphitheatre in Hollywood. In early 2017, CIP coordinated and produced an elaborate kick-off event at the Pacific Design Center celebrating the premiere of Ryan Murphy's FEUD: Bette and Joan (FX Networks). The Drag-Tacular Live Concert Event featured Tony Award-nominee Sam Harris as host. Niki Haris and Bianca Del Rio were only two of the many stars in the show, which played to a standing room only crowd. For more information, go to www.ChrislsaacsonPresents.com.
Tickets for all shows on the CIP Winter Slate of Entertainment are on sale now and may be purchased online at www.ChrisIsaacsonPresents.com or www.ticketweb.com. Phone reservations may be made as follows - for shows at Catalina Bar & Grill [6725 W. Sunset Boulevard in Hollywood] call (866) 468-3399; for shows at Martinis Above Fourth [3940 Fourth Avenue in San Diego] call (619) 400-4500; and for shows at The Purple Room [1900 E. Palm Canyon Drive in Palm Springs] call (760) 322-4422.