Review: ROTTERDAM Asks if Love is Always Enough to Keep A Couple Together When Their Personal Reality Changes
As I walked into the Kirk Douglas Theatre in Culver City to see ROTTERDAM, the second play of Center Theatre Group's 2019 Block Party, I was drawn to a display asking audience members questions about relationship deal breakers. A few of the questions about relationship deal breakers included if one person in a couple changes into a religious zealot for beliefs you do not share or takes a job requiring a cross country move to a small town where you know no one, would that end the relationship for you. Ultimately, of course, all relationships can survive if based on real and abiding love for each other, especially if you take vows promising to stay together in spite of hard times, health or money issues, or whatever else may force a divorce.
What I realized in answering the questions is that real and abiding love of who a person really is down to their soul,
not their superficial appearance or belief system, is what is necessary for a relationship to survive real challenges. But what if one person in a couple decides he/she is transgender and decides to transition to the opposite sex? Is that a deal breaker, especially if you are no longer physically attracted to that person?
Much media attraction has been focused on transgender people sharing their stories, with most acknowledging the need to be able to live the life they envision for themselves without prejudice or scorn aimed at them. And while society is changing (no doubt you have seen public restrooms now labeled to allow all gender access), there are real issues to be dealt with on a daily basis for anyone challenging the notion that whatever physical body you were born with must be the real person you are meant to be when it comes to gender.
Amid a breaking wave
of transgender stories in popular culture (Transparent, Boy Meets Girl, and Orange is the New Black), Olivier Award winner Jon Brittain created ROTTERDAM, a groundbreaking play with deeply relatable characters that are flawed and often hilarious or heartbreaking as they struggle to be truthful about their identities. I originally reviewed the production in its West Coast premiere at the Skylight Theatre in December 2017, brilliantly directed in his Ovation Award winning style by Michael A. Shepperd with four remarkable actors who will have you believing they really are telling their own personal stories. The thought-provoking play made it to my annual Top Plays List, so I was extremely excited when the production was selected for the 2019 Block Party as I would be able to see it again with an expanded staging, the identical cast and production team.
At its core,
ROTTERDAM is a powerful, character-driven tale of love and identity about what happens in a lesbian relationship when one partner decides to identify as transgender and begins the process of switching from female to male. Would such a situation be a deal breaker for you, especially if you are not attracted to the opposite sex? Could your deep and abiding love for that person allow you to accept the change and stay together? Or like so many other couples of all sexual orientations, would such a challenge drive you into divorce court?
The play opens just prior to New Year's Eve in present-day Rotterdam,
a port town in the Netherlands, where we meet Alice and Fiona, a lesbian couple together for the past 7 years, who live with Fiona's brother Josh (Ryan Brophy), who just happens to be Alice's former boyfriend with whom she first moved to Rotterdam. He deeply loves both women, in differently ways of course, and wants to support them in being happy in all aspects of their lives, whether together or apart. But if Alice were to decide to return to him once Fiona transitions, he would be one happy fella.
We first meet
Alice (Miranda Wynne) as she struggles to gain the courage to send an email to her parents telling them she's a lesbian. But before Alice hits send, her girlfriend Fiona (Ashley Romans, whose performance will astonish you with its heartfelt realism) reveals that she has always identified as a man and now wants to live as one beginning in the New Year. Thus is set in motion a tale of new beginnings, much soul-searching, and a true test of whether love can really keep every couple together in the face of unexpected and life-altering change.
Of course, Fiona's revelation throws their relationship into a tailspin, especially since Alice admits there is no way she could ever be physically attracted to a male, even as much as she truly loves Fiona.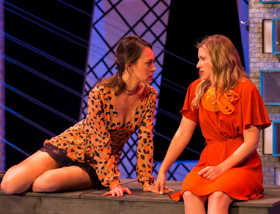 You will sense the frustration and heartache for both of them as Fiona physically transforms herself, beginning the process in front of the audience with Alice's assistance, to wear a chest binder and insist she now be called Adrian. But with the change in her appearance into that of male and her desire to be accepted as one, Alice struggles with her orientation choice and eventually turns to another woman (Audrey Cain, who rejoices in her personal freedom as the free-spirited and totally out Lelani) for the physical affections she desires, all the while still loving the now-gone Fiona with all her heart.
Wynne authentically presents the emotional gambit as Alice struggles to figure out what she really wants to do,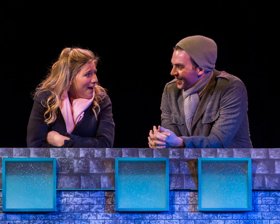 even turning to Josh for the support she needs to accept Adrian and decide how she really wants to live the rest of her life. Secretly, Josh seems to hope Alice, the woman he still deeply loves, will change her mind and come back to him, although Alice knows that will never happen. It is a woman she desires, after all, isn't it? Or is it really the person's soul that you love, no matter their physical appearance or gender identification?
It's a love story played out across gender lines between couples of all orientations, very human and heart wrenching,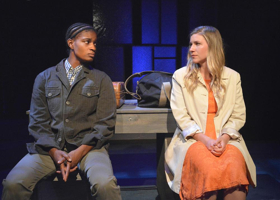 with no definite answer given by the play's conclusion if the couple will stay together or part ways, although a moment of tenderness seems to indicate everything will work out best for the both of them, whatever decision is made. But then again, I am a romantic at heart and will always hope love will guide their way to stay together. Even so, we all know that is not realistic these days.
One thing is certain -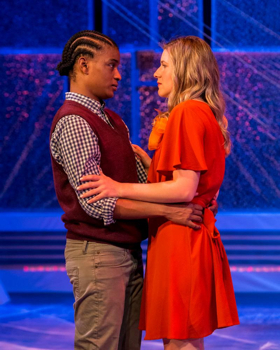 now is not the time to create an atmosphere of fear and intimidation in which loathing and self-hatred will keep people silent about their true selves. Now IS the time to allow everyone to live a full and authentic life, creating the happiness we all desire in our lives. I hope after seeing ROTTENDAM, your eyes are opened to new possibilities as well as acceptance of how a change in attitude just might bring people together rather than tear them apart.
Special kudos go out to the modern, stylized urban set and lighting design by Jeff McLaughlin which magically changes locales and even color temperature as the action moves within its open structure, highlighted by a movable piece of furniture that, like its main character, transforms from its original appearance into exactly what is needed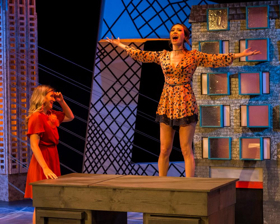 to create the truth in every scene. And each of those transitions is performed with Sheppard's signature stylized movements, making each scene change noteworthy in its own right.
ROTTERDAM Block Party tickets through April 7, 2019 are available by calling (213) 628-2772, online at www.CenterTheatreGroup.org, at the Center Theatre Group Box Office at the Ahmanson Theatre or at the Kirk Douglas Theatre Box Office two hours prior to performance. Tickets for each individual production range from $25 - $77 (ticket prices are subject to change). The Kirk Douglas Theatre is located at 9820 Washington Blvd. in Culver City, CA 90232. Free three hour covered parking at City Hall with validation (available in the Kirk Douglas Theatre lobby
Photo credit:
Craig Schwartz