BWW Interview: HENRY IV's Versatile Harry Groener Muses on the Mechanics and Love of Theatre
The Shakespeare Center of Los Angeles (SCLA) currently presents their new distinct take on Shakespeare's classic HENRY IV in the Japanese Garden on the West L.A. VA Campus. Helmed by Tony Award-winning director Daniel Sullivan, SCLA has combined PART I and PART II into a single sitting of theatre, featuring the Los Angeles stage debut of Tom Hanks as Falstaff.
We had the opportunity to chat with one of HENRY IV's most talented co-conspirators, actor Harry Groener who plays Northumberland and Justice Shallow. Just on the theatrical boards alone, Harry has essayed roles as varied as Big Daddy in CAT ON A HOT TIN ROOF, Lear in KING LEAR, and Munkustrap in CATS.
Thank you taking the time for this interview, Harry.
What serendipity brought you to this particular production of HENRY IV?
This is the fourth show I've done with Dan Sullivan: the first was at Actors Theatre of Louisville in 1976 - WHO'S AFRAID OF Virginia Woolf?; I played Nick. That was the year Dawn and I met. In 1988, I was in Richard Greenberg's play EASTERN STANDARD with Tom Hulce. And the third was GIRL CRAZY - a version that Herb Gardner was adapting. EASTERN STANDARD and GIRL CRAZY were both as Seattle Rep.
Have you previously seen any productions in the Japanese Garden?
No, but I did see Shakespeare Center's earlier production of JULIUS CAESAR on the steps of the Courthouse downtown. That was very exciting.
What can Shakespeare aficionados expect from this The Shakespeare Center of Los Angeles production?
A new take on the tales of HENRY IV. The most important thing is that you have the entire story, PARTS I & II, in one evening.
The Japanese Garden outdoor stage is set up as a thrust stage. What are your thoughts working on a thrust stage?
I remember as a child, when my mother was performing, what you saw when you were waiting for the show to start was a deep red curtain - a few inches off the ground. You could see people scurrying. I was fascinated. Then, when the curtain when up, there was an entire world. I actually prefer prosceniums!
However, the thrust stage offers an interesting perspective - there are more dimensions to it. But for the actor, you have to behave in a way that is unnatural. You have to offer something to the people on the sides. You have to move more and keep moving, when you might not naturally move. There is always one-third of the house that can't see you. When you talk, you might have to slow down and speak up so the audience who is behind you can hear the dialogue. With a proscenium, you can sit at a table for a very long time. Chicago Shakespeare Theatre has a very deep thrust -- where I did THE MADNESS OF KING GEORGE III and CYRANO DE BERGERAC. Seems huge, but it's actually quite intimate.
How much rehearsal time have you had for HENRY IV?
We had a month starting May 5. Previews began June 5. It was a reasonable amount of time and the time was used well.
What's the shortest rehearsal period you've had to mount the boards?
REPRISE [the Los Angeles based musical series] has about the shortest time - but I remember at PCPA (Pacific Conservatory Theatre), we did five shows in rotating rep. You could be in three - you'd rehearse a musical in the morning, a play in the afternoon and another play in the evening. You'd start one, and three weeks later, that show would go up. Three days later, the next show would go up, etc. That seemed like a short time to get MY FAIR LADY teched, costumed, and up! Amazing!
And the longest, most luxurious rehearsal time?
Broadway shows have a long time - and when you go out of town, you are in rehearsal during the day and playing the show at night. You are in constant tech. At the start of rehearsal of CATS, we spent a lot of time doing improv work - two or three weeks - before we started rehearsing the show itself.
Would you say acting with your wife, Dawn Didawick, (as you did in Antaeus' CAT ON A HOT TIN ROOF) avails to more unscheduled or unstructured rehearsal time?
We don't rehearse blocking at home, but we run lines. For CAT ON A HOT TIN ROOF however, we didn't run lines - because I didn't want to talk like that at home. Acting with my wife is the best thing in the world! I love looking at her on stage. She can break my heart - but in CAT my lines were so mean - so that was actually hard.
You are a founding member of the Antaeus Theatre Company. What major or minor changes have you seen in the Los Angeles theatre scene today from that in 1991, in the beginnings of Antaeus?
We've been coming to Los Angeles to work since 1979 - when I came out to do the revival of OKLAHOMA! at the Pantages. It was supposed to be a nine-month tour and then went to Broadway.
Ever since that time, once a year one of us would get theatre work here. At that time, the plays in the smaller theatres were bad - but overall, with time it gotten better and better and better.
With Antaeus, we finally achieved one of our major goals in building our own performing arts complex. It is everything we talked about at the beginning. It blows my mind that all happened! At the beginning, we were a classical company formed by actors - and we had to learn everything about how to run a company. At the beginning, we did it all -- but eventually we had staff and a board of directors, and it began to grow.
When Jeanie Hackett took over in 2005, it bumped up to an entirely different level with beginning the Academy. Her successors took it to another level in 2011. And now, we have board members that were able to put a lot of money into Antaeus. The company continues to evolve and change. And that is good thing. We are not the same company that we were when we were at the Taper. And, of course, I am interested in seeing what the new Equity rules allow us to do and not do.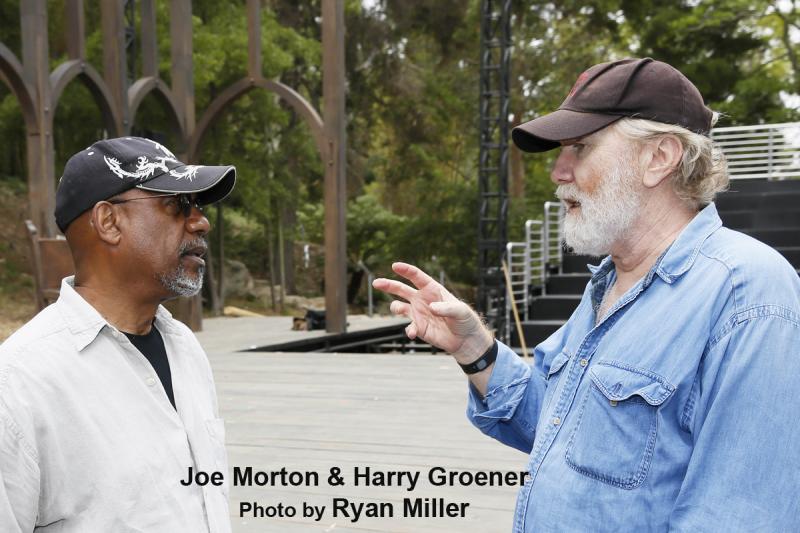 We are also now beginning to single cast shows. The double casting - which we came to be known for -- was a necessity. Double casting allowed actors to take jobs while continuing to perform in the theatre. How can we have our shows and also pay our rent? And then the aesthetic became a good experience for audience and actors.
With a theatre company of continuing members, do you have a short hand that jumpstarts how your characters react to each other? Or do you start building your theatrical relationships from scratch?
Working with the same company of actors allows us to be ahead of the game when we start rehearsal. There is a short hand, and it is a quicker process. This is really true at Antaeus since we know each other so well. We don't have to learn each other from scratch with each production. With a new company of actors, you have to learn how people are and what their process is - how open they are or how closed they are.
Aside from Daniel Sullivan and your fellow Antaeus members (Josh Clark, Peter Van Norden, Geoffrey Wade), have you worked with any others of the HENRY IV cast or creatives before?
Joe Morton and I did OH, BROTHER! together; Dawn worked with Joe on Marsha Norman's THIRD AND OAK, which is an actual corner in Louisville, Kentucky.
You are a triple threat, as evident in your lengthy resume of varied theatrical shows. What was your first ambition growing up? To be a singer? A dancer? An actor? Do you remember what incident sparked your entertainment interest?
I wanted to be a dancer! It was really WEST SIDE STORY that got me into this. I started taking jazz classes at the Conservatory of Ballet in San Francisco run by Merriem Lanova. I was taking jazz classes, and she also ran a ballet company - Ballet Celeste - and I wanted to play the prince in THE NUTCRACKER. But in their NUTCRACKER, the prince did nothing! But I was tall enough, and I could fit in the costumes. So I was in that company for three or four years -- and that was going to be my life. I was also already taking drama classes - so the two disciplines were being worked at simultaneously. And from there, I got into musicals and went back and forth between musicals and plays. These companies did bus-and-truck tours - so it was very exciting and so much fun! You'd get to a town, go the hotel, or go to a different theatre -- that might be a high school gym!
If you had your druthers (and financial compensation was not a factor), which entertainment medium would you prefer to create in - film, television or theatre?
I wouldn't make a choice. They are all wonderful. It more depends on the role.
What was the most unforgettable, unexpected audience reaction/response that you received in all your years on the theatrical stage?
The opening night audience at CATS was just amazing - I never heard so much noise. And I thought nothing would top that until the opening night of CRAZY FOR YOU. The sound of it went into your heart and came out of your eyes. That was just astonishing! I did a play at The Pasadena Playhouse - YOU NEVER KNOW - and during the run of the play there was an earthquake. In the show, there is a Cole Porter song with the lyric "Is it an earthquake or simply a shock?" and the laughter went on and on and on. When the audience responds this way - it is so incredibly satisfying.
Even with your extensive credits, is there still a particular theatrical role you'd still like to tackle?
I just saw a production of DEATH OF A SALESMAN - Willy Loman in his sixties and I am that age. But I don't have a bucket list.
If you closed your eyes, would you be able to hear the differences between a Broadway, Chicago, or Los Angeles audience?
There isn't really. It more depends on what is happening on that stage. However, the audience in Louisville, because of the Humana Festival at Actors Theatre of Louisville, is one of the most sophisticated. They have seen all kinds of theatre and are a very willing audience.
Thank you again for doing this interview, Harry. I look forward to experiencing your confrontations with Henrys IV and V; as well as, your eventual take on Willy Loman.
For available tickets and schedule through July 1, 2018; log onto shakespearecenter.org
Related Articles View More Los Angeles

Stories

Shows
From This Author Gil Kaan
Gil Kaan, a former Managing Editor of the now-defunct Genre magazine, has had the privilege of photographing and interviewing some major divas of film, television, (read more...)