TheatreSquared Announces Grand Opening Season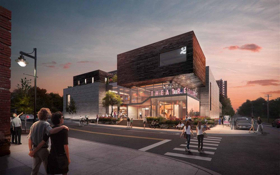 TheatreSquared (T2) Artistic Director Robert Ford and Executive Director Martin Miller today announced the 2019/20 TheatreSquared Season, a yearlong lineup of acclaimed new plays staged in the company's architecturally significant new home. Season packages are on sale today, with seven-play packages starting at $110 by phone at (479) 777-7477 or online at theatre2.org/subscribe.
The season begins with a love letter to theatre, full of laughter and romance-Shakespeare in Love, in a brand new adaptation of the much-loved Oscar-winning film. And it concludes with a five-time Tony Award winner-tied with Hamilton for the most Laurence Olivier Awards ever won by a musical-the critically acclaimed Matilda: The Musical.
"It's our first seven-play season," said T2 Artistic Director Bob Ford, "a grand celebration of this community's singular act of faith and support in helping us to open the region's first home for a resident professional theatre."
The path to this season in a new, permanent home for TheatreSquared began with a group of community members and artists creating a vision for a premier National Theatre in Northwest Arkansas. Fueled by support from the Walton Family Foundation's Design Excellence program, TheatreSquared announced the selection of a world-class design team in November 2015. A close collaboration between London-based theatre planners Charcoalblue and New York-based Marvel Architects - TheatreSquared's new home comes with the expertise that built theatres for the Royal Shakespeare Company, London's National Theatre, St. Ann's Warehouse, and Chicago Shakespeare Theater, among many others. Thanks to a 100-year lease approved in 2016 by the Fayetteville City Council, the theatre will be a vibrant artistic campus steps from dozens of restaurants and bars, blocks from the University of Arkansas campus, and across the street from a new 250-space parking garage. The new building also features residences for internationally renowned theatre artists to work and live in downtown Fayetteville.
"This is a phenomenally exciting season for us. It's the chance to test the wide-open possibilities provided by two new, incredibly intimate, state-of-the-art theatres," said Miller. "Those who sign on to join us will be permanently designated as Founding Subscribers, and receive special invitations and perks. The first of these will be an invitation to meet their new seats in the theatre, and be the first to try out our brand-new Commons Bar/Café this summer."
The 2019/2020 Season launches in August with Shakespeare In Love, in a wildly funny and irresistibly romantic new adaptation for the stage by acclaimed playwright Lee Hall, based on the Academy Award-winning screenplay by Tom Stoppard and Marc Norman. Young Will Shakespeare has writer's block - until he meets Viola. Against a bustling backdrop of mistaken identity, ruthless scheming, and backstage theatrics, their forbidden romance inspires a masterpiece. It's the greatest love story (almost) never told. Performances are August 14 - September 8, 2019.
In October, TheatreSquared will stage Native Gardens, by Karen Zacarías, a comedy that places a new twist on the old adage that good fences make good neighbors. Tania, a very pregnant Ph.D. candidate, and Pablo, her rising attorney husband, move next door to Virginia and Frank, a deep-rooted couple with an impeccably trimmed backyard. But when a questionable fence line puts a prize-worthy garden in jeopardy, what starts as neighborly rivalry soon escalates into an all-out border dispute. On stage October 2-November 10, 2019.
For the holiday season, TheatreSquared will boldly reimagine-in a world premiere adaptation by T2's Associate Artistic Director Amy Herzberg-Charles Dickens's A Christmas Carol. Three spirits come to visit the miserly Ebenezer Scrooge and take him on a fantastic journey through past, present, and future. But will it be enough to save him? Performances are November 20-December 22, 2019.
After the New Year, T2 transitions to New York Times Critics' Pick, and "knockout" award-winning new play, The Royale. Told in a boxing ring over six rounds, The Royale is an electrifying adrenaline rush that shows us the human cost of making history. From playwright Marco Ramirez (Orange is the New Black, Daredevil) comes a story inspired by the real-world boxer Jack Johnson who-as a black man at the height of the Jim Crow era-became Heavyweight Champion of the World. On stage January 22-February 16, 2020.
Next up is Ann, the "funny, fiery, salty & brash" (New York Times) story of a captivating woman who was even bigger than the state from which she hailed: Ann Richards. This acclaimed, one-woman tour-de-force by Holland Taylor (Two and a Half Men) brings the charismatic and storied former governor of Texas into TheatreSquared's most intimate new space. Performances are February 19-March 26, 2020.
The state's flagship celebration of bold new plays will take the stage in spring with the 2020 Arkansas New Play Festival, including two weekends of performances at two brand new venues-TheatreSquared and The Momentary. Featuring local craft beers and a host of behind-the-scenes events, the festival is Northwest Arkansas's chance to help build a new play from the ground up. April 10-April 19, 2020.
Commemorating the 75th anniversary of the end of World War II, T2 will then return to its roots with My Father's War by Artistic Director Robert Ford. In this funny, harrowing, and deeply moving story, Amy dons her father's helmet and is plunged into a world at war. Private Herzberg is a Jewish kid from Chicago's North Side who landed at Normandy on D-Day and fought through to the Battle of the Bulge. As he survives one near-death experience after another through luck, chutzpah, and sheer comic timing, his daughter chases down the one story that still haunts him. Newly revised for this limited engagement, a decade after its world premiere, My Father's War is on stage March 25 - April 19, 2020
The five-time Tony Award-winner-tied with Hamilton for the most Laurence Olivier Awards ever won by a musical-Matilda closes out the season. In its debut, the Guardian called it "an evening of unadulterated bliss - anarchically joyous, gleefully nasty and ingenious." Fresh from its hit Broadway and West End run, Matilda is the story of an extraordinary girl who, armed with a vivid imagination and a sharp mind, dares to take a stand and change her own destiny. This international phenomenon features music and lyrics by Tim Minchin and book by Dennis Kelly. Performances are May 20-June 21, 2020.
Founding Subscriber packages for TheatreSquared's Grand Opening Season are on sale now, giving season ticket buyers the first opportunity to book seats before single tickets go on sale in summer 2019. Subscription options include seven-play packages starting at $110, with four- and five- play flex packages starting at $69. Series options include Tuesday through Saturday evenings at 7:30 pm, as well as Saturday and Sunday matinees at 2:00 pm. Limited tickets are also available to T2's Opening Night Series on the first Friday of each production, which includes a catered reception and a champagne toast. Additionally, the Preview Saver Series is available on the first Tuesday, Wednesday, and Thursday of each production.
Add-on options available exclusively for T2 subscribers include reserved parking at the Spring Street Parking Deck ($35) and Kids' Club passes, allowing children (5+) to enjoy theatre classes at T2 while their parents enjoy the show ($15 per child per performance).
Finally, T2 will continue to offer T2's popular young patrons program, NexT2. NexT2 members enjoy exclusive benefits such as complimentary beverages, behind-the-scenes experiences, and parties in the fall and spring. Membership is a $30 add-on.
All T2 subscriptions also include membership in National Stages, offering subscriber ticket pricing at 20 theatres ranging from The Public Theater in New York, to the Arkansas Rep in Little Rock, to Steppenwolf in Chicago (see the full list at nationalstages.org). Other benefits for season ticket holders also include savings of up to 20%, prime seating reserved before single tickets go on sale, free unlimited exchanges, and same-day discounts of up to 20% at T2 Restaurant Partners including Arsaga's Depot, Bordinos, Cork and Keg, Fresco Restaurant, Rolando's, Mockingbird Kitchen, and Woodstone Pizza. Subscribers also receive special rates at the Dickson Street Inn and the Chancellor Hotel.
Subscriptions are on sale now and can be reserved by calling TheatreSquared (479) 777-7477 or by visiting theatre2.org/subscribe.
T2 will also tour more than 70 Arkansas schools in the 2019/20 Season with The Poe Show, an irreverent literary comedy with English curriculum integrated content. Arkansas teachers who are interested to host this free performance at their junior high or high school should contact Morgan Hicks, director of education and program development, at (479) 445-6333.
TheatreSquared is Northwest Arkansas' professional regional theatre, offering an intimate live theatre experience for 45,000 patrons each year in its intimate space and in schools throughout the state. TheatreSquared was recognized by the American Theatre Wing, founder of the Tony Awards, as one of the nation's ten most promising emerging theatres. TheatreSquared has experienced remarkable growth in recent seasons, expanding its audience tenfold in the past five years. In 2019, the company will open a brand new, 50,000 square foot theatre center, featuring two state-of-the-art performance spaces. For further information or press tickets, contact TheatreSquared at (479) 445-6333 or visit theatre2.org.
For further festival information or press tickets, contact TheatreSquared at (479) 445-6333 or visit theatre2.org.