Arkansas Theater Reviews
BWW Review: INTO THE WOODS at Red Curtain Theatre Get Their Wishes
by Theresa Bertram - March 05, 2020
I wish....more than anything that the Red Curtain would have extended their run of INTO THE WOODS just a little longer, because I knew of other people who had scheduling conflicts, but really wanted to see it. And they should have seen it. It was comparable to the 1987 Broadway version. I ended up c...
BWW Review: RAGTIME at Argenta Community Theater Sells Out Shows
by Theresa Bertram - February 25, 2020
Telling a story where multiple ethnic groups come together to form an even bigger story can be quite the undertaking, but the Argenta Theater in North Little Rock had no problems pulling it off with the magnanomous RAGTIME, on the official opening night Friday, Feb. 21. And according to their websit...
BWW Review: WAITRESS at Robinson Performance Hall
by Mike Noland - February 25, 2020
The hit Broadway musical Waitress bursts onto the stage at Robinson Performance Hall in Little Rock before a packed house. The enthusiastic crowd was eating it up like it was one of Jenna's delicious pies. This cast was as sharp and crisp as the cold night air. They took you from big laughs to knock...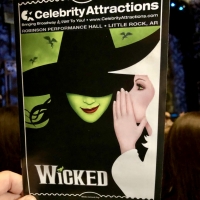 BWW Review: WICKED at Robinson Performance Hall
by Mike Noland - January 09, 2020
Wicked in Little Rock's Robinson Performance Hall is a thrill of sight and sound. It has stunning visuals and magnificent performers that will carry you away on a thrilling night of theatre....