November Concerts Announced at City Winery Chicago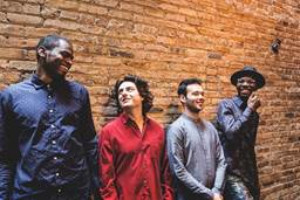 November programming has been announced at City Winery Chicago. Highlights of the month include multi-night runs from Jazz vocalist (and Chicago transplant) Lizz Wright (Nov. 1-2), Herb Alpert of Tijuana Brass with his wife, Grammy-winning singer Lani Hall, (Nov. 6-7), and four shows over two days with saxophonist Kurt Elling (Nov. 25-26) plus a benefit for Merit School of Music with Nico Segal (previously known as "Donnie Trumpet" from the Chance the Rapper-affiliated band, The Social Experiment) and The JuJu Exchange (Nov. 28) and much more.
See the full lineup below!
Wednesday-Thursday, November 1-2
$35/$38/$45/$48
Singer-songwriter Lizz Wright is known for her earthy alto voice and emotive yet straightforward vocal serenades. Growing up in the Pentecostal church, Wright wasn't allowed to listen to popular music. Oddly-or maybe serendipitously-the historic night when she really made the leap from her early musical life to her present one involved putting a "secular" spin on a spiritual. Wright has been the recipient of critical acclaim and ever-increasing audiences since her debut album, Salt, in 2003. She has six albums to date, and her latest, Grace, is set to release September 15.
Tim Reynolds & TR3
Friday, November 3
$25/$28/$32/$35
Tim Reynolds has been playing music all his life. He started as a bass player in a gospel band in his hometown of St. Louis and created his brea- through band in the 80's, TR3. He has recorded and toured with Dave Matthews Band and the Dave Matthews/Tim Reynolds Acoustic Duo. Reynolds has spent the last 8 years on the road as a solo acoustic guitar wizard, playing for packed houses who have come to realize he is not Dave Matthews' side man, but one of the most talented and thoughtful players on the circuit. Now, things have come full circle and TR3 is back again. Their songs range from a mix of updated Tim Reynolds classics to wild covers of everything from James Brown, Bob Marley, Led Zeppelin & Prince T. Reynolds' newer catalogue of material.
Jackie Greene & Anders Osborne: Sitting Around, Singing Some Songs - Tourgether 2017
Saturday, November 4; 5:00 p.m. & 8:00 p.m.
$28/$35/$38/$42
Jackie Greene is the "G" in acoustic trio WRG with The Grateful Dead's Bob Weir and The Black Crowes' Chris Robinson, as well as a frequent member of Dead bassist Phil Lesh's touring ensemble Phil Lesh & Friends. He's also an original guitarist of supergroup Trigger Hippy with Joan Osborne and Crowes drummer Steve Gorman. Anders Osborne has toured virtually non-stop, either with his own band, as a solo artist, or as a guest with Toots and The Maytals, Stanton Moore, Derek Trucks, Warren Haynes, Keb Mo, The Grateful Dead's Phil Lesh, Jackie Greene and Karl Denson's Tiny Universe. For Greene and Osborn, impromptu "jamming" is second nature, so they've ditched their bands for some stripped down acoustic performances, each taking a turn with one of their songs with accompaniment from the other.
The Accidentals with Jake Allen
Sunday, November 5; 11:30 a.m.
$12/$15/$18/$22
Traverse City, Michigan-based Indie-folk band The Accidentals have recorded three original albums, were guest artists on fifteen others, scored two films, and landed song placements in commercials, documentaries, and music compilations while playing over seven hundred live shows all before graduating from the world-renowned Interlochen Arts Academy high school. They have been named Billboard's Breakout Band at SXSW 2015, Huffington Post's Sweet Sixteen of 2016, and Yahoo Music's Top Ten Bands to Watch 2017. In June of 2016, the band released a brand new, self-produced EP called Parking Lot, of which the single, "Michigan and Again," went viral. Its first full-length album, Odyssey, will be released in August. At age 5, Jake Allen began exploring synthesizers and recording music in his father's Northern Michigan studio. By 14, he had become proficient with a variety of instruments and he solidified his commitment to a life of producing and performing music. Allen has produced several acclaimed solo records, singing and playing every instrument himself. In addition to his solo endeavors, he has toured the U.S. several times with his backing band bringing his lush Studio Productions to life on stage. These live efforts have garnered endorsements from musical gear companies like Takamine, Fender and Gretsch guitars.
Victor Wooten Trio - featuring Dennis Chambers and Bob Franceschini
Sunday, November 5; 5:00 p.m. & 8:00 p.m.
$35/$38/$45/$48
Victor Wooten, now a five-time Grammy winner, hit the worldwide scene in 1990 as a founding member of the super-group Bela Fleck and the Flecktones. Continuing to blaze a musical trail with the band, Wooten has also become widely known for his own Grammy nominated solo recordings and tours. Among other things, he is a loving husband and father of four, a skilled naturalist and teacher, a published author, a magician and acrobat, and has won every major award given to a bass guitarist including being voted Bassist of the Year in Bass Player Magazine's readers poll three times, the only person to win it more than once. In 2011, Rolling Stone Magazine voted Victor one of the Top Ten Bassist of All Time. Wooten's sought-after skills and growing popularity have lead to recordings and performances with artists such as Chick Corea, The Dave Matthews Band, Bootsy Collins, Branford Marsalis, Mike Stern, Prince, India Arie, Keb Mo, Dennis Chambers, Susan Tedeschi, Gov't Mule, Bruce Hornsby, Stanley Clarke, Marcus Miller, Frank Gambale, the legendary Moroccan group Nass El Ghiwane, and many others. At City Winery, he is joined by drummer Dennis Chambers and saxophonist Bob Franceschini.
An Evening with Herb Alpert & Lani Hall
Monday-Tuesday, November 6-7
$65/$75/$85/$90
Musician, producer, artist, and philanthropist, Herb Alpert is a man with a profound passion. A legendary trumpet player, Alpert's extraordinary musicianship has earned him five number one hits, nine Grammy Awards, the latest from his 2014 album, Steppin' Out, 15 Gold albums, 14 Platinum albums and has sold over 72 million records. Herb Alpert & The Tijuana Brass propelled his sound into the pop music limelight, at one point outselling the Beatles two to one. In all, Alpert has recorded over 30 albums and produced for many other artists, including Sergio Mendes & Brasil '66, Stan Getz, Michel Colombier and Gato Barbieri. At City Winery, he performs with his wife, Grammy Award-winning vocalist and producer Lani Hall, with whom he has been touring since 2006.
Wednesday, November 8
$45/$55/$65/$75
Over the past 12 years, Portuguese Fado artist Mariza has risen from the local music scene, to an acclaimed artist on the World Music circuit. Her first album, Fado em Mim, released in 2001, led to numerous highly successful international presentations - the Québec Summer Festival, in which she received the event's First Award (Most Outstanding Performance), New York's Central Park, the Hollywood Bowl, the Royal Festival Hall, the Womad Festival - and ultimately earned her BBC Radio 3's award for Best European Artist in the area of World Music. She has released six studio albums to date, and has enjoyed an extensive international touring career, with performances at venues including the Paris Olympia, Frankfurt Opera, London Royal Festival Hall, Sydney Opera House, Carnegie Hall and more. Her most recent album, Mundo, went double platinum and garnered her a nomination for the Latin Grammys.
Ryan Montbleau Band with The DuPont Brothers
Thursday, November 9
$18/$22/$25/$28
Boston songwriter Ryan Montbleau's transcendent songcraft and powerful, uplifting voice can tackle intense topics and express life's simple, everyday joys. The Ryan Montbleau Band tours in support of his brand-new 12-track album I Was Just Leaving.
Sunday, November 12; 1:00 p.m.
$15/$18/$20/$22
Founding members of the Red Stick Ramblers and The Pine Leaf Boys, two bands at the vanguard of Louisiana's cultural renaissance, have joined forces to form The Revelers. The band combines Cajun, Country, Blues, Swamp Pop and Zydeco influences into a powerful tonic of roots music straight from southwest Louisiana. As individuals, they are each in high demand having performed and recorded with artists including Natalie Merchant, Linda Ronstadt, Preston Frank, Cedric Watson and Tim O'Brien. Most recently, the group received a 2016 Grammy Award nomination for Best Regional Roots their record, Get Ready.
Sunday, November 12; 5:30 p.m. & 8:00 p.m.
$35/$45/$50/$55
Hip-hop duo Black Violin combines a daunting array of musical styles and influences, including jazz, hip-hop, funk and classical. With influences ranging from Shostakovich and Bach to Nas and Jay-Z, Black Violin members Wil Baptiste (viola) and Kev Marcus (violin) break all the rules by blending the classical with the modern. They have toured extensively, opening for hip-hop mainstays like Fat Joe, Akon, and the Wu-Tang Clan in diverse locations including Prague, Dubai, and South Africa.
Monday, November 13
$25/$28/$32/$35
Sharon Shannon is known for her arrangements of traditional Irish tunes and Irish-influenced compositions that incorporate a wide-range of musical influences including reggae, Cajun, Portuguese, and French-Canadian sounds. The genre-defying star has had multi-platinum album sales and several number one albums and singles, including her 1991 debut album, Sharon Shannon, one of the best-selling albums of traditional Irish music ever released in Ireland. Shannon is the recipient of the lifetime achievement award at the 2009 Meteor Awards, and her solo work has achieved remarkable airplay and commercial success, especially in Ireland. Shannon has toured internationally across Australia, Europe, Hong Kong, and Japan, and performed for politicians including as Bill Clinton, Mary Robinson and Lech Wa??sa. Her most recent album, Sacred Earth, was released this past March, and for the first time mixes her traditional Irish sound with African styles.
Take Me to the River - A Memphis Soul and Rhythm & Blues Revue featuring William Bell, Charlie Musselwhite and Bobby Rush
Tuesday, November 14
$48/$55/$58/$62
Take Me to the River (2014) is an acclaimed documentary celebrating the inter-generational and inter-racial musical influence of Memphis in the face of pervasive discrimination and segregation. The film brings multiple generations of award-winning Memphis and Mississippi Delta musicians together, following them through the creative process of recording a historic new album, to re-imagine the utopia of racial, gender and generational collaboration of Memphis in its heyday. Several of the musicians featured in the documentary, including William Bell, Charlie Musselwhite and Bobby Rush, will perform classics featured in the documentary as well as new collaborations.
Wednesday, November 15
$35/$40/$45/$50
Loudon Wainwright III has an illustrious career, highlighted by more than two dozen album releases, a 2010 Grammy Award for Best Traditional Folk Album for High Wide & Handsome: The Charlie Poole Project and two Grammy nominations for Alright and More Love Songs (1986). Wainwright's self-effacing wit and broad humor earned a cult following when he was starting out in the folk clubs of Boston and New York-- and, in 1972, a top 40 hit in the form of the rollicking "Dead Skunk." By the middle of that decade, his reputation as one of the folk-rock scene's true characters had spread far enough that he was tabbed as a recurring character on the CBS series M*A*S*H, on which he portrayed "singing surgeon" Calvin Spaulding. Wainwright penned music for the British theatrical adaptation of the Carl Hiaasen novel Lucky You, composed topical songs for NPR's Morning Edition and All Things Considered and ABC's Nightline, and recorded several songs for the soundtrack of HBO's Boardwalk Empire. As an actor, he has appeared in films directed by Martin Scorsese, Hal Ashby, Christopher Guest, Tim Burton, Cameron Crowe, and Judd Apatow. At City Winery, he makes a solo appearance with a range of material from his four-decade career.
Thursday, November 16
$15/$18/$22/$25
Kandace Springs can assimilate multiple musical touchstones and still come off sounding remarkably fresh and unburdened by the past. Springs attracted the attention of Prince, who heard her makeover of Sam Smith's "Stay With Me" on the website Okayplayer. The music icon invited her to perform with him at Paisley Park for the 30th anniversary of Purple Rain. The 27-year-old, Nashville-based singer-songwriter and pianist counts such stylists as Billie Holiday, Ella Fitzgerald, Nina Simone, Roberta Flack, and Norah Jones as her heroes, but, as evidenced by her sparkling full-length Blue Note Records debut Soul Eyes, Springs mimics none of them.
Friday, November 17; 7:00 p.m.
$40/$45/$55/$65
The London based R&B outfit, Loose Ends, took America by storm in 1983 following the release of their first album A Little Spice and the #1 single "Hanging On A String (Contemplating)," making Loose Ends the first British band ever to top the U.S. Billboard R&B chart. The group's success was soon followed by several additional urban contemporary hits including "Slow Down", "Watching You", "You Can't Stop The Rain" and " Mr. Bachelor." The group was formed when Royal College of Music alumni, Steve Nichol, who had just finished a world tour with the well-known British rock band The Jam, met singer-songwriter Jane Eugene. The two entered into collaboration, giving birth to their very first single, "In the Sky." With the goal of landing a recording contract, they began to rehearse as a live band along with a third member, Carl McIntosh. The chemistry between the three was instantaneous and they formed the group Loose Ends, and eventually became the first R&B act signed by Virgin UK. Loose Ends returns to City Winery Chicago after a successful show in November 2016.
Mike Doughty performs Soul Coughing's Irresistible Bliss
Saturday, November 18
$28/$30/$32/$35
Mike Doughty returns to City Winery Chicago with the largest band he's ever toured with (a cello/bass player, drums, another guitar player, an organ player, and a backing vocalist), performing Soul Coughing's legendary album Irresistible Bliss in its entirety and Doughty solo songs - but none are ever performed the same way twice. Each show consists of live remixing. Using hand gestures, Doughty improvises changes in what the musicians in the band are doing: stopping, starting, getting louder or quieter, changing their parts, repeating their parts. It's a simplified version of something Doughty saw John Zorn doing with avant-garde jazz in the 1990s, but adapted to be more along the lines of dance music or a hip-hop producer mixing tracks by bringing in the drums, dropping them out, and juggling the musicians like samples.
Chicago Philharmonic Brunch Series
Sundays, October 29, November 19, December 10; 12:00 p.m.
$25 General Admission; $10 Student Tickets
The Chicago Philharmonic Chamber Players, a subgroup of the Chicago Philharmonic Orchestra, is dedicated to the concept of chamber music as "the music of friends" by capturing the jam-session feel of great music performed by world-class musicians.
· Sunday, November 19; 12:00 p.m. - Crime Classics (The Picture Hanger and the Pirates), True Crime Radio Stories
o This performance unites the Chicago Philharmonic Chamber Players with Chicago Senior Radio Players. A radio docudrama from the 1950s, "Crime Classics" dramatized true stories of dastardly deeds from history. Originally narrated and acted by famous radio stars of the day, Academy Award-winning composer Bernard Herrmann provided the score for the episodes. Herrmann, known for composing for such famous films as Psycho, Vertigo, North by Northwest, Citizen Kane, Taxi Driver, and Journey to the Center of the Earth, duplicated authentic music from the era of the story.
Sunday, November 19; 7:00 p.m.
$25/$28/$32/$35
Jack O'Neill and Cary Pierce, the "Jack O" and "Pierce" who make up the seminal duo Jackopierce, are celebrating over 25 years of making music. The duo began their career in 1988 by playing shows around their hometown of Dallas. They steadily made a name for themselves, in particular with the track "Vineyard," which became a signature track for the band. Jackopierce has released 10 studio albums (two for major label A&M), toured three continents, nine countries, and 44 states. Over the years they have shared the stage with artists such as Dave Matthews Band, Counting Crows, The Wallflowers, Sheryl Crow, Jewel, Alanis Morissette, among others. At City Winery, they'll perform many of their signature pop-rock hits including "Vineyard," "Three Of Us In A Boat," "I Gotta Know," and "Promise of Summer."
Badfinger's Straight Up featuring Joey Molland
Monday, November 20
$25/$28/$30/$32
Badfinger's legendary guitarist, songwriter, and vocalist Joey Molland brings the 45th anniversary celebration of Badfinger's 1972 classic album Straight Up to City Winery Chicago with a complete performance of the album and more. Straight up features five tracks written by Molland and four tracks produced by George Harrison. The album stayed on the Billboard Top Pop Albums chart for 32 weeks.
Tuesday, November 21
$42/$45/$52/$55
Born in Chicago, Alicia Michelle "Miki" Howard is the daughter of two well-known gospel singers. When Howard was in her early teens, her mother moved the family to Los Angeles. Already aiming at a career in music, the 15-year-old Howard received her first break when she participated in a teen beauty contest. Augie Johnson, leader of the group Side Effect, happened to be in the audience; impressed with Howard's singing talent, Howard joined the Side Effect lineup in 1978 when another singer departed. Howard sang with Side Effect until 1982. Howard signed a contract with Atlantic Records in the mid-1980s and recorded her first solo album, Come Share My Love, in 1986. The title track from the album was its first single, hitting the top ten of the R&B charts and reaching number five in late 1986. Howard now has 10 studio albums and has had many top ten hits on the R&B Charts during her 35+ year career as well as a Grammy nomination for Best Traditional R&B Vocal Album for her album Three Wishes. Her most recent album, I Choose to be Happy, includes both new material and some of her top hits re-recorded.
Wednesday, November 22
$18/$20/$22/$25
Joshua Davis was raised in the folk tradition: the music, the social movements, the land. His music is steeped in ragtime blues, sweet jazz and real country but Davis's broad schooling in the cultural, political and musical roots of American tradition has resulted in more than a simple retelling of universal themes. His catalog is a seamless snapshot of American past and present. Davis has shared stages with a diverse list of luminaries, such as Tim O'Brien, Greg Brown, The Indigo Girls, Leftover Salmon, The Dixie Hummingbirds, Corey Harris, John Gorka, Jeff Daniels, Ellis Paul, The Blind Boys of Alabama, Jimmy LaFave, Ray Bonneville, Arlo Guthrie, Abigail Washburn, Larry McCray, Sunny Wilkinson, Catie Curtis, Bill Kirchen, Peter "Madcat" Ruth, Bernie Leadon, Wayne Hancock, The Verve Pipe, John Hammond, Pete Seeger and Preservation Hall Jazz Band.
Friday, November 24; 7:30 p.m.
$28/$32/$36/$40
With a reputation for spectacular live performances, the genesis of multi-platinum artist The Verve Pipe can be traced back to the early '90s when the principal members of two rival Michigan bands joined forces. After releasing two independent albums, I've Suffered a Head Injury and Pop Smear, the group quickly garnered a regional following for its textured rock songs distinguished by innovative arrangements, soul-searching lyrics and layered vocals. The success of both albums attracted the attention of RCA Records, which released their platinum major label debut Villains in 1996. The album featured the radio hit 'Photograph' and the #1 single 'The Freshmen,' one of the most successful multi-format tracks of 1997 and winner of an ASCAP Pop Award. Their follow-up release, the critically acclaimed self-titled LP The Verve Pipe, featured 'Hero,' a Top 15 hit at Modern Rock radio. Their most recent album, Parachute, was released this past February. The band continues to tour, performing both rock and kids shows throughout the U.S., including special appearances at Lollapalooza, Austin City Limits Festival, Hangout Music Festival, SummerStage in Central Park and many more.
Kurt Elling: The Beautiful Day
Saturday-Sunday, November 25-26; 5:00 p.m. & 8:00 p.m.
$38/$42/$46/$50
Grammy Award-winner Kurt Elling is among the world's foremost jazz vocalists. He won the DownBeat Critics Poll for fourteen consecutive years and was named "Male Singer of the Year" by the Jazz Journalists Association on eight occasions. An international jazz award winner, he has also been Grammy nominated a dozen times. Most recently, he released a Christmas album, The Beautiful Day: Kurt Elling sings Christmas (Okeh Records). Elling, a Chicago native, returns to the city for four performances following sell-out gigs at City Winery in 2015 and 2016.
Marcus Johnson
Monday, November 27
$15/$18/$20/$22
As an independent Billboard-ranked musician, producer, owner of the music label Three Keys Music, and NAACP Image Award nominee, jazz keyboardist/pianist Marcus Johnson has emerged as one of the young lions of the music world. Johnson's unique self-taught style of piano play has earned him distinction among his peers, praise within the media and accolades across the music industry. Johnson's testament to his perseverance began in 1995 when he was pursuing both his MBA and Juris Doctorate degrees at Georgetown University, and decided to independently produce and distribute his first jazz album, Lessons in Love, which sold more than 40,000 units; a phenomenal success for an unknown independent artist's debut release. One year later, he released Inter Alia, outselling the Titanic soundtrack in the first two weeks of its release.
Johnson has released more than fifteen Billboard charted CDs, and his unique and multi-faceted Poetically Justified (2009) and This Is How I Rock (2011) solidifiE. Johnson as heir apparent to the George Duke and Herbie Hancock style of funky urban groove music. Creatively, Johnson continues to evolve as an artist. With the recent release of his holiday CD and the ongoing collaboration with famed Parisian Producer DJ Pulse - as the musical duo "Juris" - he has managed to maintain his traditional jazz roots, while also remaining on the forefront of the expanding "Euro Jazz" movement. His music continues to enforce and define his musical legacy as a "jazz movement for all people"
Nico Segal Presents: The JuJu Exchange - a Benefit Concert for Merit School of Music
Tuesday, November 28; 7:00 p.m.
$20/$25/$30/$45
Drawing from hip-hop, jazz, classical and pop music, Nico Segal and The JuJu Exchange present a benefit concert for West Loop's Merit School of Music which serves nearly 5,000 Chicago-area youth by removing barriers to high-quality music education. Nico Segal (previously known as "Donnie Trumpet" from the Chance the Rapper-affiliated band, The Social Experiment), Julian & Everett Reid and Lane Beckstrom use The JuJu as a way to build off of their past experiences in order to make a genre-bending style of music that looks to the future while dealing with the problems of the present. The ensemble is based on a musical partnership of these childhood friends who came up through Chicago Public School music programs, including Merit School of Music which band members attended between 1998 and 2013, three of whom graduated from Merit's Alice S. Pfaelzer Tuition-free Conservatory. The musicians attribute their music and personal success to the exceptional training they received at Merit. Founded in 1979, Merit is a nationally accredited music school that offers its diverse student body sustained access to the highest-quality musical instruction, helping young people transform their lives through music education.
Wednesday, November 29; 6:30 p.m. & 9:00 p.m.
$25/$35/$40/$45
Since jazz artist Earl Klugh released his inaugural album in 1976, the Detroit-born master of the acoustic-classical guitar has become one of the most imitated icons of the instrument and issued dozens of discs, 24 of which have been on Billboard's top-10 list of jazz albums. Klugh's recordings have also received 13 GRAMMY nominations, the latest for his most recent album, HandPicked. His collaboration with pianist Bob James, One on One, walked away with the 1980 Grammy Award for Best Pop Instrumental Album. As a composer and songwriter, Klugh's credit appears on a wide range of recordings from artists such as Aretha Franklin, Jamie Foxx, Roberta Flack, Mary J. Blige, Kenny Loggins, Al Jarreau and many others. He has also been a guest artist with musicians from Buffett, Loggins, Brenda Russell and Stevie Wonder to jazz masters MiLes Davis and McCoy Tyner. During the 35 plus years since the Earl Klugh album came out on Blue Note, the guitarist's magic on stage continues to delight audiences across the globe, whether he is performing solo, with his quartet, his electric band, his Little Big Band or with renowned symphony orchestras.
Rhett Miller with Matthew Ryan
Thursday, November 30
$25/$28/$32/$35
Old 97's frontman Rhett Miller returns to City Winery Chicago for his annual, solo holiday extravaganza. In addition to his 9 studio albums with the Old 97's, Miller has released 7 solo albums: Mythologies (1989), The Instigator (2002), The Believer (2006), Rhett Miller (2009), a live covers album The Interpreter Live at Largo (2011), The Dreamer (2012), and The Traveler (2015). Miller has also written short stories, essays, and articles that have appeared in Rolling Stone, Sports Illustrated, The Atlantic, and Salon.
Opened in 2012, City Winery Chicago is a fully operational winery, restaurant with outdoor patio, concert hall and private event space located in the heart of the West Loop at 1200 W. Randolph, in the historic urban Fulton Market district. Once a refrigerated food distribution warehouse, the 1911 building has been transformed into a contemporary 33,000 square foot haven for those passionate about wine, music and culinary arts. The décor evokes the romance of being in wine country, from the exposed stainless steel fermenting tanks and French oak barrels, to the aroma of fermenting grapes. Chicago's only fully operation winery has produced dozens of in-house wines sourced from vineyards in California, Oregon, Washington, Argentina and Chile, including a Wine Enthusiast 90-point 2012 Bien Nacido Vineyard Reserve pinot noir. With more than 400 unique producers from around the world City Winery is recognized with 2014 and 2015 Best of Awards of Excellence "for having one of the most outstanding restaurant wine lists in the world" by Wine Spectator. The globally inspired, locally sourced, wine-focused food menu is conceived for pairing and sharing. The concert hall accommodates up to 300 guests, all seated at tables with complete beverage and dining service, ensuring a comfortable "listening room" experience enhanced by a state-of-the-art Meyer Sound system. Riedel is the official and exclusive provider of glassware, showing City Winery's commitment to enjoying quality wine in a quality vessel. American Airlines is the Official Airline and Virgin Hotels Chicago is the Official Hotel of City Winery. For more information, please visit www.citywinery.com