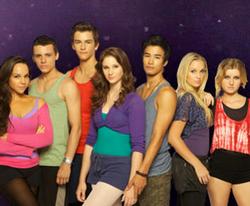 Tara Webster grew up on a farm in the country, but she has always dreamed of being a professional dancer. When she's admitted to Australia's National Academy of Dance, she feels like all of her dreams are about to come true -- but the school is tougher and more competitive than she ever imagined.
Tara's far from home, and way behind on her dance training, but she's not alone on this journey. In Sydney, she meets new friends, Kat and Sammy, and falls hard for a new crush, Ethan. To round out her crew, there's Abigail, a more experienced dancer who sees Tara as a threat, and Christian, an adrenaline junkie with a troubled past.
They've got the world at their feet, but have they got what it takes?
Latest Articles About Dance Academy on TeenNick