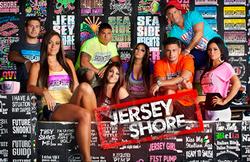 Every summer, thousands of kids head to the Jersey Shore to take part in that East Coast rite of passage: The Shore House. Jersey Shore captures that phenomenon.
Our eight cast members (four guys, four girls) come together for the summer to live and work in Seaside Heights. For each, the summer will hold something different. There will be romance and heartbreak, fighting and reconciliation, and, of course, some good old fashioned fist pumping on the dance floor. And through it all Sunday dinner remains sacred, because in they end, they're family.
Season 5: The cast of Jersey Shore has left their Italian Holiday behind them and jetted straight to Seaside Heights, anxious to get their GTL on. From working at the T-shirt shop to trips to their beloved Karma, it's summer in Seaside and they couldn't be happier to be back. But what happens in Florence doesn't always stay in Florence. There's unresolved business between Snooki and The Situation, which inevitably involves the rest of the house. Still, amidst all the drama, there's plenty of laughs and silly antics to be had. You can take the kids out of Jersey, but once you put them back, you never know what's going to happen!
Season 6:Summer after summer, we've watched them party, tan, and throw-down on the Jersey Shore. And now, America's favorite roommates head to the shore one last time. Fresh out of rehab, Mike "The Situation" is navigating the party-world of clubs and nightlife while maintaining his sobriety and mending relationships with his former roommates. MVP is finally back! And with Mike's newfound maturity, he may even decide to make it official with his on-and-off girl Paula. Deena is in love for the first time and turns to hardcore partying while struggling with being away from her boyfriend. Jenni and Roger's relationship continues to grow and get pushed to its limits. Speaking of rocky relationships, Sammi and Ron are back together. In the bromance department, Vinny & Pauly are still going strong. And all the roommates rally around Snooki as she goes through her pregnancy as only she can! It's a Jersey Shore Baby on the way and all the girls throw Snooki a shower. Seaside is home and to this Jersey Shore family, there's no better place to bring up baby. But even with impending adulthood, you can't tame this crew. The more things change, the more they stay the same.
Latest Articles About Jersey Shore on MTV