PUSH Brings DRACULA Back to Life this Halloween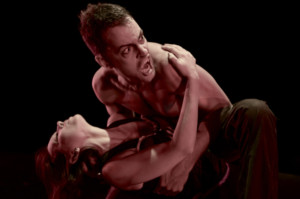 Rochester's award-winning PUSH Physical Theatre will reveal its all-new adaptation of Bram Stoker's 1897 Gothic horror novel, Dracula, just in time for Halloween at Blackfriars Theatre (795 E. Main St.). The two-week run of PUSH Physical Theatre's DRACULA includes 12 performances* from Tuesday, October 31 at 7:30 p.m. through Sunday, November 12 at 2 p.m. Tickets are $36.50-$39.50 with discounts for seniors and students, and are available online at blackfriars.org, via phone at (585) 454-1260, or in person at the Blackfriars Box Office (795 E. Main St.) from 10 a.m. to 2 p.m. Monday through Friday, and one hour prior to curtain.
PUSH's second annual Black & White FUNdraiser will take place on Monday, October 30 (aka "Devil's Night) from 6-10 PM at Blackfriars Theatre. Black & White (with a drop of RED!) Party with PUSH 2017 will feature an exclusive, behind-the-scenes preview of DRACULA, as well as a $10 discount on any DRACULA tickets purchased that evening. The $45 ticket price also includes Dracula-themed gourmet goodies and a signature cocktail, themed photo booth, cash bar, prizes for black & white attire and costumes, music/dancing, hanging out with PUSH, a raffle, and more. Tickets and more info are available at: pushtheatre.org.
From its debut at Geva Theatre Center in 2009, PUSH Physical Theatre's DRACULA has been completely re"vamp"ed. Danny Hoskins, the show's writer who also played Renfield in the original version, is now Blackfriars Theatre's Artistic & Managing Director. Renfield will be played by Rochester's Rick Staropoli in this new production, and Hoskins is now one of the show's four collaborating directors, a team that also include Wallbyrd Theatre Company Artistic Director Virginia Monte. That's in addition to PUSH Artistic Directors Darren and Heather Stevenson.
"It might have turned out to be too many chefs in the kitchen, but it didn't, because more objectivity about what needed to be changed was paramount," explains Darren, who will reprise his stunning portrayal of Dracula. "In the past eight years, I've done a lot of reflecting on that first production and have refined what DRACULA is really about for me: the nature of fear, yes, but also love - real love that serves versus pop culture's 'I need you' kind of love that often masquerades as the real thing."
The cast also received an infusion of fresh blood. In addition to Starpoli as Renfield, Erika Ruegemer as The Chosen and Jonathan Ntheketha as the Voice of Dracula will also make their DRACULA debuts. Two PUSH members who joined the company after 2009's version - Katherine Marino and Avi Pryntz-Nadworny - now play the Young Mother and The Man respectively. Heather Stevenson reprises her wonderful performance as The Maiden, and Jonathan Lowery will once again thrill audiences as The Doctor. PUSH Sound & Projection Designer Dan Roach and Lighting Designer Toni Elderkin rework their dark magic, with new costumes by Josefina Calzada.
The basic story remains the same: in his hunt for immortality, Renfield stumbles upon the Amulet of the Vampir, a lost jewel buried in the legend of Dracula, The MasteR. Caged in a cell and under the watchful eye of The Doctor, Renfield uncovers the secrets of eternal life as a mysterious Maiden arrives at the asylum. As the ties that bind the living and the dead begin to unravel, the lines between heroes and the devil begin to blur.
"What continues to set PUSH's adaptation apart is the WAY they tell the story - with gravity-defying physicality. They not only play the characters, but also transform themselves into set pieces, props - even the personification of evil," adds Hoskins. "I'm thrilled that Blackfriars will be hosting this premiere in Rochester, and that PUSH will be touring it all over the country as well."
*Performance dates/times for PUSH Physical Theatre's DRACULA at Blackfriars are: Tues., Oct. 31 at 7:30 PM; Wed., Nov. 1 at 7:30 PM; Thurs., Nov. 2 at 7:30 PM; Fri., Nov. 3 at 8 PM; Sat., Nov. 4 at 7 PM (note earlier start time for this performance only); Sun., Nov. 5 at 2 PM (followed by Sunday Salon); Wed., Nov. 8 at 7:30 PM; Thurs., Nov. 9 at 7:30 PM; Friday, Nov. 10 at 8 PM; Sat., Nov. 11 at 8 PM; and Sunday, Nov. 12 at 2 PM.
More about PUSH: PUSH Physical Theatre was founded in Rochester, NY in 2000 by husband-and-wife team, Darren and Heather Stevenson, with a mission to push the boundaries of conventional theatre. For 17 years, these masters of motion theatre have been inspiring awe and igniting emotion with physical illusions and gravity-defying, dance-infused, acrobatic high jinks. The current company also features veteran PUSHer Jonathan Lowery, former Cirque du Soleil performer Avi Pryntz-Nadworny, and Fulbright scholar and dancer Katherine Marino. In addition to a busy touring schedule that continues to take them all over the U.S. and the world, PUSH were finalists on truTV's Fake Off in 2014 (Season One), during which judge/Glee star Harry Shum, Jr. said: "You guys are superhuman!" They're also very involved in arts-in-education programs and run their own PUSH Pins Summer Camp, Teen Training, and Summer Intensive for adult students from all over the world. Full-length works include PUSH's Jekyll & Hyde, Dracula, Arc of Ages, as well as 2013's choreography for composer Ricardo Zohn-Muldoon's Pulitzer Prize-nominated opera, Comala. In 2016, Zohn-Muldoon, fellow Eastman School of Music faculty and composer Carlos Sanchez-Gutierrez, PUSH, and many other Mexican and U.S. artists collaborated on a multi-media opera called Don't Blame Anyone (No Se Culpe), for which they received the Lillian Fairchild Memorial Award from the University of Rochester. Many shorter works include "Red Ball," a study of interplay between the real and virtual worlds using iPad technology, created in collaboration with RIT's National Technical Institute for the Deaf. Darren and Heather are recipients of both the Anton Germano Dance Award and the Performing Artist of the Year Award from the Arts & Cultural Council for Greater Rochester, and have spoken about their unique artistic process at TEDx Rochester. PUSH has been profiled on PBS and NPR, and is represented by Robin Klinger Entertainment. More information is available at pushtheatre.org.
More about Blackfriars: Blackfriars Theatre, a professional, not-for-profit theatre, has entertained audiences for over 65 years in downtown Rochester, NY. Our mission is to enrich, entertain and inspire our community through exceptional theatrical arts while engaging local talent. Parking is available on site. Handicapped seating is available. For more information regarding Blackfriars Theatre, please visit www.blackfriars.org.
Related Articles View More Buffalo

Stories

Shows
More Hot Stories For You