Dana Delany, James Earl Jones and More Reunite for One-Night-Only Benefit Reading Of THE NIGHT OF THE IGUANA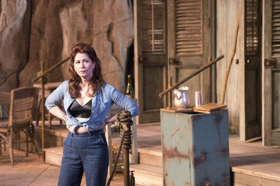 The Acting Company announced the full cast of its one-night-only benefit reading of The Night of the Iguana, Tennessee Williams' feverishly poetic 1961 drama,at The Kaye Playhouse at Hunter College (68th Street between Park and Lexington Avenues), on Monday, June 11. Joining the previously announced cast in breathing new life into one of the last of Tennessee Williams' great plays are Acting Company founding member Dakin Matthews (The Iceman Cometh, Waitress), Brian Cross (The Snow Geese), Stacia Fernandez (Mamma Mia), Richmond Hoxie (I'm Not Rappaport), Kiko Macan, Matt Morrison, Hannah Sharafian, and Mike Turner.
Directed by Michael Wilson, the acclaimed Drama Desk and Outer Critics Circle Award-winner, the performance reunites much of the cast and creative team from last season's critically acclaimed production at The American Repertory Theatre. Tony Award winners James Earl Jones, Amanda Plummer, and Elizabeth Ashley, two-time Emmy Award winner Dana Delany, and Drama Desk Award winners Bill Heck and Susannah Perkins lead the reading's all-star cast.
In a ramshackle resort perched at the edge of the Mexican jungle, a group of troubled travelers seeks shelter from a storm. Based on his 1948 short story, Williams' drama follows a hotel proprietress and the defrocked Southern preacher who turns up on her veranda. A Nantucket portrait artist traveling with her ancient grandfather, a bus full of fuming Texan college administrators, and a party of vacationers collide in this drama about the impossible journey to outrun the demons within.
When the A.R.T. production premiered, Variety remarked on "a superb turn by Amanda Plummer" and praised Jones for his performance as the grandfather figure Nonno, "who has only a few short scenes to personally encapsulate Williams' theme of art's power to transcend earthly misery," saying that "perhaps no actor on earth is better equipped to do so than Jones." Plummer was recently honored with the TENN Award from the Provincetown Tennessee Williams Theater Festival for achieving "the status of a Tennessee Williams virtuoso performer on Broadway, Off-Broadway, and in regional theaters."
The creative team includes David Lander (lighting design) and John Gromada (original music and sound design). The Night of the Iguana is presented by special arrangement with the University of the South, Sewanee, Tennessee.
The reading of The Night of the Iguana takes place Monday, June 11 at 7:00pm. Performance-only tickets priced from $75-$225 are available starting at 2:00 PM on Wednesday, April 25 exclusively through the Kaye Playhouse box office by calling (212) 772-4448 office or online at: www.hunter.cuny.edu/kayeplayhouse/calendar.
Premium benefit tickets including prime orchestra seating and an intimate post-show dinner with members of the cast are $1000 each, available now by calling The Acting Company's administrative offices at (212) 258-3111.
About Michael Wilson
Michael Wilson (Director) returns to The Acting Company, where in 2015 he directed the world premiere of Desire: an evening of one acts by Elizabeth Egloff, Marcus Gardley, Rebecca Gilman, David Grimm, John Guare, and Beth Henley, based on six Tennessee Williams' short stories. On Broadway, he directed Horton Foote's The Trip to Bountiful, Gore Vidal's The Best Man, Dividing the Estate, Enchanted April, and Old Acquaintance. His Off-Broadway productions include Arthur Miller's Incident at Vichy; Lanford Wilson's Talley's Folly; and the three-part, nine-hour Orphans' Home Cycle, for which he received Drama Desk and Outer Critics Circle Awards. Internationally, he staged both parts of Tony Kushner's Angels in America for the 1995 Venice Biennale. Wilson made his screen directorial debut with the 2014 Lifetime/Ostar television film adaptation of The Trip to Bountiful, nominated for two Emmy Awards--including Outstanding Television Movie-- and a DGA Award for Outstanding Direction of a Movie or Mini-Series for Television. From 1998-2011, Wilson was Artistic Director of Hartford Stage, where as part of a ten-year Tennessee Williams Marathon he directed Cat on a Hot Tin Roof, The Glass Menagerie, The Gnadiges Fraulein, and Summer and Smoke. In 2017, he directed The American Repertory Theatre revival of The Night of the Iguana starring Ms. Ashley, Ms. Delany, Mr. Heck, Mr. Jones, and Ms. Plummer. He is currently in rehearsals for the premiere of Fellow Travelers by Jack Canfora, which performs at Bay Street Theatre May 28-June 17th.
About the Cast
Elizabeth Ashley (Judith Fellowes) most recently appeared on Broadway in the acclaimed You Can't Take It With You in 2015 and Gore Vidal's The Best Man in 2012, both alongside James Earl Jones. Ashley made her Broadway debut in 1959 in Dore Shary's The Highest Tree. Perhaps best known as one of the definitive interpreters of Tennessee Williams' work, Ashley has starred in many of his plays, including Eight by Tenn (with Amanda Plummer; Hartford Stage), the 1973 landmark Broadway production of Cat on a Hot Tin Roof directed by Michael Kahn (Tony nomination and Tennessee Williams Foundation Award), Out Cry directed by Michael Wilson, among others. She has also appeared in The Glass Menagerie directed by Michael Wilson (Hartford Stage; A.R.T.; Alley Theatre) which won the Boston Globe Critic's Award. Film credits include The Carpetbaggers, Ship of Fools (Golden Globe nomination), Rancho Deluxe (with Jeff Bridges), Coma (with Michael Douglas), Dragnet with Tom Hanks, Vampire Kiss with Nicholas Cage, Stagecoach (with Willie Nelson and Johnny Cash), and more. TV credits include "Treme" (HBO) as Aunt Mimi for three seasons, "Evening Shade" (with Burt Reynolds; Emmy nomination), "Saturday Night Live" (Host - February, 1982), many appearances on "The Tonight Show" with Johnny Carson, and many others.
Dana Delany (Maxine Faulk) Broadway credits include A Life and Translations. Off-Broadway credits include Blood Moon and Dinner With Friends. Regional credits include Much Ado About Nothing (Old Globe Theatre), Things We Said Today (Ensemble Studio Theatre), and The Parisian Woman (South Coast Repertory). Delany made her mark as Army nurse Colleen McMurphy on ABC-TV's critically acclaimed series "China Beach," for which she received two Emmy Awards and four nominations for Best Dramatic Actress. From 2011 - 2013, Delany starred as medical examiner Dr. Megan Hunt in the ABC drama "Body of Proof." Delany has appeared in numerous films including Tombstone, Housesitter, Fly Away Home, Light Sleeper and the animated film Batman: Mask of the Phantasm. For three seasons, Delany portrayed Katherine Mayfair on the hit ABC series "Desperate Housewives." Other television credits include Fox's "Pasadena" and NBC's "Kidnapped" (opposite Timothy Hutton). Episodic work includes "Family Law," for which she received an Emmy Award nomination for outstanding guest actress in a drama series. Delany is currently co-starring with Ron Perlman in the Amazon series "Hand of God" which returns for a second season on March 10.
James Earl Jones (Nonno) made his Broadway debut in 1957. Since that time he has performed on stage, television, and in films and continues to receive accolades from every corner of the entertainment industry. In addition to having won two Tony Awards for his work on Broadway in The Great White Hope and Fences, Jones has gathered much praise for more recent stage roles including those he performed in the Broadway productions of On Golden Pond, Cat on a Hot Tin Roof, Driving Miss Daisy, The Best Man, You Can't Take It With You and The Gin Game. Among his numerous and distinguished awards, Jones has received the National Medal of Arts, The John F. Kennedy Center Honor and most recently in 2011, The Board of Governors of the Academy of Motion Picture Arts and Sciences presented him with an honorary Oscar. James Earl Jones' voice is known by people of all ages and walks of life, from Star Wars fans who have long recognized him as the voice of Darth Vader, to children for whom he is Mufasa from Disney's The Lion King.
Amanda Plummer (Hannah Jelkes) has received critical acclaim for her work in film, television and on stage. Her impressive film work includes The Fisher King, for which she received a BAFTA nomination, and Pulp Fiction, for which she received an American Comedy Award nomination for her memorable performance as Honey Bunny. Her other film work includes the title role in Abigail Harm; Daniel; Butterfly Kiss; My Life Without Me; Pax; Ken Park, and Girlfriend (Official Selection, Toronto Film Festival), and Vampire, which debuted at the World Dramatic Cinema Competition at the 2011 Sundance Film Festival. Recently she has been shooting abroad including two films for Linus de Paoli entitled Dr. Ketel and A Young Man With High Potential. On stage, Ms. Plummer won a Tony and a Drama Desk Award for her work in Agnes of God opposite Geraldine Page; a Theatre World and Outer Critics Circle Award and was nominated for a Tony and a Drama Desk Award for her performance in A Taste of Honey. She was also nominated for a Tony for her performance in Pygmalion opposite Peter O'Toole. Other Broadway credits include The Glass Menagerie with Jessica Tandy. Her Off Broadway credits include A Lie of the Mind and Killer Joe. Most recently she was seen Off Broadway in the critically acclaimed The Two Character Play. Ms. Plummer's work on television has been recognized with three Emmy Awards; one Emmy Nomination and a Golden Globe Nomination. She is also the recipient of the Anti-Defamation League Award. In the summer of 2016 Amanda was awarded the Lifetime Achievement Award at the Oldenburg Film Festival.
Bill Heck (Reverend Shannon). Broadway: Cabaret (Roundabout), Brooklyn Boy (MTC). New York: Troilus & Cressida, Merchant of Venice, Winter's Tale (Shakespeare in the Park), Water by the Spoonful (2ST), Night is a Room, Angels in America, The Orphans' Home Cycle (Drama Desk, Outer Critics Circle noms, awards) (Signature Theatre), Pig Farm (Roundabout). Regional: Night of the Iguana (ART), Hartford Stage, CTG, Yale Rep, Berkeley Rep, Circle X. TV/Film: "The Alienist," "Instinct," "The Americans," "The Leftovers," others; The Ballad of Buster Scruggs (Coen brothers, upcoming), Happy Baby, The Amazing Spiderman 2, Pit Stop, others. BFA, University of Evansville; MFA, NYU Grad Acting.
Susannah Perkins (Charlotte Goodall) Off-Broadway: The Low Road (The Public), The Wolves (Lincoln Center/Playwrights Realm), The Rape Of The Sabine Women... (Playwrights Realm). Other NY: Sisters On The Ground (Clubbed Thumb), Every Angel Is Brutal (Clubbed Thumb). Regional: The Night Of The Iguana (A.R.T.), The Wolves (NYSAF). TV: "Marvelous Mrs. Maisel" (upcoming). Film: Enclosure (upcoming). Obie and Drama Desk Awards. BFA: NYU Tisch.
Brian Cross (Wolfgang) The Acting Company: Desire (59E59). Broadway: The Snow Geese (Manhattan Theater Club). Off-Broadway: Incident at Vichy (Signature Theater). TV: "Inside Amy Schumer", "Mozart in the Jungle." His animated comedy "Space Family!" is an official selection at the 2018 New York Television Festival.
Stacia Fernandez (Frau Fahrenkopf) is thrilled to be back with this outstanding company of artists after our production last year at A.R.T. Shows and roles include: Broadway: Mamma Mia (Tanya), Drowsy Chaperone (Drowsy standby), Swing , Tom Sawyer, Scarlet Pimpernel, Beauty And The Beast. Regional: The Night Of The Iguana, 9 To 5, Next To Normal, Death Of A Salesman, Guys And Dolls, Cats, and more. TV/ Film/Soundtracks: Homeland, Frozen short, Enchanted, and more. Stacia also is a playwright with several projects in the world: The Loop, Smalltowne Christmas, Middle (St)Age (webseries). @Fernandezstacia StaciaFernandez.com
Richmond Hoxie (Herr Fahrenkopf) Broadway, National Tour: I'm Not Rappaport, Butley. Off- Broadway: The Film Society, Lenin's Embalmers, Landscape With Waitress, Louis Slotin Sonata, Vienna Lusthaus: Revisited, The Dining Room, To Gillian On Hr 37th Birthday, Angel Street, Waiting for Godot. Regional: Hartford Stage: Ether Dome, The Crucible. Arena Stage: All the Way. La Jolla Playhouse: Light Up the Sky. Seattle Rep: Travels With My Aunt. Yale Repertory Theater: You Never Can Tell. Geva Theater: Amadeus. Repertory Theater of St. Louis: Secret Order, 12 Angry Men. George St. Playhouse: Loot, The Second Mrs. Wilson. Bay Street Theater: Inspecting Carol. Cleveland Playhouse: Jungle Rot. American Repertory Theater: The Night of the Iguana. Portland Stage: Benefactors. Baltimore Center Stage: Short Plays of Thornton Wilder. McCarter Theater: As You Like It. Film: JFK, For Love or Money, Still of the Night, My Own Love Song, Dummy, The Word. TV: "Boardwalk Empire," "Law and Order," "China Beach," "Cosby," "LA Law," "Path to Paradise," "Christine Cromwell," "Baby Talk," "Hometown."
Kiko Macan (Pancho) came to the US, originally from Spain and Croatia, when he was 16 and graduated from Boston University in 2016 where he was a member of the theater club Stage Troupe. Macan is a student of Scott Fielding at Michael Chekhov Actor's Studio Boston. He had his professional debut with The Night of the Iguana at A.R.T. Other credits include Beautiful (BC Arts Festival) and Guys (MCAS Boston). Macan also produces and directs his own short films.
Dakin Matthews (Jake Latta) is a founding member of The Acting Company. Broadway: The Iceman Cometh, Waitress, The Audience, Rocky, The Best Man, A Man For All Seasons, Henry IV (Drama Desk Award). NY: Measure for Measure, All's Well That Ends Well (Public Theater) The Winter's Tale, The Cherry Orchard (Bridge Project), Freedomland (Playwrights Horizons), The Hostage, The School For Scandal (Th Acting Company) Brigadoon, Where's Charley? (Encores). Regional: 250 productions. Film: 40 films including "True Grit," "Lincoln," "Bridge of Spies," "Zero Charisma." TV: 250 episodes, including "King of Queens," "Desperate Housewives," "Gilmore Girls."
Matt Morrison (Hank) grew up in Stow, Massachusetts and began acting while attending St. Lawrence University. After graduating in 2014 he continued his education at the American Repertory Theater Institute for Advanced Theater Training at Harvard University where he was able to be a part of many great productions, including The Night of the Iguana. Matt now lives and works in Los Angeles.
Hannah Sharafian (Hilde) graduated last year from the American Repertory Theater's Institute for Advanced Theater Training at Harvard University. Her credits include: ART: The Night of the Iguana, Our Carnal Hearts (Oberon), Boston Marriage (Institute), and Carmen (Institute); International: Christmas at the Ivanovs (MXAT), Dogs Of War/Plastic Rose (Edinburgh Fringe). She is thrilled to return to this beautiful cast and show.
Mike Turner (Pedro) is an NYC based actor, writer, and comedian. Member of Actors Equity. Recent credits: The Night of the Iguana (American Repertory Theater, dir. Michael Wilson), Lucy Thurber's Orpheus In the Berkshires (Williamstown), Arthur Laurents' The Enclave (Rattlestick Playwrights Theater), Katie Cappiello's JOY (Fridge Fest), Red Light Winter (International ItSelf Festival; recipient of Best Actor in a Lead Role), Heads (Theater Row; dir. Laura Savia), Have You Been There? (Williamstown; dir. Jenna Worsham), and more. NYU-Tisch BFA. Mike is currently finishing post-production on co-created comedy series "Bumbling" as well as a trilogy of urban sci-fi novels. www.MikeTurnerNYC.com
About The Acting Company
Founded in 1972 by legendary producer/director/actor John Houseman and previous Producing Director Margot Harley with members of the first graduating class of Juilliard's Drama Division, The Acting Company has performed 144 productions for over 4 million people. The Company has given a generation of actors the opportunity to master their craft. Alumni members include Kevin Kline, Rainn Wilson, Patti LuPone, David Schramm, Jesse L. Martin, Frances Conroy, Jeffrey Wright, Harriet Harris, Hamish Linklater and Keith David.
Promoting theater and literacy with a repertory of classical productions and exceptional new works, talented young actors and veteran teaching artists, The Acting Company performs each year to audiences of over 25,000 and reaches more than 15,000 students with its arts education programs: Learning Through Theater, Primary Shakespeare and Shakespeare for Teachers.
The Company has commissioned and premiered over a dozen new plays and adaptations by America's foremost writers, among them Lynn Nottage Beth Henley, Tony Kushner, Marsha Norman, Rebecca Gilman, Maria Irene Fornes, Ntozake Shange, William Finn, David Grimm, and Marcus Gardley. Premiere productions include X: Or, Betty Shabazz v. The Nation, Love's Fire, Desire, Orchards, Pudd'nhead Wilson, The Heart Is a Lonely Hunter, and Mud River Stone.
The Acting Company has been honored with numerous awards, including the Obie, Audelco, Los Angeles Critics Circle Award and a Tony for Excellence in Theater.
Photo Credit: Gretjen Helene Photography