Brooklyn Interviews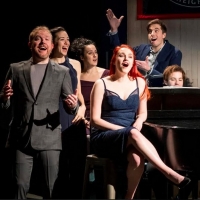 BWW Review: Brooklyn's Theater2020 Celebrates The Best Of The Boro And Stage With SONDHEIM ON SONDHEIM
by Kristen Morale - February 25, 2020
Theater 2020, Brooklyn Heights' only professional and award-winning theater company, presents the first NYC revival of the Sondheim/ Lapine musical Sondheim on Sondheim, a revue that brings many of this musical genius' works together to create quite a show in itself. With a magnificent cast and crew...

BWW Previews: THE GOOD SWIMMER World Premiere at BAM Fishman Space
by Cindy Sibilsky - November 25, 2018
, Brooklyn
The saying, 'Good things come to those who wait,' could certainly be applied to the world premiere of The Good Swimmer playing at BAM's Fishman Space as part of the Next Wave festival from November 28th-December 1st. Defined as a pop requiem for the youth of the Vietnam War, this collaboration betwe...

James Clements and WWTNS? Examine the Life of Leni Riefenstahl in BEAUTY FREAK
by Julie Musbach - November 05, 2018
, Brooklyn
James Clements is an actor, writer, producer and director splitting his time between Scotland, London and New York. His New York based theatre company What Would the Neighbors Say? is currently workshopping a new play exploring the career of Leni Riefenstahl, a filmmaker who got her start working du...
Director of Performing Arts at LIU Brooklyn Elin Eggertsdottir Talks New BFA Program and Partnership with The New Group
by Julie Musbach - May 07, 2018
, Brooklyn
Recently two powerful New York institutions, Long Island University (LIU) Brooklyn and the renowned theater company The New Group, announced a new partnership to help train the next generation of great actors. LIU's Director of Performing Arts Elin Eggerrsdottir took a moment to speak with BroadwayW...
Zane Philstrom Talks Company XIV's NUTCRACKER ROUGE
by David Clarke - November 22, 2017
, Brooklyn
Using Louis XIV era inspired visuals NUTCRACKER ROUGE fuses dance, theater, circus, opera, and burlesque. To get the inside scoop on this year's effervescent and sensual spectacle, we sat down with costume designer Zane Philstrom to chat about the magical and eye-catching garments (or lack thereof) ...
Three-Time Oliver Winner Maria Friedman on Her Debut at Feinstein's/54 Below and Exploring the Work of the Greats
by Courtney Savoia - September 19, 2017
, Brooklyn
Three-time Oliver Award winner Maria Friedman (The Woman in White, Ragtime, Passion) will be making her Feinstein's/54 Below solo debut this September! This talented British actress and director will be performing the music of two legends close to her heart Leonard Bernstein and Stephen Sondheim -...