Paula Makar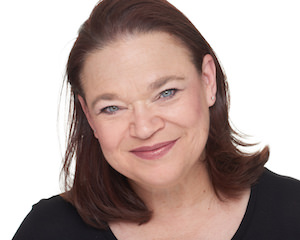 Paula is very excited to be a Contributing Editor for BroadwayWorld.com! Paula earned her Master's Degree in Theatre from Oklahoma State University, where she directed These Shining Lives and a new work, Trigger. Paula received her BFA in Theatre Performance from Wichita State, where she also serves as an Adjunct Lecturer and online Instructor. Paula also teaches at Southwestern College, where she is currently directing The Liar. Last year she directed High School Musical and Annie for MTYP, and an original show written by her Performing Arts students at Upward Bound Wichita Prep at Wichita State. Paula also directed Othello for Wichita Shakespeare Company, and Frost/Nixon for Wichita Community Theatre. Paula is also an actress, and has many favorite roles, including Bad Ass Betty in The Great American Trailer Park Christmas Musical at Roxy's Downtown, Janis in Hands On A Hardbody at the Forum Theatre, and Peggy in Weekend Comedy at the Great Plains Theatre in Abilene, KS. Paula played Martha in last three productions of White Christmas at the Crown Uptown; she also played Prudy, The Gym Teacher and the Matron in Hairspray, and Miss Hannigan in Annie. Paula directed and appeared in many of the Crown's Children's Theatre offerings. Other favorite roles include Sara Jane Moore in Assassins, Miss Lynch in Grease, and Princess Puffer in The Mystery of Edwin Drood. Paula can also be seen from time to time on the stage at Prairie Pines in their interactive murder mysteries. A native of Buffalo, New York, she now calls Wichita, Kansas home. In Buffalo, Paula was a member of the Buffalo Ensemble Theatre and Theatre of Youth. In Michigan, Paula was an Adjunct Instructor of Drama at Olivet College, and also ran the Youth Theatre Programs at the Marshall Civic and Marshall Middle School, where she directed and choreographed many productions. Please visit Paula's website at ww.paulamakar.moonfruit.com

MOST POPULAR ARTICLES
LAST 365 DAYS
BWW Review: SHEAR MADNESS at The Forum Theatre

May 16, 2019

There are three doors on this colorful 1980s set designed by Ben Juhnke, and immediately I think 'FARCE!' The 1980s tunes are pumping from the sound system, making the patrons move and groove in their seats. The atmosphere is lively, and the audience is upbeat and happy, chatting away until the action on stage catches their attention. A pre-show pantomime begins; Simeon Rawls and Jen Bechter begin their day in the beauty salon 'Shear Madness'; patrons begin to enter the shop and hilarity ensues. This pantomime continues for at least 15 minutes before any of the actors speak, and it is hysterical. The action is clean, quick, and understandable. The hilarity continues on until the last few minutes of the play. I will not reveal the ending, but suffice it to say these last bits are intense and dramatic, and showcase some serious acting chops.
---
BWW Feature: AVENUE Q at Roxy's Downtown

April 3, 2019

Opening April 12 and running to May 5, AVENUE Q, the Triple Crown Tony winner is part flesh, part fabric and packed with heart. Another "coming of age" parable, notable for its use of puppets, this wacky musical comedy brings us characters from the other side of Sesame Street.
---
BWW Feature: CORPUS CHRISTI at Table Of Hope MCC

March 28, 2019

Written in response to the murder of Matthew Shepard in 1998, the play's story parallels the New Testament account of the birth, death and resurrection of Jesus. In McNally's version the Christ figure is named Joshua, born and raised in Corpus Christi, Texas, in the early 1950s. Joshua, who is gay, leaves Corpus Christi to find a more accepting environment and gathers a group of disciples with his message of love and tolerance. The play is rated R for adult language, simulated violence and adult themes.
---
BWW Review: EVITA at Century II Concert Hall

March 27, 2019

On Wednesday, March 22nd, I sat down to watch my first production of EVITA, ever, at the Century II Concert Hall. Grimly aware of my myriad prejudices, chief among them being the fact that I had listened to the original Broadway cast recording with Patti LuPone and Mandy Patinkin ad infinitum ad nauseum since its eagerly awaited release back in 1979. It was the second rock musical concept piece written by Webber and Rice, and was directed by Harold Prince, and garnered 11 Tony nominations. The show has lived in my head all these years, every minute choreographed and staged. Since I was a poor working actor back in Buffalo, NY, I knew I was never going to get to NYC to see this show unless some fairy godmother intervened. Which was sadly not the case. Since I was a working class girl in a working class town, cutting my musical theatre teeth in the Meatloaf era (late 70s, early 80s), I liked my musicals with a certain amount of grit and truth, and have bemoaned the sanitization of my favorites, including Grease. It was with these heavy expectations and much trepidation that I sat down to watch Evita.
---
BWW Feature: MAMMA MIA at Cowley College, Robert Brown Theatre

March 13, 2019

Becoming the first college in the state of Kansas to get the rights to perform Mamma Mia!, Cowley College's Visual and Performing Arts Department will offer audiences four opportunities to catch the musical March 28-30 at the Robert Brown Theatre in Arkansas City, Kansas.
---
BWW Feature: THEORY OF RELATIVITY at Wichita State School Of Performing Arts, Wilner Theatre

March 13, 2019

Wichita State University's School of Performing Arts presents the musical THE THEORY OF RELATIVITY Thursday through Saturday, March 21st-23rd at 7:30 pm and Sunday, March 24th at 2:00 pm in Wilner Auditorium.  
---
BWW Feature: WICHITA FRINGE FESTIVAL at Wichita Center For Performing Arts

March 1, 2019

Now in its second year, The Wichita Fringe Festival is a one-day event that celebrates the work of local high school playwrights. Working with professional mentors from the Wichita theatre community, playwrights from schools throughout the city take their scripts through the process from stage to page, culminating in a performance of their works by area high school actors. This year, the festival is hosted by Wichita Center for Performing Arts (9112 E Central Ave.) on Saturday, March 2nd, with two shows on the mainstage, one beginning at 10 a.m., and the second at 1 p.m. A Q &A with the playwrights follows the first performance.
---
BWW Feature: HAMLET at Wichita Center For Performing Arts

February 23, 2019

Wichita Center for Performing Arts will be presenting Hamlet as its first fully-staged production. The show will be held Feb. 21-24 at 9112 E. Central and features a student talk-back on the last day of the show.
---
BWW Review: BONNIE & CLYDE at The Forum Theatre Company

October 8, 2018

This musical is the perfect choice for Wichita, as most of the action takes place on familiar territory, from West Texas to Missouri, from Arkansas to Kansas, at the height of the Great Depression. Bonnie Parker and Clyde Barrow went from two small-town nobodies to America's most renowned folk heroes and Texas law enforcement's worst nightmares.
---
BWW Review: THE LITTLE MERMAID at Music Theatre Wichita

August 13, 2018

I had the pleasure of seeing The Little Mermaid in the MTW 2011 Season, so I was really looking forward to seeing it again this season. I must say, it did not disappoint. With all the brilliant singing, colorful costumes and sets, and spritely choreography, The Little Mermaid is a perfect season finale!
---
BWW Review: PIPPIN at Music Theatre Wichita

July 27, 2018

Everything old is new again. This iteration of Pippin, masterfully directed and choreographed by Al Blackstone, has one foot in the original 1972 Bob Fosse version and the other foot in the 2013 Diane Paulus 'Cirque' Revival.
---
BWW Review: FREAKY FRIDAY at Music Theatre Wichita

July 15, 2018

Mothers, grab your daughters and run to see this production of Freaky Friday before it closes. I never expected such a well-crafted, intimate piece of theater from the people at Disney, but I am so glad I had the opportunity to see this gem.
---
BWW Review: GUYS AND DOLLS at Music Theatre Wichita
June 30, 2018
---
BWW Review: SISTER ACT Sizzles! at Music Theatre Wichita

June 15, 2018

Musical comedy and summer go together - especially in a town like Wichita when the 'feels like' temperature is 101 with 70% humidity! It was absolutely blissful to slide into a comfy seat at the well air conditioned Century II Concert Hall to watch Music Theatre Wichita's season opener, Sister Act. Curtain is at 8pm, but I like to get there by 7:30pm to hear Wayne Bryan, MTW's Producing Artistic Director, share his dramaturgical insights on the production, and also to watch the Teen Choir perform a few musical numbers relevant to the current show.
---
BWW Review: ALAN CUMMING - LEGAL IMMIGRANT - A SCOTTISH AMERICAN CABARET at The Stiefel Theatre For The Performing Arts

May 16, 2018

I had the extreme pleasure of attending Alan Cumming's Legal Immigrant, A Scottish American Cabaret, at the Stiefel Theatre for the Performing Arts in Salina, KS, on May 11th, 2018. Mr. Cumming intimated this was only the second performance of the show, a two hour powerhouse performance, but if he had never told us, we wouldn't have known it. He was accompanied by a small combo - cellist Eleanor Norton, drummerguitarist Chris Jego, and pianist and musical director Lance Horne. Horne, by the way, is from Denver, where they opened their show May 9th. The following day they made their way to Salina, where Cumming gave a fun (and free with a purchased ticket) Q & A on Thursday, May 10th, at 7pm. Kudos to Michael Spicer and the Salina Community Theatre for arranging the event. Friends who attended remarked that Cumming was very gracious and had a wicked sense of humour. The afternoon off also gave cellist Norton time to shop at the local thrift shop, where she purchased a gorgeous full length and fully tailored gold smoking jacket, which she wore during the performance.
---