Paula Makar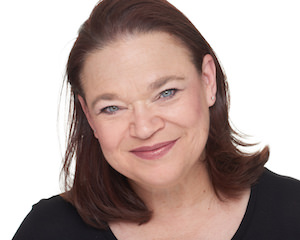 Paula is very excited to be a Contributing Editor for BroadwayWorld.com! Paula earned her Master's Degree in Theatre from Oklahoma State University, where she directed These Shining Lives and a new work, Trigger. Paula received her BFA in Theatre Performance from Wichita State, where she also serves as an Adjunct Lecturer and online Instructor. Paula also teaches at Southwestern College, where she is currently directing The Liar. Last year she directed High School Musical and Annie for MTYP, and an original show written by her Performing Arts students at Upward Bound Wichita Prep at Wichita State. Paula also directed Othello for Wichita Shakespeare Company, and Frost/Nixon for Wichita Community Theatre. Paula is also an actress, and has many favorite roles, including Bad Ass Betty in The Great American Trailer Park Christmas Musical at Roxy's Downtown, Janis in Hands On A Hardbody at the Forum Theatre, and Peggy in Weekend Comedy at the Great Plains Theatre in Abilene, KS. Paula played Martha in last three productions of White Christmas at the Crown Uptown; she also played Prudy, The Gym Teacher and the Matron in Hairspray, and Miss Hannigan in Annie. Paula directed and appeared in many of the Crown's Children's Theatre offerings. Other favorite roles include Sara Jane Moore in Assassins, Miss Lynch in Grease, and Princess Puffer in The Mystery of Edwin Drood. Paula can also be seen from time to time on the stage at Prairie Pines in their interactive murder mysteries. A native of Buffalo, New York, she now calls Wichita, Kansas home. In Buffalo, Paula was a member of the Buffalo Ensemble Theatre and Theatre of Youth. In Michigan, Paula was an Adjunct Instructor of Drama at Olivet College, and also ran the Youth Theatre Programs at the Marshall Civic and Marshall Middle School, where she directed and choreographed many productions. Please visit Paula's website at ww.paulamakar.moonfruit.com
MOST POPULAR ARTICLES
LAST 30 DAYS
BWW Review: PRISCILLA, QUEEN OF THE DESERT at Roxy's Downtown
Posted: May. 18, 2022


BWW Previews: DISNEY'S THE LION KING at Century II Concert Hall
Posted: Apr. 28, 2022


BWW Previews: PLAY ON! at Kechi Playhouse
Posted: May. 16, 2022


LAST 365 DAYS
BWW Review: MIRETTE at Music Theatre Wichita
Posted: Jun. 18, 2021


BWW Review: DISASTER! at Roxy's Downtown
Posted: Sep. 17, 2021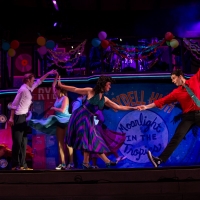 BWW Review: GREASE at Music Theatre Wichita At The Capitol Federal Amphitheater In Andover, KS
Posted: Sep. 22, 2021


BWW Review: LITTLE SHOP OF HORRORS at Roxy's Downtown
Posted: Aug. 12, 2021


BWW Review: THE COLOR PURPLE at Roxy's Downtown
Posted: Feb. 20, 2022


BWW Review: NEXT TO NORMAL at The Crown Uptown Theatre
Posted: Sep. 19, 2021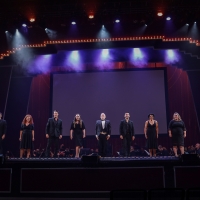 BWW Review: GOLDEN: MTWICHITA AT 50 at Music Theatre Wichita, Century II PAC, Convention Hall
Posted: Aug. 29, 2021


BWW Review: PRISCILLA, QUEEN OF THE DESERT at Roxy's Downtown

May 18, 2022

With a book by Stephan Elliott and Allan Scott, and a slew of 70s dance floor anthems including It's Raining Men, I Will Survive, Hot Stuff, Boogie Wonderland, Girls Just Wanna Have Fun, and I Love The Nightlife, it's hard not to sit still in your seat. You'll want to sing and dance along!
---
BWW Previews: PLAY ON! at Kechi Playhouse

May 16, 2022

Kechi Playhouse is proud to open its 40th season with a fan favorite comedy, Play On! by Rick Abbot, June 10-26.
---
BWW Previews: DISNEY'S THE LION KING at Century II Concert Hall

April 28, 2022

The North American tour of Disney's The Lion King is celebrating its 20th anniversary today, Wednesday, April 27 in Wichita, where the award-winning musical begins a two-week return engagement tonight at The Century II Concert Hall and plays through Sunday, May 8, 2022.
---
BWW Interview: Paul Curatolo of RAIN - A TRIBUTE TO THE BEATLES at Century II Concert Hall

April 18, 2022

I was over the moon to be able to interview Paul Curatolo, the man who plays Paul McCartney in Rain, a tribute to the Abbey Road/Rooftop concert days of the Beatles. The show sits down in Wichita one night only, Monday, April 18th, 2022, at 7:30pm at the Century II Concert Hall.
---
ROBBER BRIDEGROOM at Cowley College

April 10, 2022

Those that enjoy bluegrass music and like to laugh should make plans to attend the Cowley College theatre department's production of The Robber Bridegroom. The show will take place April 8-10 in the Robert Brown Theatre. The Friday and Saturday performances will take place at 7:30 p.m., while the Sunday show will begin at 2 p.m. Tickets can be purchased at www.cowley.edu/boxoffice.
---
BWW Previews: The First National Tour of AN OFFICER AND A GENTLEMAN come to Century II Concert Hall

March 15, 2022

The new musical AN OFFICER AND A GENTLEMAN, based on the Oscar-winning film and original screenplay by Douglas Day Stewart, is now on a multi-season tour that will visit more than 50 cities in the 2021-2022 season. 
---
BWW Review: THE COLOR PURPLE at Roxy's Downtown

February 20, 2022

If God ever listened to a poor black woman, the world would be a different place. –Celie The Color Purple is currently playing at Roxy's Downtown. Their production is impressive, powerful, well-cast, and extremely well-wrought, from performances to design elements and direction. Do yourself a favor and get tickets for this show ASAP. The opening week shows were sold out, and I hear the rest of the run is selling out quickly.
---
THE COLOR PURPLE is Now Playing at Roxy's Downtown

February 18, 2022

Roxy's Downtown Theater is thrilled to announce their February production of 'The Color Purple: The Musical'. The show is an uplifting tale of redemption and personal discovery, highlighting the many joys and struggles of the African-American experience. This show features local favorites Injoy Fountain (The Voice) and Koko Blanton!  
---
MURDER ON THE NILE at Wichita Community Theatre

October 7, 2021

Wichita Community Theatre continues its 2021-2022 Season with the mystery Murder on the Nile by Agatha Christie, October 14-24, 2021.
---
BWW Review: GREASE at Music Theatre Wichita At The Capitol Federal Amphitheater In Andover, KS

September 22, 2021

Oh, those summer nights! What a treat to sit under the stars on a cool evening and watch Grease! I felt like I was at a drive-in. The folks behind me were singing along to every song, and I was tempted to as well! It was such a feel-good production.
---
BWW Review: NEXT TO NORMAL at The Crown Uptown Theatre

September 19, 2021

I love it when I go to the theatre and there's a Vaccine Raffle! That's right, if you show your vaccine card you can be entered to win a prize! I feel like I'm back in a place where people care about the health of their community and do things like this to promote it. Crown Arts Collaborative is a 501(c)(3) nonprofit organization with a mission of returning theatre and art to the historic Crown Uptown Stage, and to make art for the community, by like-minded artists in the community.
---
BWW Feature: NEW YORK at Wichita Community Theatre

September 17, 2021

Wichita Community Theatre opens its 2021-2022 Season with the drama New York by David Rimmer, September 9-19, 2021.
---
BWW Review: DISASTER! at Roxy's Downtown

September 17, 2021

RUN RIGHT DOWN TO SEE THIS SHOW RIGHT NOW! To quote my students, "This show is ridiculous, and we laughed so hard." Like a farce on speed, DISASTER! is like riding a freight train over rough terrain, hanging on for dear life until the engineer finally puts on the brakes. This show is so nutritionally dense, you will want to consume it more than once. No laugh is unmined here. Every beat is crammed with hilarity. If you don't laugh when you see this show, you need to have your humorous attended to.
---
BWW Review: GOLDEN: MTWICHITA AT 50 at Music Theatre Wichita, Century II PAC, Convention Hall

August 29, 2021

How lucky are we in Wichita to have such a wonderful theatre community?! Better still, how lucky are we to have such a gem like Music Theatre Wichita? Producing Director Wayne Bryan and his cohort of Wichita Favorites paid homage to the city that has supported MTW for the past 50 years by showering them with some of the amazing talent that has graced the Concert Hall stage. Talent that was nurtured by Wayne and the MTW organization; talent that cut their baby teeth and grew up on the Concert Hall stage.
---
BWW Review: LITTLE SHOP OF HORRORS at Roxy's Downtown

August 12, 2021

If you want to have some serious fun this weekend, make sure you book your seats for this colorful, creative, and clever production of Little Shop of Horrors at Roxy's Downtown. The show sold out last weekend, and it's bound to sell out the next two weekends as well.
---
BWW Feature: LITTLE SHOP OF HORRORS at Roxy's Downtown

August 7, 2021

Little Shop of Horrors is now onstage at Roxy's Downtown! Directed and Choreographed by Tom Frye, with Musical Direction by Jesse Warkentin, this classic piece by Alan Menken and Howard Ashman reminds us that in your quest to better yourself and your situation, beware the dangers all around you. It is an updated look at a universal theme - with no particular time frame set. Instead of feeling like you're in the late 50's early 60's - you'll feel fresher, more today.
---
BWW Review: RED, WHITE, AND BROADWAY: A STAR STUDDED TRIBUTE TO AMERICA at Music Theatre Wichita

July 6, 2021

It was another beautiful night in Andover, Kansas. The temperature was in the mid-80's, there was a slight breeze, and not a rain cloud in sight. Many in the crowd were purchasing snacks from the food trucks parked behind the audience. Golf carts were transporting the super annuated and folx with mobility issues from the parking areas to the audience area. The VIP area was humming, and the atmosphere was super festive.
---
BWW Feature: INJOY FOUNTAIN IN CONCERT at Roxy's Downtown

June 24, 2021

Injoy Fountain will take the stage, along with Jaslyn Alexander and Koko Blanton, in a concert at Roxy's Downtown this Saturday night, June 26, 2021, at 7pm. Injoy will be singing classic tunes by Aretha Franklin, Chaka Khan, Tina Turner, Whitney Houston, Gladys Knight, and Miley Cyrus, among others. Fountain's band includes Rich Bruhn on keyboards, Dale Black on bass, Jerome Porter on sax, and Corey Rolfe on drums.
---
BWW Feature: National Theatre Live at Roxy's Downtown

June 18, 2021

It all started when Roxy's Downtown was looking for ways to bring live theatre to our audiences during a global pandemic. We reached out to several different organizations, both nationally and internationally and an alliance was born. We are so happy to be bringing the following performances to you on our state-of-the-art projection system inside Roxy's Downtown. With state-of-the-art filming techniques, tailored to every play, we bring you each performance as it happens, in all its glory. From close-ups that capture every flicker of emotion, to sweeping wide shots of the stage. There will be thousands of other people all around the world watching along with you. Sharing every gasp, every laugh, every dramatic moment. This is theatre for everyone. Call (316) 265-4400 to purchase tickets, or click here to purchase online.
---
BWW Review: MIRETTE at Music Theatre Wichita

June 18, 2021

Mirette is based on the Caldecott Award-winning book Mirette on the High Wire by Emily Arnold McCully. The musical runs June 16-20 at the Century II Convention Hall, with excellent socially distanced seating. If you have children, RUN, don't walk, to purchase tickets for this delightfully charming treasure. It's the kind of show that will turn children into lifelong theatre goers. The story is simple, the characters are timeless archetypes, the message is positive, and the artistic value is high despite the impositions of strict COVID19 restrictions.
---