Ashley Corbaley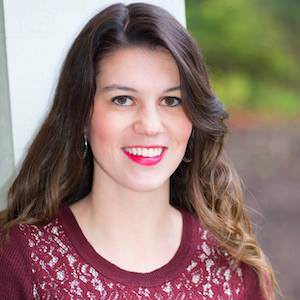 Ashley Corbaley grew up in the Pacific Northwest and moved to San Antonio, TX in the summer of 2014. She has a B.S. in Marriage and Family Studies and is working on her Masters in Library Science at the University of North Texas. Her passion for theatre began early when she was cast as the Apple Seller in her grade school production of Annie. Since then Ashley has been involved in more shows than she can count. Some of her favorites include Mollie Ralston in The Mousetrap and Cecily Cardew in The Importance of Being Earnest. Theatre has changed her life for the better and she wishes to give back to it any way she can.
Interview: Gary Fetterplace of THE COMEDY OF ERRORS at Bainbridge Performing Arts

June 23, 2022

THE COMEDY OF ERRORS is one of Shakespeare's early works and most farcical comedies. A perfect choice for this year's Bard at Bloedel by Bainbridge Performing Arts. Directed by Kristi Ann Jacobson, this delightful show is packed full of slapstick and mistaken identities. BWW was excited to sit down with the show's scenic designer/master carptner and member of the cast, Gary Fetterplace, to learn more about what is it like bringing Shakespeare to life at the Bloedel.
---
BWW Interview: Gwen Adams of THE LAST PLACE YOU LOOK at The Jewel Box Theatre

May 19, 2022

THE LAST PLACE YOU LOOK is now playing at the Jewel Box Theatre! BWW was fortunate to catch up with the play's writer and director, Gwen Adams, to get the inside scoop on the show's premiere performance.
---
BWW Interview: John Boyd of ANTIGONE at The Classic Theatre Of San Antonio

April 14, 2021

The Classic Theatre of San Antonio's ANTIGONE is now playing at the Botanical Garden! BWW was fortunate to chat with John Boyd who plays Creon in the production about his experience. 
---
BWW Review: ANTIGONE at The Classic Theatre Of San Antonio

April 11, 2021

The Classic Theatre of San Antonio's next Theatre in the Rough Production, ANTIGONE, is now playing at the Botanical Garden! Penned by Sophocles in roughly 441 BC, ANTIGONE follows the daughters of Oedipus after his tragic demise. This production is an adaptation by Emily Mann and begins in the aftermath of Thebe's civil war as Creon takes the throne. The show centers on the battle of wills between Antigone and Creon that lead to a devastating and shocking finale.
---
Obituary: Remembering BroadwayWorld San Antonio Contributing Editor Kathy Strain

March 15, 2021

On February 10th, 2021 Broadway World San Antonio Editor, Kathy Strain, passed away in her home. Kathy had a remarkable way with words and a love of theatre. She used her talent to bless San Antonio with reviews of countless plays and musicals throughout the years. She especially loved interviewing actors and musicians as she had a special way of connecting with people. In addition to writing for BroadwayWorld, Kathy worked as an usher at both the Majestic Theatre and Tobin Center. She encouraged the next generation of writers as a writing tutor at Northwest Vista College.
---
BWW Feature: BEAUTY AND THE BEAST CAST REUNION at The Woodlawn Theatre

August 5, 2020

The Woodlawn Theatre is allowing musical theatre fans to reconnect with cast members of some of the Woodlawn's favorite productions with virtual Cast Reunions! During a time where audiences members and performers cannot be together in person, virtual Cast Reunions brings the performers to you! First up is the Cast Reunion of the 2019 production of BEAUTY AND THE BEAST. The reunion will be held via Zoom on August 7th at 7pm. It will be hosted by Christopher Rodriguez and feature Chris Fuglestad (The Beast), Elise Lopez (Mrs. Potts), and Nick DeGraw (Lumiere). The cast will answer questions, discuss their characters, give a virtual live performance, and show behind-the-scenes footage of what was involved in bringing the Disney Classic to life! Tickets are just $5 per household and all proceeds go towards the Woodlawn Theatre and the Woodlawn Theatre Academy. To register for this special opportunity check out this link. For upcoming Cast Reunions and other information about the Woodlawn, visit their website.
---
BWW Interview: Paul Tinder of SHE KILLS MONSTERS at Performing Arts San Antonio

June 15, 2020

With theatre's closed across the globe because of the COVID-19 pandemic, Performing Arts San Antonio is allowing audiences to see the next show in their Season's lineup without leaving their living room! PASA's latest production, SHE KILLS MONSTERS will be available for streaming in August. BWW reached out to the producer of the show, Paul Tinder, to find out more about this unique experience. 
---
BWW Review: THESE SHINING LIVES at The Sheldon Vexler Theatre

February 14, 2020

The harrowing true story of women working for a Radium Dial Company in the early 1900s is brought center stage in the Sheldon Vexler Theatre's production of THESE SHINING LIVES. Written by Melanie Marnich, this important historical play, documents the lives of four women working for the Radium Dial Company in Ottawa, Illinois in the 1920s and '30s. Centering around one woman's journey in particular, the play presents the initial ignorance and eventual deceit of their employers of the painful and ultimately terminal effects of radium poisoning. The Vex's production of THESE SHINING LIVES is genuine, moving, and a true work of art that will pull at your heartstrings and leave you thinking long after the final curtain.
---
BWW Review: A GENTLEMAN'S GUIDE TO LOVE AND MURDER at The Public Theater Of San Antonio

February 1, 2020

The 2014 Tony Award-Winning comedic musical, A GENTLEMAN'S GUIDE TO LOVE AND MURDER makes its San Antonio production debut at the Public Theater. Set in London in the early 1900's, Monty discovers he is the distant heir to a family fortune. Being eighth in line makes Monty's shot at the money seem pretty slim, so he decides to take matters into his own hands using the most inventive and hilarious of means of course! With book and lyrics by Robert L. Freedman, music and lyrics by Steven Lutvak, and based on a novel by Roy Horniman, A GENTLEMAN'S GUIDE TO LOVE AND MURDER  at the Public Theater is pure comic gold.
---
BWW Feature: 6 VALENTINE'S DAY THEATRE DATE IDEAS in San Antonio

January 24, 2020

Valentine's Day is just around the corner and what better way to celebrate than to take that special someone in your life on a date to the theatre! San Antonio offers a wide variety of shows playing this Valentine's Day weekend, so find a show and grab that special someone or a group of friends and enjoy the intimate magic that only happens when enjoying a live performance.
---
BWW Review: ELF THE MUSICAL at The Public Theater Of San Antonio

December 1, 2019

a?oeThe best way to spread Christmas cheer is singing loud for all to hear!a?? The 2003 classic Christmas movie starring Will Ferrell comes splendidly to the stage in all of its hilarious, warmhearted glory at the Public Theater of San Antonio. With book by Thomas Meehan and Bob Martin and music by Matthew Sklar and Chad Beguelin, ELF THE MUSICAL is the perfect way to celebrate the holiday season. It tells the story of Buddy, a human raised by Elves living in the North Pole. When Buddy learns he is a human, he goes on a quest to find his father in New York City, who just so happens to be on the naughty list. Featuring the characters and one-liners you know and love from the movie, backed by an incredible score, ELF THE MUSICAL at the Public Theater is non-stop entertainment for the entire family. 
---
BWW Interview: Rachel Holdman And Emilie Miller of THE LAST FIVE YEARS at Openstage Theatre Company

November 8, 2019

San Antonio's newest Theater, Openstage Theatre Company, is bringing Jason Robert Brown's THE LAST FIVE YEARS to life! Openstage is putting everything they have into sharing such a moving tale of love, following your dreams, and the consequences of the choices we make. The story follows the ups and downs of the relationship between Cathy Hiwatt, a young struggling actress in the Big Apple, and Jamie Wellerstein, a talented writer on the brink of success. BWW had the privilege to sit down with Rachel Holdman, the music director and co-founder of Openstage, as well as Emilie Miller who plays Cathy, to get a glimpse behind the scenes of the upcoming production.
---
BWW Review: MARY POPPINS flies into The Public Theater Of San Antonio

September 24, 2019

'Supercalifragilisticexpialidocious!' The world's favorite nanny, MARY POPPINS, flies in with her signature umbrella to the Public Theater of San Antonio. With the release of Mary Poppins Returns just last year starring Emily Blunt and Lin-Manuel Miranda, a whole new generation has been introduced to the magical nanny and they are ready to see her brought to life onstage!
---
BWW Review: MATILDA THE MUSICAL at The Public Theater Of San Antonio

August 3, 2019

Roald Dahl's MATILDA THE MUSICAL is nothing short of a a?oeMiraclea?? as it delights San Antonio audiences at the Public Theater. Child genius, Matilda, is bullied by her senseless parents and doesn't quite fit in. Finding solace in books and telling stories, Matilda is faced with an even bigger threat when she comes face to face with the wrenched Agatha Trenchbull. Featuring hit songs such as: a?oeNaughty,a?? a?oeQuiet,a?? and a?oeRevolting Children,a?? MATILDA is a moving tale that inspires everyone to control their own story. 
---
BWW Interview: Taylor Paige Henderson, Shane Glenn Vickers, Audrey Davis, Courtnie Mercer And Ken Urso of MATILDA at The Public Theater Of San Antonio

July 10, 2019

The 2013 Tony Award Winning, MATILDA finds a place to share its powerful story at The Public Theater this summer! The highly anticipated giant of a musical, features a cast of 38 powerhouse actors, glorious lighting and more than a little magic. BWW sat down with some of the cast and crew at the Public Theater to chat about where they got their start and get the inside scoop on what its like being part of such a large-scale production.
---
BWW Review: BEAUTY AND THE BEAST at Woodlawn Theatre

July 7, 2019

A Tale As Old As Time, The Woodlawn Theatre presents Disney's BEAUTY AND THE BEAST in all of its beloved glory. With music by Alan Menken, lyrics by Tim Rice and Howard Ashman and book by Linda Woolverton, this classic musical was adapted to the stage over 25 years ago from the Academy Award-winning film of the same name. From daring adventure to heart-melting romance this beautiful tale has something for everyone. Bringing a production of this caliber to life is no small feat. The Woodlawn Theatre surpassed expectations, treating San Antonio to a wildly entertaining performance that was truly magical.
---
BWW Review: DON'T BLAME THE CAR! at The Classic Theatre Of San Antonio

June 28, 2019

DON'T BLAME THE CAR! cruises into The Classic Theatre of San Antonio for one wekeend only! This one-man show  is written and performed  by none other than the legendary Jaston Williams. With a career spanning over forty years, Jaston Williams is an accomplished actor and playwright whose hard work has earned him the L.A. Drama-Logue Award and the Texas Medal of The Arts, just to name a few. Known all over the U.S for his Greater Tuna plays which he co-wrote and co-acted in with Joe Sears, Williams is a celebrated master of the arts.
---
BWW Review: THE PLAY THAT GOES WRONG at The Majestic Theatre San Antonio

June 19, 2019

When things go wrong they go right for the National Tour of THE PLAY THAT GOES WRONG, now playing at the Majestic Theatre San Antonio. A play within a play, things go from bad to worse onstage and offstage in all the most creative and wonderful of ways. As a result, an evening of hilarity ensues filling the theater with continuous roars of laughter. From breaking props to breaking character, this sensationally popular hit proves just how far actors will take the phrase: "The show must go on!"
---
BWW Review: SINK, FLORIDA, SINK. at The Cellar Theater

June 17, 2019

The World Premiere of SINK, FLORIDA, SINK. makes a splash at The Public Theater of San Antonio. Written by David L. Kimple this fascinating new production explores where our loyalties lie and how far we are willing to go to stay true to what we know. As well as entertaining, SINK, FLORIDA, SINK. raises thought provoking questions such as the role we play in our community and our commitment to that role. This show also educates about disaster awareness and explores the rationality of those who decide to stay in the place they love despite all odds.
---
BWW Review: FIDDLER ON THE ROOF at The Majestic Theatre San Antonio

March 28, 2019

'Miracle of Miracles!' Since its Broadway debut in 1964, FIDDLER ON THE ROOF has touched the hearts of millions with its story of faith, tradition, and family that has transcended generations. The show centers on Tevye, a poor Jewish milkman as he tries to marry off his eldest daughters.  With music by Jerry Bock, lyrics by Sheldon Harnick and book by Joseph Stein, this nine-time Tony Award-winning show features memorable songs such as  'Matchmaker, Matchmaker,' 'To Life,' and 'Sunrise, Sunset.' You might be familiar with the songs and story but you haven't fully experienced it until you see the National Tour of FIDDLER ON THE ROOF, now playing at the Majestic Theatre of San Antonio.
---