Interview: John Boyd of ANTIGONE at The Classic Theatre Of San Antonio
The show runs until April 25 at the Botanical Garden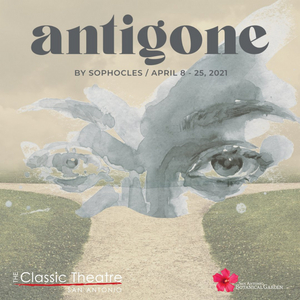 The Classic Theatre of San Antonio's ANTIGONE is now playing at the Botanical Garden! BWW was fortunate to chat with John Boyd who plays Creon in the production about his experience.
How did you first become interested in performing?
I knew I wanted to be an actor when I was five years old. I mean I don't remember a time when I did not know that that's what I wanted to do. My Mom sang in the church choir and when I was little our church did musical theater. She went and got a part and I wanted to do that too and so I started doing little musicals with our church... When I got to junior high, I told my parents "I want to get an agent, I want to be an actor and I want to do this professionally." And they were like "I don't know..." But they agreed to it and I got an audition for a TV show. I was cast and I did this show on Nickelodeon when I was 13 years old. That was the first experience I ever had that was a real professional gig. And then nothing happened after that. I did do high school theatre and ended up going to college and majoring in theatre. I struggled for a while because I couldn't really get a job and so I decided to go back and get my teaching certificate. I taught theater for a bit, but I really didn't like teaching. I thought maybe I would actually do better teaching higher education, so I went back and got my master's. I loved it so much I kept going and went to Ohio State and got a PhD. Afterwards, I realized I really didn't want to teach college. In fact, I really didn't want to teach at all. I wanted to be an actor and do plays. One thing that is very fortunate is that I am able to work at a construction supply business with my dad that my grandfather started. I can have a job working with my family and then in the afternoon I can do community theatre, so I get to scratch that theatre itch and it has been a wonderful way to satisfy my desire to be onstage.
You play Creon in the show. How did you prepare for the role?
Mostly I focused on the text. I did a little bit of background research with other translations. Emily Mann adapted [this version of ANTIGONE] and there have been other translations that are slightly different, so I looked at some other things. But mainly I just focused on what this adaptation was saying and what other characters are saying about Creon. Kelly also helped with a lot of insight as far as what are some words that are repeated and what are some ideas that come up time and time again. There are dichotomies between patriot and tyrant or traitor and enemy. So, I tried to focus on things that I noticed that were symbolic or ideas that were repeated. I played with various levels and tried to work on building up to certain moments that had a higher intensity of emotion and then seeing how far could push it. Getting to that point was a bit of a challenge. Luckily, I was working with Kelly and she was able to let me play around a little bit. She's very good about allowing for a space where you can explore and pretend and try things out.
Creon is often seen as the play's villain. How do you portray Creon's resoning behind his actions?
That is something that I found a little bit difficult because on one hand it's easy to say, oh well he's the bad guy but as an actor I can't do that. I can't judge him as someone I look down upon. I have to see what he believes is right. I have to decide I am this person and I believe very strongly that respecting the state, protecting the people, and defending the law are all good things. And they are good things! So, I just had to decide I'm going to try and convince Antigone that my side is right. That was challenging because my first instinct was to just scream at [Antigone] and say, "you're wrong and I'm fighting you and I'm going to make you learn that you're wrong." But I had to find moments where I could be a little bit more delicate with my approach and try different tactics...I was trying to make Creon someone that people could say well that is actually a good point.
What is it like working with the cast and crew of ANTIGONE?
Kelly has done an amazing job making sure that everyone feels safe. Making sure that the audience feels safe and that we're able to do actually have some live theater in a time where we need to be cautious. Kelly has made it work and I like I like being a part of that...Everybody's been getting along so well. It's one of those great casts where there's not any uncomfortable dynamics, no personalities that rub the wrong way. I've been in shows where there's been some tensions because this person and that person don't get along. So it's so nice to have a cast where everyone's getting along great. That's been a really wonderful thing about this production... They have been such a wonderful group of people to play with, to listen to, and to work off of. I really feel fortunate to have such a great group of people. It has been an ensemble cast, truly. It's a small group, only eight of us, but I feel like this group has worked so well together as a unit. I definitely want to give a shout-out to all the other actors in the cast.
Come see John and the rest of the cast in ANTIGONE now playing at the San Antonio Botanical Garden until April 25th, 2021. Performances are Thursdays, Fridays, Saturdays and Sundays at 7:30pm. To purchase tickets visit the theatre's website or call (210) 468-3900.
PHOTO CREDIT: Courtesy Photo