Review: MATILDA THE MUSICAL at The Public Theater Of San Antonio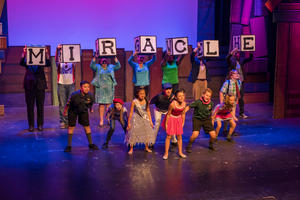 Roald Dahl's MATILDA THE MUSICAL is nothing short of a "Miracle" as it delights San Antonio audiences at The Public Theater. Child genius, Matilda, is bullied by her senseless parents and doesn't quite fit in. Finding solace in books and telling stories, Matilda is faced with an even bigger threat when she comes face to face with the wrenched Agatha Trenchbull. Featuring hit songs such as: "Naughty," "Quiet," and "Revolting Children," MATILDA is a moving tale that inspires everyone to control their own story.
The Public Theater is no stranger to grand productions and MATILDA is no different. From the opening note to the final chapter, the show was bursting with contagious energy. The audience was immediately drawn into Matilda's world with all the colorful characters and a dash of magic. The music, directed by Andrew Hendley and underscored by an incredible orchestra, was truly powerful.
Under Ken Urso's marvelous direction, the entire cast was extraordinary. Each actor was perfectly cast and wonderfully believable making the show so much fun to watch. Shane Glenn Vickers was phenomenal as the evil hammer-throwing champion of 1969, Agatha Trunchbull. His comedic timing was impeccable, filling the theater with roars of laughter every time Agatha thought to execute another ghastly punishment for the 'revolting children'.
Taylor Paige Henderson shined as Matilda (the role is shared with Audrey Anne Davis on alternating show dates). Henderson was engaging and honest in her portrayal allowing the show's overall theme to be so much more powerful.
"Sometimes you have to be a little bit naughty!" The Public Theater's MATILDA is a true delight for every age. It is every bit inspiring as it is entertaining. MATILDA is sure to be a theater event to remember. The show is now playing until August 11th Thursday-Sundays. Visit the theater's website for tickets.
Photo Credit: Siggi Ragnar