Ashley Corbaley - Page 2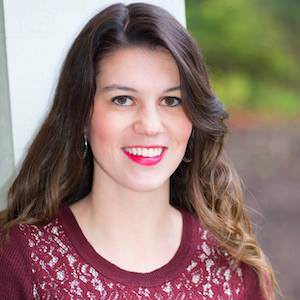 Ashley Corbaley grew up in the Pacific Northwest and moved to San Antonio, TX in the summer of 2014. She has a B.S. in Marriage and Family Studies and is working on her Masters in Library Science at the University of North Texas. Her passion for theatre began early when she was cast as the Apple Seller in her grade school production of Annie. Since then Ashley has been involved in more shows than she can count. Some of her favorites include Mollie Ralston in The Mousetrap and Cecily Cardew in The Importance of Being Earnest. Theatre has changed her life for the better and she wishes to give back to it any way she can.
MOST POPULAR ARTICLES
LAST 30 DAYS
LAST 365 DAYS
BWW Review: FIDDLER ON THE ROOF at The Majestic Theatre San Antonio

March 28, 2019

'Miracle of Miracles!' Since its Broadway debut in 1964, FIDDLER ON THE ROOF has touched the hearts of millions with its story of faith, tradition, and family that has transcended generations. The show centers on Tevye, a poor Jewish milkman as he tries to marry off his eldest daughters.  With music by Jerry Bock, lyrics by Sheldon Harnick and book by Joseph Stein, this nine-time Tony Award-winning show features memorable songs such as  'Matchmaker, Matchmaker,' 'To Life,' and 'Sunrise, Sunset.' You might be familiar with the songs and story but you haven't fully experienced it until you see the National Tour of FIDDLER ON THE ROOF, now playing at the Majestic Theatre of San Antonio.
---
BWW Review: WICKET at Performing Arts San Antonio

March 24, 2019

A long time ago in a galaxy far, far away… or to be more accurate now playing at Performing Arts San Antonio, comes WICKET, a hilarious new musical. Parodying the Star Wars movies we all know and love, this mad spectacle is a farce to be reckoned with. While based on the events that take place during 'The Return of the Jedi,' WICKET tells the untold 'true' story of the Ewoks and their quest to help Princess Leia while also protecting themselves from becoming plush dolls. It is none other than the smallest Ewok, Wicket, who proves that he has what it takes to save the day. Featuring a catchy score, entertaining choreography and a plethora of jokes that will make your side hurt from laughter, WICKET is truly unlike anything you have seen before.
---
BWW Review: THE TRIP TO BOUNTIFUL at The Classic Theatre of San Antonio

February 26, 2019

Written by renowned playwright Horton Foote, THE TRIP TO BOUNTIFUL is a moving story of family, reminiscing on things that once were, and longing for home.  For Carrie Watts, her home is in Bountiful not in a cramped apartment in Houston where she lives with her son and daughter-in-law. As the play progresses, the idea of home is questioned as the characters discover home might mean something a little different than what they once thought.
---
BWW Review: ANASTASIA at Majestic Theatre San Antonio

February 7, 2019

'Heart, don't fail me now. Courage, don't desert me.' Based on the 1997 movie of the same name, ANASTASIA tells the story of the rumored surviving Romanov daughter and her journey into her past in order to find her future. Featuring beloved tunes such as 'Once Upon a December,' 'Learn to Do it,' and 'Journey to the Past,' this production includes a stunning score of new songs by Stephen Flaherty. This enchanting musical dives deeper into the story of the lost princess and the family she finds while trying to discover who she is.
---
BWW Feature: 9 SHOWS TO LOOK FORWARD TO IN 2019 in San Antonio, TX

January 25, 2019

2019 is The Year of Theatre in San Antonio! The several theatres in the city are offering incredible seasons with a variety of plays and musicals you just can't miss! Make 2019 your year to see as many shows as you can, I know I am! In order of opening dates, here are the 9 shows I am looking forward to seeing the most this year: 
---
BWW Review: MISS BENNET: CHRISTMAS AT PEMBERLEY at The Classic Theatre Of San Antonio

December 11, 2018

"It is a truth universally acknowledged, that a single man in possession of a good fortune, must be in want of a wife.' It is with this line that begins Jane Austen's most beloved masterpiece, Pride and Prejudice. A tale of five sisters and their journey of finding love, Austen's novel sincerely and humorously immerses readers into the social expectations of 17th century England. MISS BENNET: CHRISTMAS AT PEMBERLEY is set in 1815, two years after the events of the novel takes place. The Bennet sisters gather for the holidays to reconnect and celebrate at Mr. and Mrs. Darcy's grand estate. However, this time it is the bookish middle sister, Mary, who takes center stage.
---
BWW Review: YOUNG FRANKENSTEIN at The Performing Arts San Antonio

October 17, 2018

'It's alive!' Halloween comes early to The Performing Arts San Antonio (PASA) as they take on their most ambitious show yet with YOUNG FRANKENSTEIN. Adapted to the stage from Mel Brook's 1974 movie of the same name, YOUNG FRANKENSTEIN has plenty of quirky pizzazz to keep you laughing. The infamous Dr. Victor Frankenstein is dead but his scientific discoveries live on through his grandson, Frederick Frankenstein. Having inherited his grandfather's castle in Transylvania, Frederick is eager to put his brilliant mind to use and create a monster of his own. Featuring a cast of zany but loveable characters, YOUNG FRANKENSTEIN at PASA is monstrously entertaining.
---
BWW Review: WICKED at The Majestic Theatre of San Antonio is Wicked Good

October 4, 2018

It doesn't take magic to discover why WICKED is still melting the hearts of millions all over the world 15 years after its first performance on Broadway. Based on the 1995 novel by Gregory Maguire, with music by Stephen Schwartz, and book by Winnie Holzman, this masterpiece is wicked good. From the dazzling special effects to the bewitching songs, WICKED has rightfully earned its place as the sixth longest-running show in Broadway history. In WICKED it is the witches of Oz who take center stage to tell their story of how all came to be long before young Dorothy ever ventured Over the Rainbow. The National Tour of WICKED flies into the Majestic Theatre of San Antonio promising a magical performance that will leave you spellbound.
---
BWW Review: GROOVE at The Harlequin Theater

September 21, 2018

For several years the Harlequin Theater has entertained audiences in the San Antonio area. Located on the Fort Sam Houston Military Base, the Harlequin Theater is an intimate venue that is as charming as it is historic. Currently playing at this gem of a theater is GROOVE, a musical revue taking you back to the days of bright colors and big hair. From the moment you enter the theater, the dim lights and misty fog immerses you completely in the experience and makes you wish you didn't leave your bell-bottoms at home. GROOVE features hit songs from the late-1960's featuring legendary artists such as The Rolling Stones, Janis Joplin, Jimi Hendrix, and The Beatles. It is hard not to sing along as the cast belts out song after song with seasoned precision. Under Laura Anglin's expert choreography, each song was enhanced with electrifying dance moves, making each number even more fun to watch. From the very first note, the cast exuded a contagious energy that remained until the final bow. It is no secret that the cast and crew put their heart and soul into this show, resulting in an evening of non-stop entertainment sure to bring a smile to your face.
---
BWW Review: Disney's NEWSIES! at The Public Theater Of San Antonio- Magnificent Fun for All Ages

September 20, 2018

"EXTRA, EXTRA!" Disney's NEWSIES! is hot off the press at The Public Theater of San Antonio. Based on the real-life strike of 1899, NEWSIES! tells the story of Manhattan newsboys as they take a stand against publishing giant, Mr. Pulitzer, to get the pay they deserve. It is a powerful story of hope, loyalty, and fighting for what you believe in.
---