Review: THESE SHINING LIVES at The Sheldon Vexler Theatre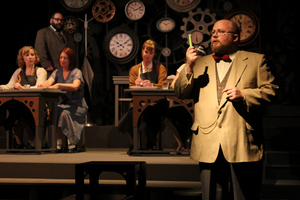 The harrowing true story of women working for a Radium Dial Company in the early 1900s is brought center stage in the Sheldon Vexler Theatre's production of THESE SHINING LIVES. Written by Melanie Marnich, this important historical play, documents the lives of four women working for the Radium Dial Company in Ottawa, Illinois in the 1920s and '30s. Centering around one woman's journey in particular, the play presents the initial ignorance and eventual deceit of their employers of the painful and ultimately terminal effects of radium poisoning. The Vex's production of THESE SHINING LIVES is genuine, moving, and a true work of art that will pull at your heartstrings and leave you thinking long after the final curtain.
The intimacy of the black box theatre provided the perfect backdrop to tell this imperative part of history. One felt part of the women's story as they were in Catherine Donohue's home, a fellow coworker seeing the daily exposure to radium, and a witness to the courtroom trials that altered the course of worker's rights by the incredible set and lighting design by Ken Frazier.
The impact of the sound design by Tim McCain was truly astounding. The ticking of the clocks ticked in their usually upbeat rhythm to signify the passing seconds, minutes, hours, and years. However, when the lives of the women were turned upside down, the tickings came faster, even disoriented, aiding in the profound sense of injustice at the unnecessary loss of time.
Tami Kai directs this beautiful show with sincerity and a whole lot of spirit. As the women were victims of a big company cover-up that ultimately cost them their lives, they were first friends, wives, and mothers who decided to do something about their predicament and take a stand to protect others. As the plays central character, Catherine Donohue, Jessica Reynolds-Carrillo is magnificent. Her candor and contagious zest for life are all the more poignant when the poisoning takes its hold. Each actor was so believable and lively in their portrayals, paying tribute to the real-life women and men their characters were based on.
Time is ticking! Don't miss this stunning production of THESE SHINING LIVES now playing at the Sheldon Vexler Theatre until March 1st, 2020. The show begins on Thursdays at 7:30, Saturdays at 8 and Sundays at 2:30. Visit the theatre's website or call (210) 302-6835 for tickets.
PHOTO CREDIT: Megan Lutz