Click Here for More Articles on THE PARISIAN WOMAN
Tony Award Winner Blair Brown Joins Uma Thurman and Josh Lucas in the Cast of THE PARISIAN WOMAN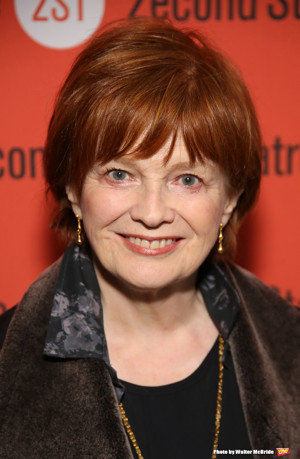 Tony Award winner Blair Brown ("Orange Is The New Black," "Fringe," Copenhagen, Nikolai and the Others) has joined the cast of The Parisian Woman, the electrifying new power play by "House of Cards" creator Beau Willimon (Farragut North, Ides of March), directed by Tony Award winner Pam MacKinnon (Who's Afraid of Virginia Woolf?, Clybourne Park) debuting on Broadway this fall.
As previously announced, the cast will also feature Academy Award nominee Uma Thurman and Josh Lucas (Sweet Home Alabama, "The Mysteries of Laura," The Glass Menagerie's 2005 Broadway revival).
Opening night for the limited engagement is set for Thursday, November 30, 2017 at a theater to be announced. Additional casting, design team, and preview dates will be announced soon.
Willimon sets The Parisian Woman in Washington, D.C., where powerful friends are the only kind worth having, especially after the 2016 election. At the center is Chloe (Uma Thurman), a socialite armed with charm and wit, coming to terms with politics, her past, her marriage and an uncertain future. Dark humor and drama collide at this pivotal moment in Chloe's life, and in our nation's, when the truth isn't obvious and the stakes couldn't be higher.
Brown will play the role of Jeanette Simpson, the soon-to-be Chairwoman of the Federal Reserve, nominated by the President. She's a formidable power-player with a taste for mischief. She's also eager to befriend Chloe, who gives her respite from the rat race.
"The play is about Chloe's self-reckoning," says Willimon. "It's about her relationship to personal responsibility and love in these troubled times. How does she go from suppressing her moral compass to actually following its needle? How does she fight cynicism rather than submit to it? The play is set in the here and now, immersed in the shifting sands we're experiencing daily."
The Parisian Woman has gone through significant rewrites since its first production at South Coast Repertory. "After the 2016 election I felt the need to completely rework the play," says Willimon. "The core remains the same, but given its setting and milieu, there was an opportunity to address our current political landscape through Chloe's lens. To put a sharper edge on her journey. It's a different play than the version Pam MacKinnon and I originally put on stage. One of the things I love about the theater is that you can respond to the present moment in real time. We're excited to take on that challenge."
Willimon's inspiration for The Parisian Woman came from French dramatist Henri Becque's controversial play, La Parisienne which debuted in Paris in 1885.
The Parisian Woman was commissioned by The Flea Theater in New York City (Jim Simpson, Founder, Niegel Smith, Artistic Director, Carol Ostrow, Producing Director). It was originally produced by South Coast Repertory.
It is produced on Broadway by Marc Routh, Richard Frankel, Tom Viertel, Steven Baruch, and Steve Traxler.
Blair Brown (Jeanette Simpson). Broadway: Copenhagen (Tony Award), James Joyce's The Dead, Cabaret, The Secret Rapture, The Threepenny Opera. Off-Broadway/regional: Mary Page Marlowe (Steppenwolf), Nikolai and the Others, The Clean House, Arcadia, The Tempest (McCarter Theatre), A Little Night Music (Kennedy Center), Humble Boy, Camino Real(Williamstown), My Life as a Fairy Tale (LCF), Comedy of Errors (NYSF), The Skin of Our Teeth (Old Globe), seasons at Stratford-Ontario and Guthrie Theater. Film: My Art, Speed of Thought, Dark Matter, The Sentinel, Dogville, Space Cowboys,The Astronaut's Wife, Altered States, Continental Divide, Strapless, Stealing Home and A Flash of Green. TV includes: "Orange Is The New Black," "Jack Ryan," "Elementary," "Limitless," "Forever," "Person of Interest," "The Affair," "Fringe," "The Days and Nights of Molly Dodd" (5 Emmy Nominations), "ER," "ED," "The Ultimate Life," "Kennedy," "A Season in Purgatory," "The Good Policeman," "Hands of a Stranger," "Follow the Stars Home," "In His Life: The John Lennon Story," "Convictions," "Gifts of Love," "To Walk Again: The Eddie Keating Jr, Story," "Missing Parents," "Majority Rules," "Extremely Close Up," "Those Secrets," "Space." Directing: Rosemary and I (Passage), Lovely Day (Play Co.) and A Feminine Ending (PCS). Narrator of more than 50 documentary films and audio books.
Photo Credit: Walter McBride / WM Photos
Related Articles
More Hot Stories For You
QUIZ: Can You Guess the Hamilton Character from These Blurry Images?
These Hamilton pictures are a bit blurry... can you figure out which characters they are?...

HAMILTON Cast Album Returns to #1 Spot on the iTunes Chart
The Hamilton Original Broadway Cast Recording has returned to the #1 spot on iTunes' Top Albums chart, ahead of the musical's premiere on Disney+ tomo...

Oliver Dowden Meets With Andrew Lloyd Webber at the London Palladium to Test Safety Measures
Oliver Dowden, Secretary of State for Digital, Culture, Media and Sport, has shared photos on Twitter of a meeting that recently took place between hi...

THE MOUSETRAP To Reopen in the West End on Friday 23 October
Agatha Christie's The Mousetrap - the longest running show in the world, which had to be suspended when the Coronavirus Pandemic resulted in the closu...

VIDEO: Watch A CAPITOL FOURTH with Kelli O'Hara, Brian Stokes Mitchell, Renee Fleming and More!
A Capitol Fourth will present a virtual version of its annual concert, in honor of its 40th anniversary. This year's show is co-hosted by John Stamos ...

Broadway Jukebox: 50 Songs for a Very Red, White and Broadway Fourth of July!
Kick off the holiday weekend with fifty of our favorite patriotic showtunes. From musicals about American history like Ragtime and Hamilton, to Americ...