Theatre Royal Bath Announces Jonathan Church's Summer Season 2018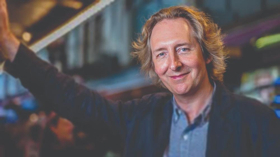 Jonathan Church, Artistic Director of Theatre Royal Bath's Summer Season, today announces the full 2018 programme. Some of the country's most prolific actors will star in a selection of both UK premieres and renowned classics in the theatre's historic Main House and the intimate Ustinov Studio.
Opening the season in the Main House will be Jonathan Church's production of Oscar Wilde's witty drama An Ideal Husband (18 July - 4 August), which transfers from a critically acclaimed West End run, followed by Arthur Miller's The Price (9 - 25 August). The Main House season will conclude with the 10th anniversary production of Yasmina Reza's God of Carnage (29 August - 15 September), directed by Lindsay Posner.
The summer season in the Ustinov Studio will open with Shakespeare at the Tobacco Factory's new production of Henry V (21 June - 21 July), directed by Elizabeth Freestone. As a hub for new writing, the studio will then host the UK Premiere of Joanna Murray-Smith's thriller Switzerland (1 August - 1 September), which premiered in Australia. The final production in the season will be Terence Rattigan's compelling drama In Praise of Love (3 October - 2 November), directed by Jonathan Church who makes his Ustinov Studio debut.
Jonathan Church succeeded Peter Hall as Artistic Director of Theatre Royal Bath's annual summer season in 2017. His inaugural season included David Hare's Racing Demon, Hugh Whitemore's Sand in the Sandwiches, the stage adaptation of Alfred Hitchcock's North by Northwest, Alan Franks' Looking at Lucian and Alan Bennett's classic The Lady in the Van. Church was previously Artistic Director of Chichester Festival Theatre, overseeing more than 100 productions including Taken at Midnight, ENRON, Macbeth with Sir Patrick Stewart, Sweeney Todd and Gypsy.
Introducing his new season, Jonathan Church said: "It's a great pleasure to announce such a diverse and rich season of drama this summer and in particular to welcome this exceptional group of actors, directors and writers to the beautiful Theatre Royal Bath and Ustinov Studio. Alongside the well known work in the Main House there is an adventure to be had in the Ustinov with the rarely performed Rattigan play In Praise Of Love, the UK premiere of Joanna-Murray Smith's Switzerland and the extraordinary Bristol based company Shakespeare at The Tobacco Factory tackling Henry V in their own unique style. My memories of the summer in Bath are powerfully linked to the work that Peter Hall created here so it's a real treat to welcome his grandson Ben Hall to the season playing Henry V."

Henry V
Ustinov Studio
Thursday 21 June - Saturday 21 July
Press night: Thursday 28 June
Innovative theatre company Shakespeare at the Tobacco Factory will launch their brand new production of Henry V at the Ustinov Studio prior to a UK Tour. Directed by Elizabeth Freestone, Shakespeare's play is a thrilling examination of the nature of power, the burden of leadership and the myth of heroism.
Ben Hall (The Durrells, Coriolanus) will star in the title role. He will be joined by Rosie Armstrong, Alice Barclay, Melody Brown, Alan Coveney, Chris Donnelly, Luke Grant, Heledd Gwynn, Joanne Howarth, David Osmond, Zachary Powell, Amy Rockson and Corey Montague-Sholay.
An Ideal Husband
Main House
Wednesday 18 July - Saturday 4 August
An Ideal Husband, directed by Jonathan Church will transfer direct from a critically acclaimed West End season at the Vaudeville Theatre. Oscar Wilde's sharp and witty drama explores corruption, blackmail and honour when a damning secret threatens to ruin ambitious politician Sir Robert Chiltern's career and marriage.
The production will star real-life father and son duo, BAFTA winner Edward Fox (The Audience, The Day of the Jackal) and Freddie Fox (The Judas Kiss, Cucumber). They are joined by Susan Hampshire (The Forsyte Saga, Monarch of the Glen), Olivier-Award winner Nathaniel Parker (Wolf Hall, This House), Frances Barber (Silk, Antony and Cleopatra) and Sally Bretton (Not Going Out, King Lear).
Switzerland
Ustinov Studio
Wednesday 1 August - Saturday 1 September
Press night: Thursday 9 August
Lucy Bailey will direct the UK premiere of Joanna Murray Smith's award-winning psychological thriller Switzerland. The play paints a portrait of one of the great writers of the 20th century, Patricia Highsmith, famed for writing The Talented Mr Ripley, Strangers On A Train and The Price of Salt. When a mysterious gentleman visits Patricia to persuade her to pen one final instalment of the bestselling Tom Ripley series it soon becomes clear the stranger has a far more sinister mission.
Switzerland premiered in Australia in 2015 where it won Best New Australian Work at the Sydney Theatre Awards. Casting to be announced in due course.
The Price
Main House
Thursday 9 August - Saturday 25 August
Press night: Wednesday 15 August
Jonathan Church will direct the 50th anniversary production of Arthur Miller's riveting drama The Price in Theatre Royal Bath's Main House. One of Britain's most celebrated actors, David Suchet, will star as furniture dealer Gregory Solomon with further casting to be announced.
The play tells the story of two long-estranged brothers, Victor and Walter Franz, meeting in their former childhood home following the death of their father. When Gregory Solomon, a silver-tongued used furniture dealer, arrives to close a deal he hasn't counted on the brothers being there to confront each other.
First seen on Broadway in 1968, The Price was nominated for two Tony Awards including Best Play. It was most recently revived in New York in 2017, starring Mark Ruffalo and Danny DeVito.
God of carnage
Main House
Wednesday 29 August - Saturday 15 September
Press night: Wednesday 5 September
Lindsay Posner directs the 10th anniversary production of Yasmina Reza's award-winning farce God of Carnage. Starring two much-loved actors from hit television series, Elizabeth McGovern (Downton Abbey) and Amanda Abbington (Sherlock), the play is a ruthlessly comic study of middle-class parenting.
Originally written in French, God of Carnage was translated by Christopher Hampton in 2008. The production went on to win the Olivier Award for Best New Comedy and the Tony Award for Best New Play.
in praise of love
Ustinov Studio
Wednesday 3 October - Saturday 3 November
Press night: Monday 15 October
Jonathan Church will make his Ustinov Studio directorial debut with Terence Rattigan's final play In Praise of Love. Olivier Award and Tony Award winner Robert Lindsay (My Family, Me and My Girl) and Tara FitzGerald (Waking the Dead, Hamlet) will star in the closing production of Church's season.
A perceptive and powerful drama about the concealed truths and veiled emotions in a marriage, In Praise of Love sees a series of heart-breaking revelations change a couple's relationship forever.