Latest News on Lucy Bailey
Latest News on Lucy Bailey
Stage Credits
Productions
[West End, 2022]
Director
[West End, 2021] [Replacement]
Director[Replacement]
[West End, 2018]
Director
Stage
Productions
[West End, 2022]
Director
[West End, 2021] [Replacement]
Director[Replacement]
[West End, 2018]
Director
Lucy Bailey News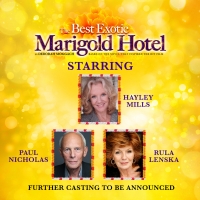 Rula Lenska Joins Hayley Mills & Paul Nicholas Led THE BEST EXOTIC MARIGOLD HOTEL UK Tour
by Chloe Rabinowitz - May 27, 2022
Another of the UK's best-loved actors, Rula Lenska, (ITV's Rock Follies, Coronation Street, Channel 4's Celebrity Big Brother) is the latest cast member to be confirmed for the upcoming tour of The Best Exotic Marigold Hotel.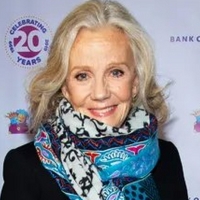 Disney Icon Hayley Mills to Lead THE BEST EXOTIC MARIGOLD HOTEL Stage Adaptation
by A.A. Cristi - May 12, 2022
Hayley Mills, best known for her memorable performances in Disney's The Parent Trap and Pollyanna, has signed on to lead the upcoming stage adaptation of the acclaimed film The Best Exotic Marigold Hotel. Get the scoop on the show including tour dates and tickets.
Booking Period Extends To April 2023 For Agatha Christie's WITNESS FOR THE PROSECUTION
by Stephi Wild - May 11, 2022
Eleanor Lloyd Productions and Rebecca Stafford Productions have announced an extension for Agatha Christie's Witness for the Prosecution. Audiences can now watch the trial of Leonard Vole at the magnificent London County Hall until 16th April 2023.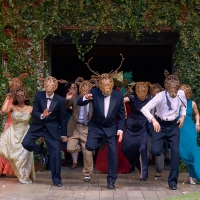 BWW Review: MUCH ADO ABOUT NOTHING, The Globe
by Abbie Grundy - May 4, 2022
A talented cast and insightful direction steer Much Ado About Nothing towards success.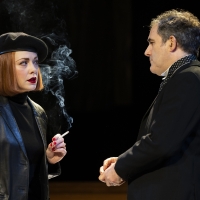 Photos: Check Out All New Photos From WITNESS FOR THE PROSECUTION at London's County Hall
by Stephi Wild - Apr 6, 2022
The new cast includes Joshua Glenister as the accused, Leonard Vole, opposite Lauren O'Neil as Romaine. Owen Oakeshott will play Sir Wilfrid Robarts QC. He is joined by Peter Landi as Mr Mayhew, Richard Teverson as Mr Myers QC, and James Hayes as Mr Justice Wainwright.
JERUSALEM Leads April's Top 10 New London Shows
by Marianka Swain - Apr 1, 2022
London is never short of temptations, whether epic West End shows, engrossing dramas or bold fringe offerings. From a juicy revival to a new political play and a classic musical reborn, here are some of this month's most eye-catching openings. Don't forget to check back for BroadwayWorld's reviews, interviews and features!
Cast Announced for MUCH ADO ABOUT NOTHING at Shakespeare's Globe
by Chloe Rabinowitz - Mar 9, 2022
Shakespeare's Globe has announced the cast and company for Much Ado About Nothing, directed by Lucy Bailey. This will be performed by the Globe Ensemble who will be returning for The Tempest on 22 July.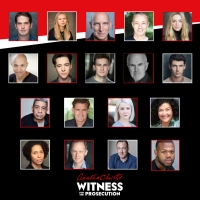 Seventh Cast Announced For Agatha Christie's WITNESS FOR THE PROSECUTION
by Stephi Wild - Mar 1, 2022
The seventh cast has been announced for Agatha Christie's Witness for the Prosecution which is now booking until September 2022 at the London County Hall.
Pre-sale: Book Tickets Now For The Shakespeare's Globe Summer Season
by Marianka Swain - Feb 10, 2022
You can book tickets now for the fantastic Summer Season 2022 at Shakespeare's Globe, thanks to our pre-sale!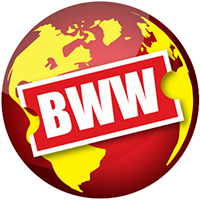 Shakespeare's Globe Announces Summer Season 2022
by Stephi Wild - Jan 25, 2022
Shakespeare's Globe has announced the Summer Season 2022 full of pomp, pageantry, politics, and power.
Lucy Bailey Videos
STAGE TUBE: Stephen Wight and More at Press Night of MCQUEEN
by Stage Tube - May 27, 2015
Award-winning actor Stephen Wight takes on the title role of Lee McQueen and Dianna Agron will play Dahlia in the world premiere of James Phillips's play McQUEEN directed by John Caird, which will run at St. James Theatre from 12 May to 27 June, with press nights on Tuesday 19 and Wednesday 20 May.  The play will also star Tracy-Ann Oberman as Isabella Blow, Laura Rees as Arabella, and David Shaw-Parker as John Hitchcock, along with Sophie Apollonia, Amber Doyle, George Hill, Eloise Hymas, Jordan Kennedy, Rachel Louisa Maybank, James Revell and Carrie Willis.  Check out behind the scenes interviews and more!