EVANGELINE Starring Chilina Kennedy Receives New York Showcase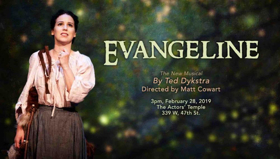 Toronto's Coal Mine Theatre, in association with Eclipse Theatre Company and Kliffer Entertainment, have convened an all-star cast led by Chilina Kennedy for a four-day reading and invitation-only showcase for potential producers and presenters of Ted Dykstra's epic musical EVANGELINE, February 28 at The Actors Temple in New York City.
EVANGELINE is based on Henry Wadsworth Longfellow's powerful and romantic poem, Evangeline, A Tale of Acadie, published in 1847. It tells the story of a young Acadian woman from Nova Scotia who on her wedding day is separated from her husband, Gabriel, by British soldiers during the Great Upheaval in 1755. The expulsion of the Acadians, 10,000 French settlers in Nova Scotia, scattered the population across America including Philadelphia, South Carolina, and Louisiana.
Evangeline vows to find Gabriel and spends the rest of her life looking for him, walking across the wilderness of America, living with different communities and even reuniting with some of her people in Louisiana. Bearing witness to the beginnings of Cajun culture; the vibrant multicultural stew of music, food, and races of people from all over the world, EVANGELINE is a sweeping musical spanning 40 years, and a tribute to the true nature of love, sacrifice, and the meaning of the word home.
Supporting this workshop presentation in New York are Haligonians, Danny and Martie Murphy.
"Danny and I first me Ted through mutual friends of the theatre in Charlottetown. Our daughter had a part in Evangeline and we were excited to see the production because of her, as most parents would be! Opening night was very exciting. Once the music started to play and the story unfolded I was lost!!!! A sincere range of emotions ran through me. Evangeline is a beautiful love story, heartbreaking and heartwarming at the same time. The story and plight of the Acadians, the scattering of families, the discrimination of a culture, is a common thread throughout history making Evangeline an instant Canadian Classic! We are so proud to be part of this workshop."
Ted Dykstra has played leading roles on every major stage in Canada and has directed dozens of award-winning productions across the country. As co-creator of the critically-acclaimed 2 Pianos 4 Hands, he has performed and co-produced the show around the world. Ted has received countless award nominations and is the recipient of five Dora Mavor Moore Awards for acting, producing and musical direction; a Chalmers Award for writing; a Gemini Award for acting; a Merritt Award for directing; and a Sterling Award for musical direction.
Ted is a founding member of Soulpepper Theatre, and with his wife Diana Bentley, co-founded the off-off-Broadview Coal Mine Theatre-for which they have produced five seasons of award-winning theatre. At the Coal Mine, Ted has directed Rumours: A Coal Mine Concert, Superior Donuts, A Coal Mine Christmas and most recently, The Father.
Directed by Matt Cowart (Harold Prince: A Director's Life on PBS), the EVANGELINE showcase cast features Canadian and American performers, many currently appearing on Broadway, including Chilina Kennedy (Beautiful) as Evangeline Bellefontaine and Ryan Silverman (Side Show) as Gabriel Lajeunesse, with Mary Antonini (The Prom), Hunter Cardinal (Associate Director, Edmonton Fringe Festival), Carrie Compere (The Colour Purple),  David Hess (Sunset Boulevard), Lauren Lim Jackson (Pretty Woman: The Musical), Jeremy Kushnier (Jersey Boys), Tony LaPage (Come From Away), Sera-Lys McArthur (Outlander), Don Sparks (Escape to Margaritaville), and Astrid Van Wieren (Come From Away).
EVANGELINE, with music, lyrics and book by Ted Dykstra, premiered at Confederation Centre of the Arts in Charlottetown, Prince Edward Island, in 2013 and was also produced at the Citadel Theatre in Edmonton, Alberta, in 2015.
"It's a fantasy of what it is to be loved," Ted Dykstra says of Evangeline's persistence in searching for her beloved. "We all want to be loved like that; we all want to love somebody like that."