SHOW
DATES
THEATRE

Seussical-theatre Young Audiences


Now one of the most performed shows in America, "Seussical" is a fantastical, magical, musical extravaganza! Tony winners Lynn Ahrens and Stephen Flaherty ("Ragtime," "Once
11/30 - 12/1/2022

Meridian Arts Centre, Lyric Theatre
Toronto

Disney's The Lion King Jr


The African savannah comes to life with Simba, Rafiki and an unforgettable cast of characters as they journey from Pride Rock to the jungle and
12/2

Guelph Youth Singers
75 Cardigan St
Guelph

The Fantasticks


The Station Theatre
12/2

Smiths Falls Community Theatre
53 Victoria Ave
Smiths Falls

What Sweeter Music: A Christmas Concert


Laurie Evan Fraser conducts the Upper Canada Choristers, a 30-voice mixed choir, with pianist Hye Won (Cecilia) Lee in Christmas music written and arranged principally
12/2

Grace Church on-the-Hill
300 Lonsdale Road, Toronto M4V 1X4
Toronto

Anesti Danelis: This Show Will Change Your Life


"Laugh-filled, live-music show" - The Toronto Star After a smash hit debut at the Toronto Fringe Festival, and a critically acclaimed tour to the Edinburgh
12/2 - 12/3/2022

Comedy Bar
2800 Danforth Avenue
Toronto

She Loves Me


Considered by many to be the most charming musical ever written, She Loves Me is a warm romantic comedy with an endearing innocence and a
11/29 - 12/3/2022

Annex Theatre
736 Bathurst Street
Toronto

She Loves Me

11/29 - 12/3/2022

Annex Theatre
Toronto

The Other Place (White)


Sharr White Capital Stage Company
11/24 - 12/3/2022

Talk is Free Theatre
80 Bradford St #336
Barrie

Disney's High School Musical


p align="left"This page is for the full-length edition of strongDisney's HIGH SCHOOL MUSICAL/strong./p Also available:br stronga href="http://www.mtishows.com/show_detail.asp?showid=000311"Disney's HIGH SCHOOL MUSICAL - ONE ACT EDITION/abr/stronga href="http://www.mtishows.com/show_detail.asp?showid=000341"strongDisney's
11/25 - 12/4/2022

Stephen Leacock Theatre
130 Gwendolyn Blvd
Keswick

Eldritch Theatre presents... REQUIEM FOR A GUMSHOE


Eldritch Theatre presents... REQUIEM FOR A GUMSHOE  by Eric Woolfe with bits stolen from Snorri Sturluson A weird-noir, hardboiled, cosmic-horror mystery told with sultry actors,
11/24 - 12/4/2022

Red Sandcastle Theatre
922 Queen Street East
Toronto

Elf-the Musical


Based on the beloved holiday film, this hilarious fish-out-of-water comedy follows Buddy the Elf in his quest to find his true identity.
11/30 - 12/4/2022

West End Theatre Project
1007 Trunk Rd
Sault Ste Marie

Rudolph The Red Nosed Reindeer-the Musical Jr


Paul Laurence Dunbar Middle School
12/2 - 12/4/2022

Aultsville Theatre
2 St. Lawrence Dr
Cornwall

Sister Act


Garden City Productions
11/18 - 12/4/2022

Garden City Productions
372 Merritt St
St Catharines

Wake Up Brother Bear


NEW SHOWS ADDED DEC 3rd and 4th 10:00am Sister Bear and Brother Bear are back from hibernation to take little ones on an interactive journey
11/26 - 12/4/2022

Wychwood Theatre
76 Wychwood Ave
Toronto

Lionel Bart's Oliver!


Shows times are: 8:00pm  Thursday , Friday  Saturday

2pm  Saturdays and Sundays Orchestra = $35 Mezzanine = $29 FOR MORE INFORMATION

11/30 - 12/5/2022

Suzart Productions
823 Forest St S
Ottawa

Matt Dusk sings Sinatra


Following sold-out dates across North America, multi-award winning, platinum-selling Canadian crooner Matt Dusk is bringing audiences back to the 1960s Las Vegas with his new
12/8

Regent Theatre
50 King Street East, Oshawa
Oshawa

Matt Dusk sings Sinatra


Multi-award winning, Platinum-selling artist Matt Dusk, has been enthralling audiences around the world, and now he takes audiences on a musical journey of Frank Sinatra's
12/9

Queen Elizabeth Theatre
Toronto
Toronto

LOCOMOTIVES, BUTTERFLIES AND PUPPETS


Flato Markham Theatre 171 Town Centre Blvd, Markham Stay warm this December as the KSO presents a concert of strikingly programmatic music filled with machinery,
12/10

Flato Markham Theatre
4981 Highway 7, Unit 1
Markham

The Addams Family


Visual content only
12/1 - 12/10/2022

Kitchener Waterloo Musical Productions
14 Shaftsbury Dr
Waterloo

The Birds


Written and directed by Emily Dix ( BWT Best Director of an Equity Play, The Rear Window ), The Birds is a new psychological thriller
11/25 - 12/10/2022

Hart House Theatre
7 Hart House Circle, Toronto, ON
Toronto

Disney's Beauty And The Beast


Back by Popular Demand following its sold-out 2010 engagement.
12/8 - 12/11/2022

Mansfields Cabaret
Stouffville

Elf-the Musical


Based on the beloved holiday film, this hilarious fish-out-of-water comedy follows Buddy the Elf in his quest to find his true identity.
11/30 - 12/11/2022

Marquee Theatrical Productions Inc.
73 Industrial Pkwy N #2B
Newmarket

Freaky Friday One Act Edition


A brand-new One Act Edition based on the Disney Channel original movie.
12/8 - 12/11/2022

Al Green Theatre
750 Spadina Ave.
Toronto

Lionel Bart's Oliver!


Shows times are: 8:00pm  Thursday , Friday  Saturday

2pm  Saturdays and Sundays Orchestra = $35 Mezzanine = $29 FOR MORE INFORMATION

12/1 - 12/11/2022

Hanover Community Players
443 10th Ave
Hanover

Disney's Frozen Jr


For the first time in forever the theatrical take on a modern classic, Disney's FROZEN JR is set to be performed right here in the
12/14 - 12/16/2022

London Performing Arts Academy
962 Leathorne St
London




Back to the Main Page | Browse Local Theatres
---
Latest Toronto Reviews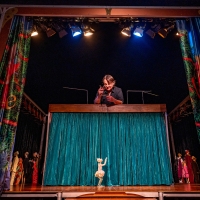 Review: LITTLE DICKENS at Canadian Stage
by Ilana Lucas - November 29, 2022
Ronnie Burkett's LITTLE DICKENS, a partially-improvised puppet homage to A Christmas Carol set in the bawdy and naughty world of show business, is a metatheatrical, in-joke-filled wonderland that pulls all the right strings....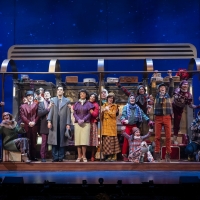 Review: Holiday Classic WHITE CHRISTMAS Takes the Stage At Shaw Festival
by Michael Rabice - November 29, 2022
Christmas traditions may come and go, but watching the film WHITE CHRISTMAS has always been an obligatory part of the holiday season for me. And for the past 20 years or so, audiences can experience Irving Berlin's classic  live on stage. The Shaw Festival is presenting their joyous version this yea...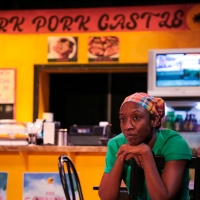 Review: OUR PLACE at Theatre Passe Muraille
by Ilana Lucas - November 25, 2022
In Kanika Ambrose's OUR PLACE at Theatre Passe Muraille, Andrea (Virgilia Griffith) and Niesha (Sophia Walker), immigrants without papers, dream of better lives for themselves and their children back home. Due to the pandemic, the show was postponed twice; now, like a dream deferred, it explodes ont...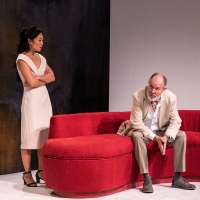 Review: POST-DEMOCRACY at Tarragon Theatre
by Ilana Lucas - November 20, 2022
Moscovitch's POST-DEMOCRACY, a new, tight one-hour drama at Tarragon Theatre, bares the seedy, nepotistic underbelly of the glistening penthouse. The bleak hour is gleefully biting in its criticism of a class invulnerable to consequence. However, it bites off a little more than it can chew in addres...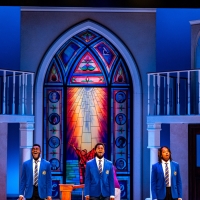 Review: CHOIR BOY Strikes All The Right Chords At The Bluma Appel Theatre,
by Isabella Perrone - November 16, 2022
As far as coming-of-age stories go, many are predictable and follow a pretty standard template. Thankfully for CHOIR BOY, written by acclaimed playwright Tarell Alvin McCraney, the story maintains all the charms of the genre while still embarking on a more unique take....
Review: DOUBT at Church Of The Holy Trinity
by Ilana Lucas - November 08, 2022
John Patrick Shanley's Pulitzer Prize-winning Doubt claims that doubt may be as enduring a force as certainty. Though I'll never know if the Broadway production would have been life-changing, I can say that the intimate, intense production by new company B&E, set within The Church of the Holy Trinit...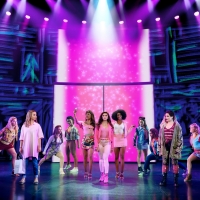 Review: MEAN GIRLS Gets Fetching Stage Adaptation That'll Thrill Fans of The Film
by Isabella Perrone - November 01, 2022
Mirvish's production of MEAN GIRLS brings the cult-classic film to life, packed full of iconic lines, loveable characters, and featuring a soundtrack full of funny, new music....
Review: HUMAN MEASURE at Canadian Stage
by Ilana Lucas - October 29, 2022
In Human Measure, artist Cassils' first piece of contemporary dance choreographed by Jasmine Albuquerque, trans and nonbinary bodies are highlighted. A rejoinder to Yves Klein's Anthropometries paintings, in which naked women were painted blue and then dragged across canvases as living brushes, the ...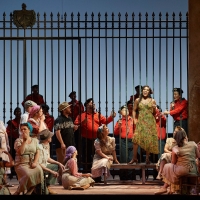 Review: CARMEN Burns Bright in Canadian Opera Company's Latest Production
by Isabella Perrone - October 25, 2022
Quite possibly one of the best known opera comiques, CARMEN has returned to the Four Seasons Centre for the Performing Arts' stage in a bright blaze....
Review: THE FLYING DUTCHMAN is a Haunting, Stunning Retelling of The Classic Folk Tale
by Isabella Perrone - October 12, 2022
The Canadian Opera Company's 2010 production of Wagner's THE FLYING DUTCHMAN has sailed back to the Four Seasons Centre for the Performing Arts' stage. Originally directed by Christopher Alden, this production sees Marilyn Gronsdal take the helm....