SHOW
DATES
THEATRE
HOT PICK


Cinderella: The Family-Friendly Musical Panto


A magical, musical experience for the whole family! And you've NEVER seen step sisters quite like these! Adapted from the classic Cinderella fairy tale, this
10/15 - 11/13/2022


Wychwood Theatre
76 Wychwood Ave
Toronto

Inside/Out: A Prison Memoir


Toronto's Commffest presents free online screenings of Inside/Out: A Prison Memoir, Patrick Keating's real-life story of years spent in and out of Canada's penitentiary system;
9/29 - 10/6/2022

Commffest Online
Online
Toronto

Civilized


CIVILIZEDWritten by Keir CutlerDirected by Paul HopkinsPerformed by John D. Hustonat Red Sandcastle Theatre922 Queen St E, Toronto, ON M4M 2J5Fri. Sept. 30 @ 7:30PM,
9/30 - 10/8/2022

Red Sandcastle Theatre
922 Queen Street East
Toronto

Everybody


Branden Jacobs-Jenkins Shaw Festival
7/8 - 10/9/2022

Shaw Festival
10 Queen's Parade
Niagara on the Lake

Putting It Together


Putting It Together is a musical revue showcasing the songs of Stephen Sondheim (Sweeney Todd, Follies, A Funny Thing Happened...). Drawing its title from a
9/29 - 10/15/2022

Oshawa Little Theatre
62 Russet Ave
Oshawa

Putting It Together '1999 Broadway Version'


A revue with a difference? A revue that tells a story? A show that covers one night and forty years? A show that takes place
9/29 - 10/15/2022

Oshawa Little Theatre
62 Russet Ave
Oshawa

Disney's The Little Mermaid Jr


In a magical kingdom fathoms below, the beautiful young mermaid Ariel longs to leave her ocean home to live in the world above. But first,
10/21 - 10/21/2022

Dani (developing And Nurturing Independence
501 Clark Ave W
Richmond Hill

Driving Miss Daisy


Winner of the Academy Award for Best Picture and the Pulitzer Prize for Drama, Driving Miss Daisy has become one of the most iconic American
10/6 - 10/22/2022

St Jacobs Country Playhouse
40 Benjamin Rd E
Waterloo

Jekyll & Hyde (b'way)


A true musical theatre phenomenon, "Jekyll & Hyde" attracted legions of loyal fans even before the show began its smash-hit Broadway run. An evocative tale
10/20 - 10/22/2022

Mansfields Cabaret
50 Bond St E
Oshawa

Bentboy


Deep in a forest, in another time, begins the story of a child called Bentboy. Hunched and hobbled by his curved back, Bentboy is cast
10/6 - 10/23/2022

Young Peoples Theatre
165 Front St E, Toronto ON
Toronto

Jersey Boys


Visual content only
9/30 - 10/23/2022

Thousand Islands Playhouse
185 South St
Gananoque

Little Shop Of Horrors


A down-and out skid row floral assistant becomes an overnight sensation when he discovers an exotic plant with a mysterious craving for fresh blood. Soon
10/21 - 10/23/2022

Brockvillebos
Brockville

Opera Atelier presents Henry Purcell's Dido and Aeneas


Opera Atelier is delighted to announce the company's return to the Elgin Theatre with its iconic production of Henry Purcell's Dido and Aeneas, on stage
10/20 - 10/23/2022

Opera Atelier
189 Yonge St
Toronto

The Good Thief


Fly on the Wall Theatre is pleased to announce that its acclaimed production of Conor McPherson's THE GOOD THIEF, named one of Torontos Top 10
10/15 - 10/25/2022


Fly on the Wall Theatre
Toronto, Ontario
Toronto

Human Measure


Human Measure, Cassils first piece of contemporary dance, made in collaboration with renowned US choreographer Jasmine Albuquerque, and a team of five exceptional trans and
10/27 - 10/29/2022

Canadian Stage
26 Berkeley Street, Toronto, ON M5A 2W3
Toronto

Newsies


Read all about it! Paper Mill Playhouse is proud to present the premiere of a brand new musical, NEWSIES, adapted for the stage from the
10/21 - 10/29/2022

Clearview Community Theatre
219 Scott St
Stayner

Pianist Lucas Debargue: An Evening in Paris


After his triumphant 2020 Koerner Hall, TELUS Centre solo recital debut, Lucas Debargue returns with a new program, An Evening in Paris. The recital juxtaposes
10/29

Koerner Hall, TELUS Centre for Performance and Learning
273 Bloor Street West
Toronto

Trailblazers: Mendelssohn & Farrenc


Dont miss the long-anticipated return of violinist Aisslinn Nosky, who directs a program of large-scale chamber music by trailblazers of the romantic period.Renowned for performances
10/28 - 10/29/2022

Tafelmusik
Jeanne Lamon Hall, 427 Bloor St W, Toronto, ON M5S 1X7
Toronto

Mad Magic: Family Halloween Magic Show


A combination of mad science and magic makes for the perfect Halloween magic show the whole family will LOVE!Mad Magic is a high energy magic
10/30

Wychwood Theatre
76 Wychwood Ave
Toronto

Something Rotten!


Kordazone Theatre
10/14 - 10/30/2022

Korda Productions
2520 Seminole St a
Windsor

The Sweet Delilah Swim Club


This is a video recording of Theatre Tuscaloosa's 2012 production of "The Sweet Delilah Swim Club" (formerly titled "The Dixie Swim Club). This hilarious and
9/3 - 10/30/2022

Herongate Barn Theatre
2885 Altona Rd
Pickering

The Coronas

11/2

Axis
722 College St
Toronto

The Coronas

11/2

Axis
722 College St
Toronto

Bengal Tiger at the Baghdad Zoo


 Rajiv Joseph
10/11 - 11/6/2022

Crow's Theatre
345 Carlaw Ave
Toronto

Indecent


 Paula Vogel
10/13 - 11/6/2022

Studio 180 Theatre
19 Madison Ave
Toronto

Good Ol' Country Gospel


Let your spirit soar as some of the most memorable melodies ever written come alive on stage in this inspirational musical tribute to the best
10/27 - 11/12/2022

Hamilton Family Theatre
46 Grand Ave S
Cambridge




Back to the Main Page | Browse Local Theatres
---
Latest Toronto Reviews
Review: Sharp concept helps keep THE SHARK IS BROKEN afloat
by Isabella Perrone - October 03, 2022
What do you get when you place three actors at varying points in their careers on a boat, anchor them in the Atlantic Ocean, add a faulty mechanical shark to the equation, and delay shooting for weeks on end?...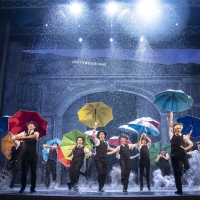 Review: When it rains, it pours - SINGIN' IN THE RAIN makes a splash in Toronto
by Isabella Perrone - October 02, 2022
In a world where films are constantly being adapted for the stage, it's refreshing to see a stage production that came from a movie and still shines like the sun on a rainy day, despite the difference in medium....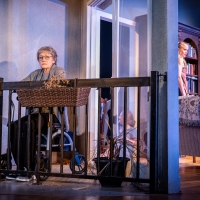 Review: PUBLIC ENEMY at Canadian Stage
by Ilana Lucas - September 28, 2022
Canadian Stage's PUBLIC ENEMY is a modern dining-room drama where opinions are loudly aired and ignored. Effectively staged by Brendan Healy, with an impressive cast inhabiting its dysfunctional but believable characters, it's like watching a conversation by your most frustrating group of relatives....
Review: COCKROACH at Tarragon Theatre
by Ilana Lucas - September 25, 2022
We regularly use "cockroach" as dehumanizing language for the Other in an attempt to justify their oppression or extermination. That's the central metaphor of Ho Ka Kei (Jeff Ho)'s Cockroach, a scathingly funny screed that pits a wisecracking insect against the ghost of Shakespeare in a fight for th...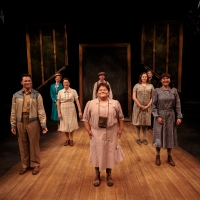 BWW Review: The World Premiere of 1939 at the Stratford Festival is a Moving and Powerful 'Must-See' Play
by Lauren Gienow - September 19, 2022
If you live in Stratford, Ontario, you may have heard the buzz around town about a new play at the Stratford Festival's Studio Theatre. Written by Jani Lauzon and Kaitlyn Riordan, 1939 had its world premiere last week and audiences sprung to their feet to show just how moved they were by this beauti...
BWW Review: THE MISER at Stratford Festival is Rich with Laughter
by Lauren Gienow - September 18, 2022
Originally scheduled for the 2020 season, THE MISER, starring Colm Feore and directed by Antoni Cimolino, is currently playing at the Stratford Festival's Festival Theatre stage. This Moliere comedy of manners fits right into current times, and this new adaptation by Ranjit Bolt is filled with pop c...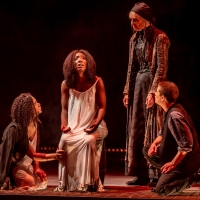 BWW Review: QUEEN GONERIL at Soulpepper Theatre
by Samantha Wu - September 14, 2022
Set seven years before the tragic events in King Lear, playwright Erin Shields takes on the dynamic character of Goneril, Lear's eldest daughter, posing the question of what drives her ambition?...
BWW Review: KING LEAR at Soulpepper Theatre
by Samantha Wu - September 12, 2022
Soulpepper Theatre brings Shakespeare's King Lear, the classic tale of a King's descent into madness and his daughters' struggle with power, to the Young Centre for the Performing Arts until October 1. ...
Review: AS YOU LIKE IT at Canadian Stage's High Park Amphitheatre
by Ilana Lucas - August 12, 2022
Banishment, unassailable friendships, brotherly hate, love at first sight, philosophy, a magical forest, and a witty young woman in disguise. These classic Shakespearean elements and more await audiences of Canadian Stage's Dream in High Park production of AS YOU LIKE IT, in bloom at the High Park A...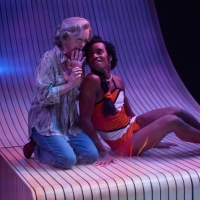 BWW Review: EVERY LITTLE NOOKIE at Stratford Festival has Humour and Heart
by Lauren Gienow - August 04, 2022
If you are a theatre-goer looking to venture outside your comfort zone, or if you often don't feel seen or represented by the societal norms typically presented in modern theatre pieces – then Sunny Drake's new play EVERY LITTLE NOOKIE might be exactly what you are looking for. That's not to say tha...