Ben Vereen Returns To Broadway Theatre Project 2019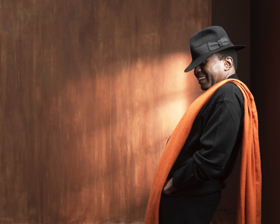 Now entering its 28th year, Broadway Theatre Project (BTP) announces Ben Vereen will rejoin the visiting faculty team in 2019. During the 28 years BTP has been educating young artists, Ben has served in a variety of capacities: as a Master Artist, Artistic Advisor to the Project, and Co-Artistic Director. BTP's faculty members in 2019 include dancers and choreographers, vocal technique teachers as well as coaches, directors, playwrights, casting directors, and talent agents and an award winning photographer. The 2019 Summer Apprenticeship program is being held June 23-July 14 on the campus of the University of South Florida. Applications and recorded auditions are due March 1st. Requests for exceptions should be addressed to Debra McWaters, Co-Artistic Director, at 888-874-1764.
Ben Vereen has performed in some of the most notable Broadway productions, television series, dramas and variety shows of our time including ROOTS, the most successful mini-series to date. Ben recently filmed an episode of BULL for CBS, who also sent him to Hawaii to film MAGNUM P.I. He recently wrapped his recurring role on the FOX series STAR, and filmed the BET Series TALES which airs this Spring. He also has a recurring role in Amazon's SNEAKY PETE, produced by Bryan Cranston. Ben had a sold-out run of concerts over Thanksgiving in NYC to rave reviews, and will be performing an upcoming series at Jazz at Lincoln Center in April. Ben was featured in THE ROCKY HORROR PICTURE SHOW for Twentieth Century Fox directed by Kenny Ortega and co-starred with Chris Rock in Paramount Studios' feature film TOP FIVE and with Richard Gere in the film TIME OUT OF MIND. He is developing his one man show for Broadway currently entitled REFLECTIONS written by Joe Calarco with music composed by Stephen Schwartz.
A Tony and Drama Desk Award winner for his renowned performance in Bob Fosse's Pippin, Ben's Broadway credits include: Wicked, I'm Not Rappaport, Chicago, Hair, Fosse, Jelly's Last Jam, Jesus Christ Superstar, and A Christmas Carol. In 2010, Ben completed a successful run in the world premiere of Fetch Clay, Make Man, directed by Des McAnuff (Jersey Boys)at the McCarter Theatre. Film: Idlewild, All That Jazz, Sweet Charity, Funny Lady (Golden Globe nomination), Why Do Fools Fall in Love, Once Upon a Forest. Television: The legendary television miniseries Roots, How I Met Your Mother (recurring), NCIS, Betty White's Hot In Cleveland, Grey's Anatomy (Prism Award), Tyler Perry's House of Payne, Law and Order: Criminal Intent, Hallmark's An Accidental Friendship (NAACP nomination), Tenspeed and Brown Shoe, Louis Armstrong - Chicago Style, Ellis Island (Golden Globe Nomination), Anne Rice's Feast of All Saints, Zoobilee Zoo and Star Trek - The Next Generation to name a few of his roles.
Ben continues to tour through the United States with his concert act, Steppin' Out with Ben Vereen. He has had endorsements for the pharmaceuticals Sanofi and Nova Nordisk for preventative and proactive measures for Diabetes. Ben was inducted into The Theatre Hall of Fame and received the Broadwayworld.com Cabaret Award for Best Celebrity Male Vocalist and was inducted into the Theatre Hall of Fame in New York City. Ben performed for 100,000 people at the Washington Monument for a July 4th celebration. In addition, he has become one of the nation's most requested speakers on topics ranging from Black history, arts and education, Broadway and overcoming adversity, to name just a few. Ben continues to teach masterclasses across the country, is a member of Americans For The Arts, and is establishing the Ben Vereen Foundation, whose mission is to create opportunities for young people in the arts.
This year's BTP 2019 study series will be available to a smaller number of apprentices, offering an elite group of 40 hand-selected pupils unique opportunities to prepare for their future. In addition to BTP's traditional technique classes in acting, singing, and dancing, this summer's curriculum will introduce seminars in college preparation and in preparing for a professional career.
The deadline for applications and recorded auditions is March 1st. In order to apply to become an apprentice in BTP 2019, students must complete and send an application form available at www.broadwaytheatreproject.com, along with a recorded audition to Debra McWaters, at flodecarlo@aol.com.