Review: Time stands still in this passionate and evocative work "These Shining Lives" at Powerstories Theatre in Tampa, FL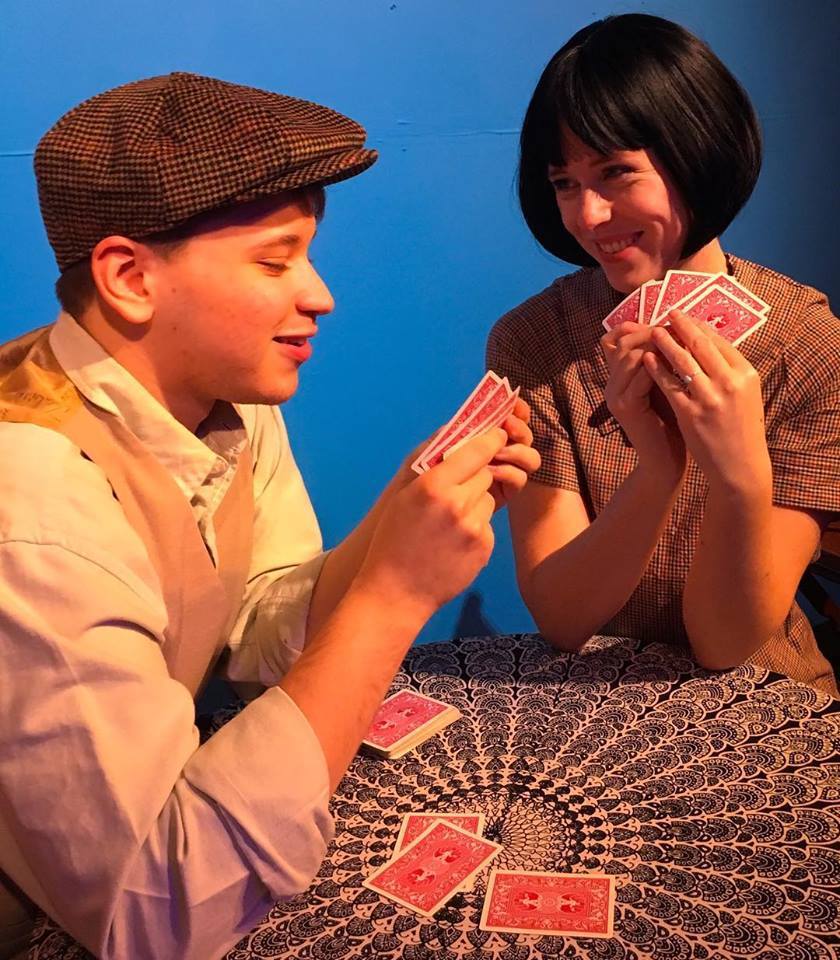 A Blank stage is set to adorn a combination of a house on one side and what will soon become the work stations of the women in this production. On the projection behind the set were words written to strike a chord with incoming audience members, "If one woman were to tell the truth about her life, the world would split open." These wise words from Muriel Rukyster were the only thing standing between the audience and the works to be portrayed on the stage this night. In the program, Founder and Director Fran Powers wrote, "Directing These Shining Lives has been a project of the heart. "It is vitally important to keep honoring courageous women who sacrificed so much for others." This is the foundation of the Powerstories Theatre mission."With that the scene is set and a whirlwind 90 minutes set to no intermission was about to unfold in front of us.
The story of the play written by Playwright Melanie Marnich tells the story of workplace hazards in the 1920's in Illinois. It dealt with the story of women's emergence in the workplace, and feminist victory when the women take their fight for justice straight to the Supreme Court. Talks of the American Dream, or what the characters believed that very thought to be and friendships that could and would change their lives is how six actors/actresses, two men and four women took a truly tragic story and used the words by Marnich to display a true feat of heroism, feminism, and downright stance on male patriarchy not only in the workplace but in their personal lives as well. These women proved that breaking the glass ceiling for themselves and many women to follow in their footsteps would stand the test of time.
Lead actress Cayli Caruso who portrayed Catherine Donahue said it best in the start of the show, "...this is not a tragedy though it ends like one", "You see life flash before your eyes...then only then when you tell your story then you can rest." Cayli is a remarkable actress who stands up for what she believes in no matter the cost, truly a force on the stage and her role as Catherine took me on a full tour-de force from start to finish. Reminiscent of Charlize Theron in North Country, Cayli is one to watch, and one I personally cannot wait to witness such prowess from again.
Catherine gets a job working for Radium Dial in 1922. At the young age of 19 she's given a month to prove herself to her staunch and reticant/no-nonsense boss Mr. Reed. She and the other women at Radium dial are required per job description to paint the faces of wrist, pocket, and other watches and clocks used to tell time. Nathan Juliano is staunch in his delivery in the best way possible, Mr. Reed is the one boss you don't want to cross and he plays the bad guy well. So well in fact that you almost feel for his character when he begins to show he has a heart. However choosing to let his job favor more than his heart, the feeling of remorse you almost feel for him is swiftly drawn away. Commendable job by Mr. Juliano, and one line left me stunned, "Radium is Medicinal..." clearly a cover-up by a company who doesn't have the best interest for their employees at heart. He explains to Catherine that Radium isn't bad for you and the job is done the same way every day.
Charlotte played by Stefanie Leah Coren Marotta, is a sucker-punch to the gut no-nonsense kind of co-worker one would try their best to befriend. She provides comic relief often in the show, is seen as a real gossiper but has a heart. Stefanie has an endearing quality in which she brings to Charlotte, and you witness this in her delivery. Charlotte is the one friend who always talks about how fabulous their life is; when in reality they are at home alone. Charlotte finally takes to Catherine and through a strong bond that develops Charlotte becomes her closest ally. Stefanie is wonderful, her acting is powerful and she commands the stage. Watching the four girls interact with one another I was thinking about many times it felt like a sorority movie, or an episode of Sex and the City so bravo to Stefanie for showing me that even in the harshest of critics there is heart, there is empathy even when they may be afraid to show it, and she captured that masterfully. Charlotte's character reminds me of a mix between Samantha in Sex and the City and Karen Walker in Will and Grace, and I laughed especially when she says, "I don't see minutes, or hours, or numbers, just dollar signs." We all know deep inside we've had that one friend.
The girls make a list of things that shine, 1. Money, 2.Valentino, 3. Pearl earrings, 4. The Great Lakes, 5. Gin in a glass, 6. Time and time again. Like this time passes and according to the girls at Radium Dial, "Not this easy, and not this fast." Suddenly we are in Chicago in 1928. Catherine has been working with the girls for 6 years now, and the girls come on stage singing "By the Sea" which adds a nice break amidst the heavy dialogue. The girls are still the same. Catherine is still very strong willed and a hard worker, Pearl is played exceptionally well by Erinn Botz. Pearl is the Rose Nyland of the bunch in the best way possible. While working Pearl tells the worst jokes and everyone carries on and laughs which again provides wonderful comic relief and Erin does a wonderful job capturing the aloofness of the character. Summer Kiesel plays a woman with a strong backbone, but as the girls say, "we just didn't know Frances was the more flexible of the women." She plays this part with such delight you think she has a heart of gold filled with old world charm but has a hidden side we come to see every once in a while. She cares for Catherine and is always there for her. Beautiful delivery by all the women involved shows that this truly is a friendship that will stand the test of time.
The girls sit by the lake in their favorite spot and talk about all they have been through over six years at Radium Dial. At one point Charlotte pulls out a flask and offers it to the girls. One of the women comment about it being illegal and we finally see that times have changed. The women discuss that now they have the right to vote, and can even kiss each other in public. Catherine looks back on the six years, and says, "I couldn't imagine life without the job." Time has officially passed faster than the girls have noticed, and it strikes a strong chord when on the screen the projection displayed, "218,723 watches later."
Catherine arrives home not feeling well, and ask her husband to turn off the lights. Her arms glowed in the dark as a result of Radium absorption. This was a beautiful and haunting effect done by the company, and a day later the image still sticks with me. It's understood now that the women are slowly suffering from Radium poisoning. Tom Donahue played by standout Kidany Camilo is truly exceptional. He wants to understand Catherine's need to go to work and continue suffering, but at the same time knows they have to keep a house. Their love for one another is something out of an old Hollywood movie. At one point Catherine looks into Tom's eyes and says, "Between the flecks of blue and green she saw everything. Kidany is a strong actor and an exceptional performer he took a role very hard to play as the character needs to evolve in so many layers and like an onion we as the audience saw every one. At one point he had me shaking, "I wake up every day and decide if today is the day I will kill Mr. Reed." I commend him for his strong performance, he delivered and I was here for every minute. Imagine a moment like Bradley Cooper in A Star is Born, effective, to the point, honest, and heart-breaking; this was the delivery we received from this young actor, and he will be one to watch for years to come.
The women decide to take their case to court, and fight back against the company that ailed them. Suffering from terminal Radium poisoning, the women make a list of things that stop shining, "Days, nights, sleep, dreams, time, and selves." Working for a company for 9 years can do incredible things to a person's soul, morale, and livelihood. Working for a company that covers up wrong-doing is another Devil in its entirety. In Marnich's words we find a haunting understanding, "God and the Devil are made of time, Angels and Sins are made of hours." Not a weak link existed in Powerstories production of Marnich's incredible story. I expect this one to sell out and keep shocking audiences into believing it's the right thing to stand up for your beliefs no matter what the cost, and I truly believe in my heart this is one production not to be missed where the actors/actresses and company soar to new heights.
Photo credit: Powerstories Theatre