BWW Previews: NYNE BRINGS NEXT TO NORMAL, A FAMILY IN CRISIS to Powerstories Theatre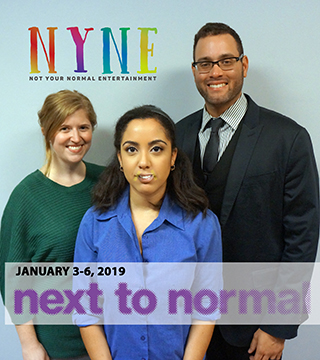 On Thursday, January 3, the lyrics of NEXT TO NORMAL battered us. Our hearts broke for Dan and Natalie, watching his wife, her mother struggling with a terrible loss, with highest highs and lowest lows of mental illness and trying help as best they could, often getting caught in the crossfire.
The staging at Powerstories Theatre was minimalistic, unobtrusive - simple black raised platforms on left and right stage, band back of stage, table and chairs, that smoothly transitioned in and out of scenes, center stage. The show didn't need to rely on a fancy set; rather, the raw, emotional talents of the well-gelled ensemble cast of Bethany S. Moore as Diana, Erin Johnson as Diana, Gabriel Flores as Dan, Rachel Rodriguez as Natalie, Devan Kelty as Gabe, Zach Finley as Henry and Nic Harrington as Dr. Madden/Dr. Fine.
Wait. What? Two Dianas in the musical NEXT TO NORMAL? Though it momentarily had me scratching my head, director Devan chose to veer away from the expected and added a second version of Diana. It's difficult to describe without giving too much away, but it worked, giving layered visual to the performance.
Though sometimes the live music did overpower the casts' voices, the quality of music was exceptional under Joseph Scarbrough's musical direction.
From the minute lights went up, the cast of NEXT TO NORMAL took you on a rollercoaster of emotions. Life in this family was never normal, revolving around unpredictable Diana, Dan, the loyal, supportive husband who tried desperately to be her rock, Natalie, the neglected daughter who seemed more mature than her parents, and a living delusion.
I had several favorite moments in the performance, but a highlight was the fun group choreography of the dark-humored "Who's Crazy/My Psychopharmacologist and I," poking fun at the huge amount of prescriptions drugs that are pandered by doctors, the interactions of said drugs and the many unpleasant side effects.
Nic played the two physicians expertly with clinical reserved coolness, telling Diana that grief past 4 months required pharmacological treatment, that ECT, essentially inducing seizures with the use of electrical stimulation, would make her feel better. Of course, there was no guarantee. "Make Up Your Mind/Catch Me I'm Falling" perfectly showcased his vocals.
Bethany played the frenetic than depressive Diana with aplomb. The powerful "You Don't Know" made you feel the frustration, confusion, and harrowing, all-encompassing grief she experienced daily.
Erin, the Diana we see in the second act was stripped of much of her personality and even more of her memories. "How Could I Ever Forget" just hit you in the core when her exhumed memories came crashing back.
My highlight with the neglected daughter Natalie (Rachel) was both her song with Henry "Hey #3/Perfect for You" as well as "Maybe" with her mother that explained the title of the play. She was the one in which you felt your heart breaking. Born to fill a gaping hole, Rachel effortlessly played the daughter grappling with her mother's illness, who lost herself in Mozart and learned to parent herself because the family revolved around making sure Diana had a good day. Diana was too ill and Dan was too focused on his wife to realize their daughter was falling through the cracks in the second act.
From head to toe, Zach played stoner boyfriend Henry to perfection. You couldn't help but root for Henry during the cute, romantic "Perfect for You." Zach and Rachel had a great chemistry together. Henry was often the light in this very dark story.
My favorite moments most focused around the vocal talents of Gabriel Flores and Devan Kelty.
Dan's (Gabriel) heartfelt "I Am the One (Reprise)" had the audience, myself included, wishing we'd brought tissues. The most indelible scene in the entire musical centered on father, child and an embrace. It was simply a magical heart-wrenching moment.
Devan as Gabe had the most difficult job of portraying some who was really not what he appeared to be. He was petulant and brilliant in this role, encouraging Diana to flush her medication and "I'm Alive" underscored his powerful voice.
Because of the gripping subject matter, for anyone affected by mental illness, NEXT TO NORMAL was not an easy show to watch, but Devan, as director, never allowed the show to become maudlin. The cast took an unflinching look at a socially stigmatized issue and did so with honesty, integrity and light humor. Having a short run, NEXT TO NORMAL deserves to be on your early January musical calendar.