Deborah Bostock-Kelley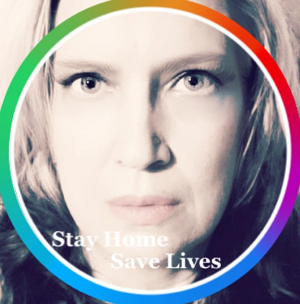 A twice-published author, multi-time award-winning playwright, magazine writer, theatre reviewer, and newspaper journalist with 30+ years in journalism and business copywriting, Deb was a 2019 Recipient of the inaugural Tampa Bay Theatre Festival Denise Deneen award for her work in theatre and a 2017 Recipient of Theatre Tampa Bay's Jeff Norton Dream Grant. With the grant, she was able to produce and direct her original production with another educator, A Necessary Conversation at Straz Center for the Performing Arts' TECO Theatre, with a talkback with leaders in the community after the two-show performance with ticket sales donated to Moms Demand Action, Tampa. A Necessary Conversation won Regional Broadway World's 2018 "Best Actor" and "Best Actress" Awards. In 2020, the play was nominated for "Best Original Script of the Decade." An expanded version of this bullying, mental health, and gun violence drama was showcased during the 2021 Voices of Truth Theatre Festival at Powerstories Theatre, winning "Critic's Choice" and Regional Broadway World's 2022 "Best Performer and "Best Supporting Performer in a Streaming Play." In the summer of 2019, she reached out to the community for true stories about breasts, from shape and appreciation to size and cancer. In December, she wrote Breast Advice, a show that workshopped to a standing-room-only audience and was called The Vagina Monologues for boobs. A portion of ticket sales was donated to The Affirmations Project, which works with survivors of breast cancer and domestic abuse. The production has been submitted to the Tampa Bay Theatre Festival in September 2022.
Relying solely on word-of-mouth client testimonials, since 2005, Deb has successfully operated the WriteOne Creative Services, a freelance copywriting service and a comprehensive yet independent, woman-owned graphic and web design business that offers the talent and design/print capabilities of an agency without the overhead expense.
Life Amplified, a variety showcase for grassroots charities and the philanthropic side of Deb's writing and design company, celebrates its eighth year in 2022. Deb and Life Amplified have been honored by Bay News 9 Everyday Hero February 2016 and Fox13 Hometown Heroes May 2014. With 100% venue donation and talented volunteer performers, Life Amplified has helped fundraise and raise awareness about human trafficking, PSTD, military sexual trauma, and bullying to sexual violence prevention and LGBTQ issues.
Like so many she knows, she is an invisible illness warrior. Deb lives her busy life to show others that you can thrive and not have to be your diagnosis.
Previews: STEEL MAGNOLIAS at Powerstories Theatre

August 5, 2022

Steel Magnolias offers everything you want in a play, a transformative journey, a balance of laugh-out-loud comedy and emotional drama. Despite being set in the 80s, the play's message is timeless. Strong women can endure anything if they have friends to help them through the rough parts.
---
Previews: SHOWSTOPPERS at Straz Center

July 29, 2022

Themed 'totally tubular,' the 80s and 90s musical revue, Showstoppers, debuting at Straz Center on August 5 and 6, highlights a time when Donkey Kong and PacMan ruled, cell phones were huge, and women's hair was even bigger. Showstoppers features 36 Patel Conservatory students ages 13-18 and behind-the-scenes, three college technical apprentice interns.
---
Previews: NUNSENSE: AMEN at Straz Center's Jaeb Theatre

July 8, 2022

NUNSENSE: AMEN stars Matthew McGee as Mother Superior, JS McLaughlin as Sister Mary Hubert, Aaron Castle as Sister Mary Amnesia, Ryan Patrick McLaughlin as Sister Robert Anne, and Jaryn McCann as Sister Mary Leo.
---
Previews: DUTCHMAN at American Stage

July 5, 2022

'Dutchman' originally debuted during the Civil Rights movement, but, sadly, this Obie Award-winning play about race and identity continues to be highly relevant.
---
Interview: Josh Devine And Janiyah McAllister Head to the 2022 JIMMY AWARDS at Minskoff Theatre on Broadway

June 20, 2022

Little did Josh Devine and Janiyah McAllister know that by the end of their May 22 Broadway Star of the Future Awards Showcase performance, they would be celebrating their upcoming birthdays together at Julliard, culminating with a Broadway performance at the Minskoff Theatre in New York on June 27 as part of the Jimmy Awards.
---
Previews: Rodgers and Hammerstein's CINDERELLA at the Straz Center

June 20, 2022

After a three-week intensive program, students at Patel Conservatory are bringing the magic of Disney with a contemporary voice to the stage. Rodgers and Hammerstein's Cinderella (Broadway Version) takes center stage at Ferguson Hall on June 24 and 25 with a cast of 37 students, ages 13-18.
---
BWW Previews: Free Veteran Event Collaboration Between Art2 Action, Paint22, and Straz at Straz Center

June 6, 2022

The goal of the veteran community open mic has always been to bridge the gap between veterans and civilians while VetChat Live is an in-person event built around the Straz Center's monthly virtual gathering of veteran and active-duty military and their families, featuring lectures, workshops, and creative interactive activities.
---
BWW Previews: Women's Creative Voices Are Amplified During VOICES OF WOMEN THEATRE FESTIVAL at Powerstories Theatre

June 3, 2022

The 2022 Voices of Women Theatre Festival features two plays live in the theatre and live-streamed worldwide and six 48-hour view-on-demand productions.
---
BWW Previews: A SKEPTIC AND A BRUJA HAS WORLD DEBUT at FreeFall Theatre

May 20, 2022

A SKEPTIC AND A BRUJA tells the story of two spirit-hunting podcasters, the haunting of a potential bed and breakfast, and ghosts of generational trauma.
---
BWW Feature: BROADWAY STAR OF THE FUTURE at the Straz Center

May 16, 2022

The Straz Center presents this Tony Awards® inspired showcase to honor Tampa Bay area high school theater productions, programs, and students. This event features performances from the 2021-2022 Outstanding Musicals and Best Performer Finalists, celebrating artistic excellence in theater and musical theater.
---
BWW Previews: PRETTY WOMAN HAS LOCAL CONNECTION, OPENS AT Straz Center

May 16, 2022

PRETTY WOMAN tells the story of Vivian Ward and Edward Lewis. Vivian is a Hollywood prostitute, and Edward hires her to be his companion for business and social functions for a week. Business services unexpectedly evolve into so much more.
---
BWW Previews: Revival of Classic MY FAIR LADY OPENS at Straz Center

April 25, 2022

MY FAIR LADY tells a tale of transformation. Linguistics professor Henry Higgins takes a young Cockney flower seller under his wing and attempts to convert her into what he deems is a "proper lady."
---
BWW Previews: FOUR LOCAL BLAKE HIGH SCHOOL STUDENTS SHINE ON STAGE IN UNSETTLING DRAMA, CONSPIRACY OF SILENCE at Powerstories Theatre

April 20, 2022

Sophomore Faith House, juniors Elyse Mulholland, Michelle Chrein, and senior Elena Tarpley began their Powerstories journey cast as a family in theatre founder Fran Powers' biographical musical TWELVE and now are featured as victims of horrific abuse at the hands of the Catholic Church in CONSPIRACY OF SILENCE: THE MAGDALENE LAUNDRIES.
---
BWW Previews: TONIGHT, THINKTANK THEATRE DEBUTS #ENOUGH, PLAYS BY YOUTH ABOUT GUN VIOLENCE at Stageworks Theatre

April 20, 2022

At Stageworks at 7:30 PM, ThinkTank Theatre presents a staged reading of these powerful, poignant plays. Actors Kaylee Tupper Miller, Cranstan Cumberbatch, Shelby Ronea, Jadon Milne, Lance Felton, Marie-Claude Trembley, Noah Perez, and Haley Janeda will be joined on stage by members of ThinkTank YAE.
---
BWW Previews: CONSPIRACY OF SILENCE: THE MAGDALENE LAUNDRIES IS DARK HISTORY BROUGHT TO LIGHT at Powerstories Theatre

April 7, 2022

Coming to Powerstories Theatre's stage on April 28 – May 15 is the harrowing drama, CONSPIRACY OF SILENCE: THE MAGDALENE LAUNDRIES, telling the true story of young women in Ireland being sent to work in laundries of Catholic Churches. Powerstories Theatre is the first to debut this powerful play in the Tampa Bay area.
---
BWW Previews: MUSICAL ABOUT BELOVED POOH BEAR WITH RUMBLY IN HIS TUMBLY at Straz Center TECO Theatre

April 4, 2022

Featuring new songs and music from the 2011 animated film, Winnie the Pooh and his friends work together to rescue Christopher Robin from the Backson. Winnie the Pooh, KIDS!, features a massive cast of 31 students ages seven to 13.
---
BWW Previews: FOOTLOOSE WILL GET AUDIENCE DANCING IN THE AISLES at American Stage In the Park

April 3, 2022

After two years of being shuttered due to the pandemic, American Stage in the Park is back at Demens Landing with the toe-tapping musical FOOTLOOSE from April 6- May 8, 2022.
---
BWW Previews: LITTLE SHOP OF HORROR, CAMPY DARK MUSICAL BLOOMS at Straz Center

March 28, 2022

The cast auditioned for the show over two and half years ago, but due to the pandemic, the musical was postponed. The original cast is excited to finally bring the horror love story to stage.
---
BWW Review: TITANIC THE MUSICAL at Carrollwood Cultural Center

March 25, 2022

Though the play was performed on stage to a live audience, the Center also made it possible to enjoy the musical live-streamed from the comfort of our homes. Images of the ship and the sounds of clanging bells, water, and seagulls prepared us for the coming story. Every actor in the show played a character based on a real person who sailed on the ship, with several playing multiple characters.
---
BWW Previews: ARTS LEGACY REMIX CELEBRATES India's New Year at Straz Center

March 25, 2022

On Friday, April 29, The Straz Arts Legacy REMIX Project will be showcasing the beautiful pageantry of India's Dewali New Year celebration. The event will feature live music, dance, art, and vendors on the Straz Riverwalk.
---