Waitress - 2016 - Broadway
Meet Jenna, a waitress and expert pie-maker who dreams of a way out of her small town and rocky marriage. Pouring her heart into her pies, she crafts desserts that mirror her topsy-turvy life such as "The Key (Lime) to Happiness Pie" and "Betrayed By My Eggs Pie." When a baking contest in a nearby county - and a satisfying encounter with someone new - shows Jenna a chance at a fresh start, she must find the courage to seize it. Change is on the menu, as long as Jenna can write her own perfectly personal recipe for happiness.
Brought to life by a groundbreaking, all-female creative team, this Tony Award-nominated hit features original music and lyrics by 6-time Grammy nominee Sara Bareilles ("Love Song," "Brave"), a book by acclaimed screenwriter Jessie Nelson (I Am Sam) and direction by Tony Award winner Diane Paulus (Pippin, Finding Neverland).
"Waitress is a little slice of heaven!" says Entertainment Weekly, and is "sweet, sassy and passionate," according to New York Magazine. Don't miss this uplifting and hilarious musical.
Video preview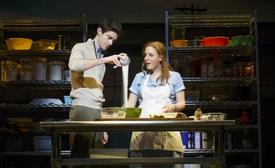 Photo preview
Schedule
Running Time: Two hours and 30 minutes, with one intermission
Featured Reviews For Waitress
'Waitress': Theater Review - Hollywood Reporter
Echoing a weakness in the original screen source, director Diane Paulus and choreographer Lorin Latarro could be criticized for overplaying the whimsy - there's so much going on in scene transitions, with ensemble members gliding around delivering pies, aprons and baking ingredients, that it all becomes a tad cutesy and distracting. But the material is anchored at every step by Bareilles' melodious pop score and Mueller's supremely natural performance as Jenna. While the stock characters that surround her may be familiar, they're a winsome bunch played by sterling performers. As her fellow waitresses - feisty, sass-mouthed Becky and mousy, borderline-OCD Dawn - Keala Settle and Kimiko Glenn are treasures, the dynamic among the three of them revealing the material's debt to Alice Doesn't Live Here Anymore.
Broadway Review: 'Waitress' The Musical - Variety
"Waitress" owes its sweetness to the mouth-watering goodness of Jessie Mueller. As a diner waitress named Jenna, Mueller is such a honey bun, she melts us like the mounds of butter that make Jenna's homemade pies so luscious. The musical resorts to comic overkill to create characters based on Adrienne Shelly's 2007 indie rom-com. But Sara Bareilles has written a charming score that suits the quirky material and Mueller's dazzling voice and endearing personality.