True West - 2018 - Broadway
Opposites attack in Sam Shepard's Pulitzer Prize-nominated play about two brothers with more in common than they think.
Broadway fireworks don't get more combustible than this powerhouse new production - on Broadway through March 17 only. Two of this generation's hottest actors face off as estranged brothers in an empty California home, and the sparks truly fly. The New York Times says, "Ethan Hawke delivers a faultless performance, probably his best ever onstage," and The Wall Street Journal says, "everything Paul Dano does is excitingly surprising." Don't miss director James MacDonald's suspenseful, smoldering True West. "It's as funny as it is serious, as entertaining as it is profound" (New York Stage Review).
James Macdonald directs Ethan Hawke and Paul Dano in the play's first Broadway revival, with set design by Mimi Lien, costume design by Kaye Voyce, lighting design by Jane Cox, hair & wig design by Tom Watson, and original music & sound design by Bray Poor.
Video preview
Photo preview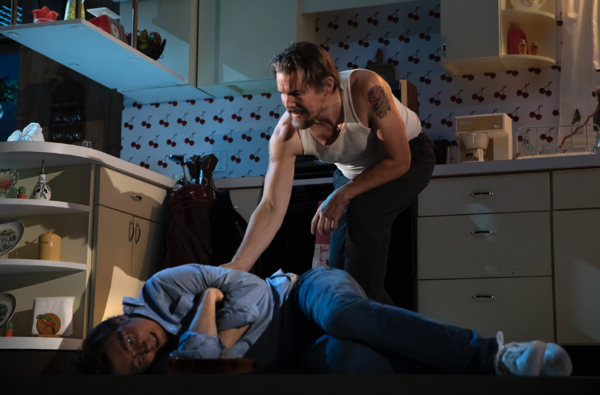 Featured Reviews For True West
Ethan Hawke and Paul Dano Face Off in the Booze-Soaked Brotherly Beatdown 'True West' - Observer
Now the Roundabout Theatre Company takes a whack at this testosterone- and booze-soaked brotherly beatdown, and the results are disappointingly wan. First, credit where it's due: British director James Macdonald treats the script as if it were a well-built drama, and not the scrappy excuse for histrionics and set bashing that it basically is. Macdonald's intelligent, detailed work reveals the play's symmetries, its nicely orchestrated musical qualities that alternate crashing violence and noise with hushed moments of melancholy. In other words, this is the most well-behaved True West I've ever seen.
Review: Ethan Hawke and Paul Dano Go Mano a Mano in the Riveting 'True West' - New York Times
Sam Shepard's wild West just got a lot scarier. I'm talking about that shadowy, shifting desertscape occupied so disharmoniously by the two brothers of Shepard's 1980 masterwork, "True West," which has been given a ripping revival by James Macdonald at the American Airlines Theater. As embodied bya brilliant Ethan Hawke, in full-menace mode, and a tightly wired Paul Dano, everyday sibling rivalry has seldom felt this ominous.