POTUS: Or, Behind Every Great Dumbass are Seven Women Trying to Keep Him Alive - Broadway Tickets, News, Info & More
One 4-letter word is about to rock 1600 Pennsylvania Avenue. When the President unwittingly spins a PR nightmare into a global crisis, the seven brilliant and beleaguered women he relies upon most will risk life, liberty, and the pursuit of sanity to keep the Commander in Chief out of trouble.
Directed by five-time Tony Award® winner Susan Stroman, POTUS is an uproarious Broadway debut by playwright Selina Fillinger. Lilli Cooper, Lea DeLaria, Rachel Dratch, Julianne Hough, Suzy Nakamura, Julie White and Vanessa Williams star in this riotous comedy about the women in charge of the man in charge of the free world.
Video preview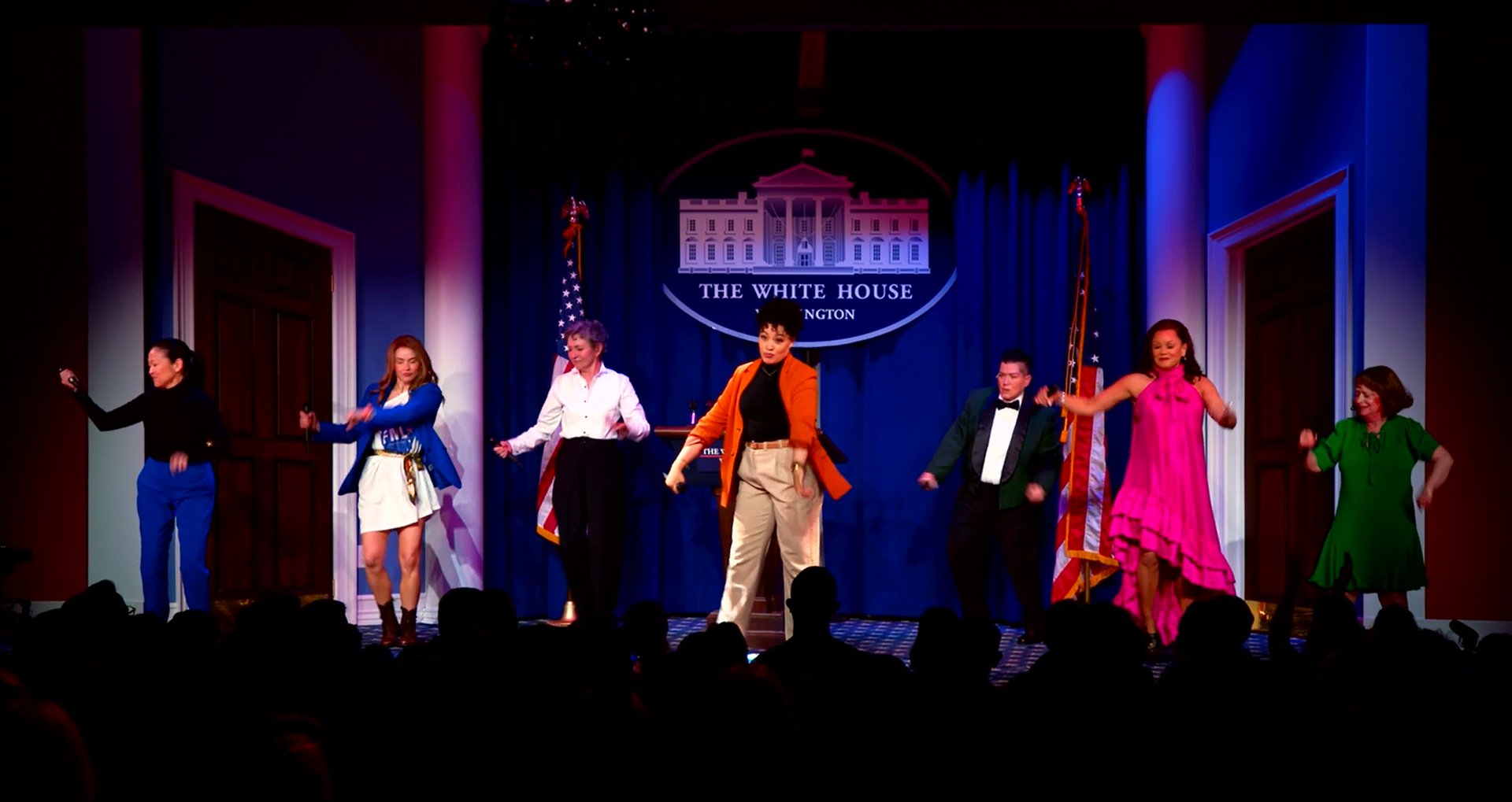 Photo preview
Running Time:
One hour and 45 minutes, with one intermission
Schedule:
Tuesdays: 7 p.m.
Wednesdays: 2 p.m. and 8 p.m.
Thursdays: 7 p.m.
Fridays: 8 p.m.
Saturdays: 2 p.m. and 8 p.m.
Sundays: 3 p.m.
About the Theatre
(New York, NY)
225 West 44th St.
Seating Chart
Featured Reviews For POTUS: Or, Behind Every Great Dumbass are Seven Women Trying to Keep Him Alive
POTUS Broadway Review - New York Theater
If there is a stand-out among these stand-outs, it is probably Julianne Hough as Dusty, whom we first see vomiting blue slushies in the White House bathroom, because she's pregnant...with the president's baby. If Dusty appears to be a stereotypical bimbo, no more capable of having a coherent thought than the flax she grows on a farm in Iowa, little by little we learn that she's extraordinary in a whole host of ways, some of which (but far from all of which) are X-rated. (She's where the ass play comes into play, and that's all I'll say.) Hough, who among her other accomplishments was a two-time champion of "Dancing with the Stars," does triple duty in "POTUS" - at one point, rapping while she plays her body like a drum; at another, leading the rest of the ladies in two different song and dance numbers, which are in the play because....well, why not. Besides, Susan Stroman, four-time Tony winner for choreography (and once for direction), is the director, so why not give her something to do besides stage these characters standing around spouting vulgarities in the different elegant rooms of the White House that spin around on designer Beowulf Boritt's turntable set.
Review: In a Gleeful 'POTUS,' White House Enablers Gone Wild - The New York Times
That physical humor is not always expertly rendered. (Dratch does it wonderfully, but the fight choreography is unconvincing.) And the turntable set (by Beowulf Boritt) that efficiently rotates the early action from room to room, like a White House Lazy Susan, seems by the second act to be spinning of its own accord, signifying hysteria but not giving us much chance to absorb it. (The sitcom bright lighting is by Sonoyo Nishikawa.) As the women move from cleaning up men's messes to making messes of their own, you may feel some of the air, or perhaps the milk, leaking out of the comedy.
POTUS: Or, Behind Every Great Dumbass are Seven Women Trying to Keep Him Alive Broadway Cast
Buy at the Theatre Shop
T-Shirts, Mugs, Phone Cases & More