Gettin' the Band Back Together - 2018 - Broadway
The Tony Award-winning director of Urinetown returns to Broadway with Gettin' The Band Back Together, a hilarious new musical comedy that The New York Times calls, "A feel-good class act! A playful, irreverent, and genuinely funny musical."
He always wanted to be the next Bon Jovi, but Mitch Papadopoulos (Mitchell Jarvis, Rock of Ages) left those daydreams behind for a day job. When this big-shot banker is handed a pink slip on his 40th birthday, he's forced to move back in with his mom (five-time Golden Globe nominee Marilu Henner, "Taxi") in New Jersey.
A run-in with his former music rival leads to a threat of foreclosure on Mitch's family home, unless he can win The Battle of the Bands- a rematch over 25 years in the making. So he dusts off his guitar, gathers his old gang, and sets out to win back his house, his pride- and maybe even the high school sweetheart he left behind- proving it's never too late to give your dreams one last shot.
Video preview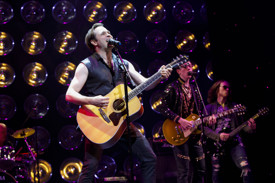 Photo preview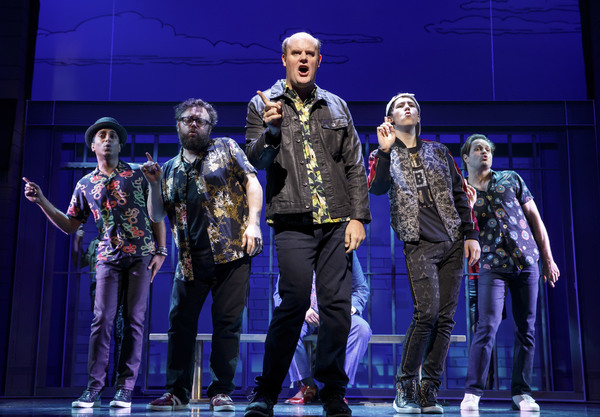 Schedule
Running Time: Two hours and 25 minutes, with one intermission
Featured Reviews For Gettin' the Band Back Together
Review: 'Gettin' the Band Back Together' on Broadway is simply head-banger nostalgia - Chicago Tribune
This isn't a show that worries at all about internal logic or credibility or diversity; it's an ode of lamentation to lost youth, a theme as old as Broadway itself. No crime there and some discount ticketbuyers will have fun. There even are a few touching moments when the musical manages to home in on the repressiveness of small-town lives and dreams.
Broadway's 'Gettin' The Band Back Together' Cranks Up Jukebox Hero Pipe Dreams: Review - Deadline
And given the musical's two-or-three year gestation period, director Rando had plenty of time to trim the repetitions (and cut a couple gratuitous stereotypes from the secondary character line-up). Every bar band has to learn when its riffs are wearing thin.
Gettin' the Band Back Together Broadway Cast