EMH Productions Premieres JACK OF DIAMONDS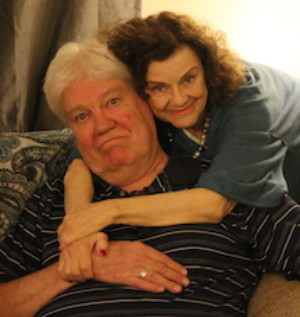 Award winning EMH Productions continues its 7th season with a high stakes comedic romp about a bunch of old people. Okay, older people. And that right there is why EMH selected this play. All too often people over 50, 60, 70 are instantly labeled "Old". This cast of amazing over 60 talent defies that idea and then some. Yes, this script has some stereotypical characters like the 89 year old who can't see or hear, a nurse/administrator who treats them all like errant children, along with some silly antics to boot. But the overall idea here is that life is just as active as ever, and don't mess the retired crowd when it comes to revenge and money! The 3 main leading ladies are all clearly inspired by the cast of Golden Girls' Blanche, Rose and Dorothy: Three very strongly independent women but they need each other to get through the aches and pains of aging along with the unfortunate loss of memory at times. In the words and actions of the leading man Jack Newman, one can spot a little of Klinger, Hawkeye and Colonel Potter from MASH, which I am sure is due to the fact that Jamie Farr (Klinger) had a hand in the process of this hilarious comedy. Even within the cranky nurse one can see shades of Major Hot Lips Houlihan. This script was first produced at the Theatre Aquarius in Hamilton, Ontario, Canada in October of 2015 and was published in 2016. Jack of Diamonds will run from April 26th to Mary 12th, 2018 at The Ooley Theatre, 2007 28th St., Sacramento, CA 95818
Advisory: Seriously funny.
THE PLAY
Jack is a former jeweler who made his living buying and selling diamonds via late-night TV ads. He lives in a rather luxurious, privately-owned retirement home along with his fellow residents: the visually challenged techno-wizard Rose, the artistically gifted but forgetful Flora, and the narcoleptic beauty Blanche. Unbeknownst to the four of them, however, the man to whom they've entrusted their life savings - a smooth-talking financial advisor named Barney Effward - has been arrested for bilking his clients out of their savings through a Ponzi scheme. Faced with financial ruin, the four suddenly find themselves confronting the author of their miserable fate when Effward is unexpectedly delivered among them - along with several million dollars in diamonds. Pandemonium ensues as the four retirees try to find a way to exact their revenge, recoup their losses, and keep the authorities from discovering their plans.
ELISE HODGE - EMH PRODUCTIONS
Producer/Director/Actor/Casting Director/Set Designer
This will be my fourth production working with the ever talented Corey Morris who directed our sold our production of Daddy's Dyin', Who's Got the Will? by Del Shores which ran in April last year of 2017 and made a one weekend sold out reprise in November of 2017. It is with great joy that I co-direct with him on this high jinks comedy full of great one liners and often predictable yet always incredibly funny moments throughout the play. Every year I try to find a play that highlights our talent over 50 here in Sacramento which isn't always easy. All too often they are shows where someone is dying off or just peripheral or the wise old something or other. Past seasons I premiered My Fellow Creatures, Moving Mountains, After Hours, and String of Pearls which showcased the over 50/60 crowd with at least one lead character or the whole cast. I am proud to add Jack of Diamonds to that list of great works. I participate in every production as the producer, set designer and builder, and then additionally as an actor or director in many cases. I have produced over 20 shows in the Sacramento area alone, my roots coming from The 68 Cent Crew based in Los Angeles, CA. I also strongly believe in giving back to the community and often support a local charity with my productions. Some previous productions include World Premiere and award winning These Lonesome Roads by Dan Fagan (2016), Sacramento Premiere of Sex with Strangers by Laura Eason (2017), Goodbye Freddy (2016), An Almost Perfect Person (2015), an original work It's Not Personal (2014) by Brian Diamond, her own original work After Hours ((2013), along with award winning Moving Mountains (2013). For a complete list of all charities and previous shows, visit the EMH website at www.emhpros.weebly.com
THE PRODUCTION
Jack of Diamonds is delighted to have the the formidable talent of Lew Rooker, Deborah Shalhoub, Kate Muris, Georgann Wallace, Ryan Boyd and Chase Weiss in this laugh out loud tour de force. Oh, yeah, and I'm acting in it as well, Elise Hodge.
It is directed by Elise Hodge and Corey Morris who have collaborated on such works as Moving Mountains, Goody-Bye Freddy, and Daddy's Dyin', Who's Got the Will? Corey Morris hails from Modesto, CA where he studied theatre for a time and fell in love, but as with many of us artists, went a more practical route and now works in theatre when he has the opportunity. This is his Sacramento directorial debut and he is thrilled to make it with EMH Productions. His last venture with EMH was as both actor and producer for the hit show Goodbye Freddy in April of 2016.
Lighting Design is credited to Matthew Timoszyk, multiple time Elly award winner, Owner of Garage Studio Production Services & Lost Art Cinema, Resident Technical Director of Faith Christian High School (both located in Yuba City), as well as having served in the US Air Force from 1988-1992.
Performances for Jack of Diamonds will begin on Thursday April 26th, and continue through Saturday May 12th, 2018. Showtimes will be Thursdays/Fridays/Saturdays at 8pm. Performances are at The Ooley Theatre, 2007 28th St., Sacramento, CA 95818.
General ticket prices are $10-$20. Tickets can also be reserved at emhpros@gmail.com, by calling the box office at 916-214-6255 or www.emhpros.weebly.com, or purchased at the door (cash only). The website features our special $15 Friday Nights, and Half Price Tickets (Thursdays only) on Goldstar.
Related Articles View More Sacramento

Stories

Shows
More Hot Stories For You