Sacramento Theatre Newsroom
The latest news on live + streaming theatre in Sacramento.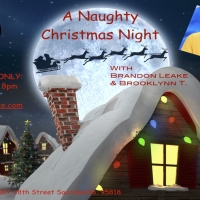 AGT Winner Brandon Leake Will Perform in Sacramento in A NAUGHTY CHRISTMAS NIGHT
by Stephi Wild on December 02, 2022 in Sacramento
 Award winning EMH Productions/The Artist's Collective presents a night of drama and comedy featuring 2 local writers and the talents of Brandon Leake with Brooklynn T. Solomon both in person and live streaming at The Ooley Theatre.
Placer Rep Seeks Home Venue for Season 2023
by Stephi Wild on December 01, 2022 in Sacramento
It is said a home is built with love and dreams and never has that phrase been truer, as Placer Repertory Theater's rise in popularity and programming now propels Placer Rep to seek a home facility for Season 2023 and beyond. 
Review: LIFE SUCKS Doesn't Suck at Big Idea Theatre
by Courtney Symes on November 29, 2022 in Sacramento
Thanksgiving this year was a wonderful gathering at home, enjoying the riches of food and family. Ironically, the next night was spent ruminating about how Life Sucks. This work by playwright Aaron Posner is a modern adaptation of Anton Chekhov's 1898 play, Uncle Vanya. Big Idea Theatre has brought this tale to life with a mishmash of quirky personalities and underground flair.