Latest News on Bob Spiotto
Stage Credits
Productions
[Off-Broadway, 2011]
Director
[New York, 2003]
Director
Bob Spiotto News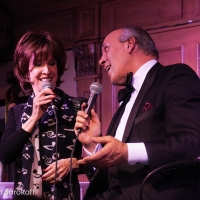 Photo Coverage: 'Baby It's Cold Outside' at the Friars Club as Deana Martin Duets With Steven Maglio
by Stephen Sorokoff - Dec 17, 2019
Some Radio and TV Stations may be refusing to play Frank Loesser's Academy Award-winning song, but Deana Martin and Steven Maglio sang it last night at the Friars Club to a jam packed room of gloriously festive and politically incorrect Friars. They joined the ranks of celebrities who have recorded the tune such as, Idina Menzel & Michael Buble', Esther Williams & Ricardo Montalban, Ella Fitzgerald & Louis Jordan, Margret Whiting & Johnny Mercer and the composer Frank Lesser and his wife Lynn Garland.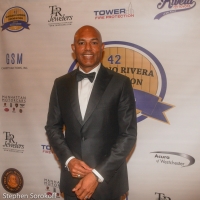 Photo Coverage: Yankee Legend and First-Ballot Hall Of Famer Mariano Rivera Honored At Marina Del Rey
by Stephen Sorokoff - Nov 17, 2019
Last night, celebrities, sports icons, family, and friends gathered at the Mariano Rivera Foundation Gala to benefit The New Learning Center For Children in New Rochelle, NY.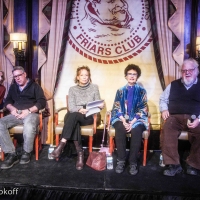 Photo Coverage: Christine Pedi Hosts REMEMBERING THE BLACKLIST at Friars Club
by Stephen Sorokoff - Nov 14, 2019
The Friars Club remembered a dark time in American history yesterday afternoon with a panel discussion led by Christine Pedi exploring the Hollywood Blacklist and McCarthyism in America.
Photo Coverage: An Evening With Irving Berlin at the Friars Club
by Stephen Sorokoff - Nov 13, 2019
If these (Friar) walls could talk you would hear music and conversation from show biz legends of the past. Irving Berlin was a Friar who together with Friar George M. Cohan wrote many musical reviews called Friars Frolics to entertain their fellow Friars. Last night the Friars Club presented "An Evening With Irving Berlin" to celebrate the publication of Irving Berlin: New York Genius by bestselling author and Award Winner James Kaplan.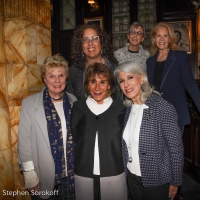 Photo Coverage: Broadway Producers 'Launch' at the Friars Club
by Stephen Sorokoff - Oct 22, 2019
Some of Broadway's leading women producers lunched at the Friars Club today followed by a panel discussion moderated by Friar and Broadway producer Jamie deRoy.  Ms. deRoy who happens to be the 8th woman inducted into the Friars (back in the day), guided the discussion of the distinguished Tony Award Winning group which included Susan Gallin (Other People's Money, Angels in America), Robyn Goodman (Avenue Q, Rodgers & Hammerstein's Cinderella), Mara Isaacs (Hadestown, McCarter Theater), Nelle Nugent (Latin History for Morons, For Colored Girls), and Daryl Roth (Kinky Boots, Indecent).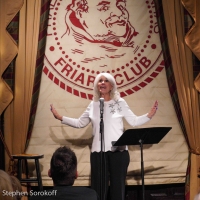 BWW Review: Jamie deRoy and friends Play The Friars Club
by Stephen Sorokoff - Aug 14, 2019
In the theater community Jamie deRoy is a well known Broadway producer but in the Friars community she is also acclaimed as an entertainer. Friar Jamie deRoy furthermore has the distinction of being the 8th woman to become a Friar subsequent to the men's only club changing it's rules in 1988. Jamie deRoy who is usually the earliest to spot an opportunity had to wait behind the likes of Liza Minnelli, Joan Rivers Gloria Allred, and Brooke Shields who were also among the first to join the Friars Club.
Photo Coverage: Marieann Meringolo Performs at the Friars Club & Joins The Legends On The Walls
by Stephen Sorokoff - Jun 26, 2019
It can be quite intimidating to perform in the Friars Club. Pre show a performer might be relaxing in the Billy Crystal Room on the main floor or upstairs in the Barbra Streisand Room.

Photo Coverage: Friars Club Celebrates Julie Budd - A Life In Show Business
by Stephen Sorokoff - May 15, 2019
Friends, Fans, and Friars gathered in the Frank Sinatra Dining Room last night as host and theater historian Richard Skipper 'celebrated' Julie Budd. Julie shared songs and stories from a career that saw her appearing in every major venue, on every major Television Show, and with most of the legendary performers of our generation.

FIDDLER ON THE ROOF In Yiddish Extends Through October 25
by Stephi Wild - Aug 3, 2018
Due to critical acclaim and an entirely sold-out summer run the National Yiddish Theatre Folksbiene (NYTF) has announced a fall extension with a new block of tickets for the American Premiere of the Yiddish language Fiddler on the Roof. Originally announced to play through August 26th, the Yiddish language Fiddler on the Roof that opened on July 15th, will now play through October 25th. The production will continue its run at the Museum of Jewish Heritage with an updated performance schedule that includes Saturday evening performances,

Yiddish FIDDLER ON THE ROOF Extends Run
by Stephi Wild - Jul 12, 2018
National Yiddish Theatre Folksbiene (NYTF) today announced that the highly anticipated American premiere of the Yiddish language Fiddler on the Roof, which began preview PERFORMANCES Off Broadway at the Museum of Jewish Heritage last week, will extend its run for an additional week through September 2 due to demand for tickets. The Press Opening takes place Sunday, July 15 and a VIP gala performance on Monday, July 16. Helmed by Academy Award and Tony Award winner Joel Grey, the acclaimed musical is being presented now for an 9-week limited engagement through September 2.