Photo Flash: Spiderwoman Celebrates 40th Anniversary at La MaMa
An earth-shaking collection of indigenous-feminist performers, bands and performance art groups gathered at La MaMa on Tuesday for an impassioned celebration of Spiderwoman, the world's longest-running Native American theatre company, and one of America's longest continuously active feminist performance collectives. Scroll down for photos from the event!
The Spiderwoman 40th anniversary celebration, entitled "Lu! Lu! Lu! Lu! Spiderwoman Theater Celebrates 40 Years: A Theatrical Benefit" starred a who's who of the downtown theatre scene with roots going back as far as the Open Theater. Presented by La MaMa in association with Spiderwoman Theater, the event was produced by Loose Change Productions.
The night's featured entertainers included Bette Bourne and Paul Shaw of London's groundbreaking drag theatre group Bloolips; the folk-country Thunderbird Sisters, the Leaf Arrow Theatre, and Oneida-Oswegan singer Lacey Hill. Also performing were the Obie Award-winning experimental groups Talking Band and Split Britches' Lois Weaver and Peggy Shaw, who shared some of the MC duties with the fun-loving lesbian cross-culturalist Carmelita Tropicana. Also appearing were the radical indigenous Coatlicue Theatre activists The Colorado Sisters (Hortencia & ElVira Colorado), and, from a younger generation, extended electronics violinist Laura Ortman (founder of Coast Orchestra, and all-Native ensemble, and a member of Brooklyn's Stars and Fleas).
The evening's festivities culminated in a spirited alcohol-free dance-party by acclaimed First Nations electronic group A Tribe Called Red. The band -- nominated for the Polaris Music Prize in Toronto -- were the darlings of this year's iHeartRadio Much Music Video Awards with their powwow step song R.E.D., which nabbed Video of the Year and Best Director.
The main show program also included performances and tributes by Taylor Mac (appearing on video); noted actor/singer/composer Soni Moreno (who designed the celebration's set); La MaMa Safe Harbors Indigenous Collective director Murielle Borst-Tarrant, and Kevin Tarrant and The SilverCloud Singers, among others. Sharing MC duties was Louis Mofsie, director of the Thunderbird American Indian Dancers.
Also appearing were Alessandra Belloni, Henu Josephine Tarrant, Lois Weaver, Monique Mojica, PJ Rose, Randy Reinholz, ShaRon Day, Sid Bobb, Soni Moreno, and Steve Elm.
On hand to toast the company's co-founding members -- sisters Muriel and Gloria Miguel -- were downtown luminaries Mia Yoo (artistic director), Beverly Petty (producing director) and Nicky Paraiso (The Club) of La MaMa; JoAnne Akalaitis; writer and activist Jim Fouratt; George Bartenieff; Elizabeth Streb; and Pat Cruz (Harlem Stage).
Spiderwoman first came onto the New York Theatre scene in 1976, when Muriel Miguel was joined by a diverse group of women, including her sisters Gloria Miguel and the late Lisa Mayo, to form a theater collective concerned with freely exploring gender and race identity, and questioning the deep-rooted inequities on many levels of the prevailing culture. Hailed by Public Theatre director Oskar Eustis as "one of the most influential Native Theatre companies in the history of the country," Spiderwoman Theater continues to develop their signature creation process -- "storyweaving," which layers personal experiences with elements of comedy, dance, and popular culture -- as well as to make bold forays into the realms of gender roles, stereotypes, and family relationships.
"There is a warmth in each of Spiderwoman's works that triggers a transformational experience for audiences," says Carey Lovelace, executive creative director of Loose Change Productions, who co-produced the benefit with La MaMa. "We are proud to support and pay homage to their dazzling talents."
Lu! Lu! Lu! Lu! Spiderwoman Theater Celebrates 40 Years: A Theatrical Benefit performed at the 299-seat Ellen Stewart Theatre at La MaMa, 66 East 4th Street (between 2nd Avenue and The Bowery), on Tuesday September 19 at 7:30pm; there was an after-party featuring A Tribe Called Red. Tickets for the show started at $35. For more information visit www.spiderwomantheater.org.
Photo Credit: Star Black


George Bartenieff, founder Theater for the New City; Louis Mofsie, director Thunderbird American Indian Dancers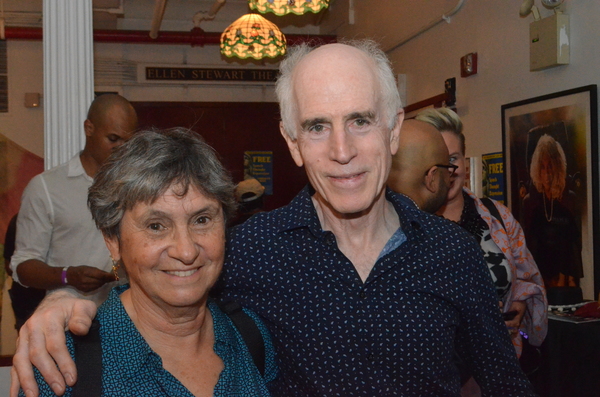 Talking Band's Ellen Maddow and Paul Zimet

Hortencia and Vera Colorado (The Colorado Sisters)

Sagladummad Maximiliano Ferrer-Iguayoikiler -- the Silar, or Chief, from the Island of Nargana -- with Gloria Miguel, founding member, Spiderwoman Theater

Muriel Miguel and JoAnne Akalaitis

SilverCloud Singers with Kevin Tarrant

Beverly Petty, producing director La MaMa, holding 1977 poster of Spiderwoman's The Lysistrata Numbah!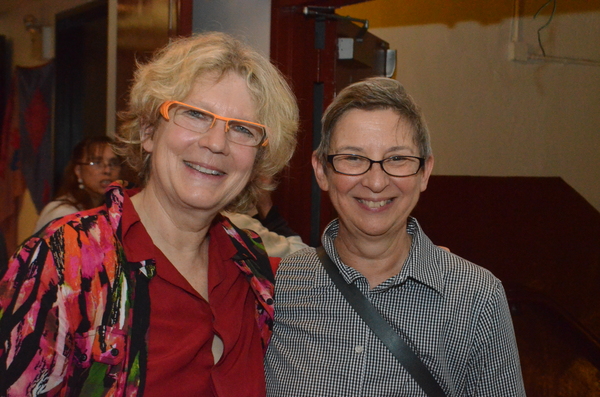 Carey Lovelace, executive director Loose Change Productions, with Linda Chapman, associate artistic director New York Theatre Workshop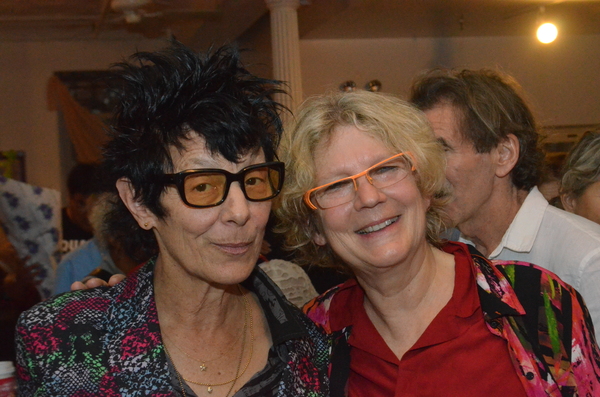 Elizabeth Streb and Carey Lovelace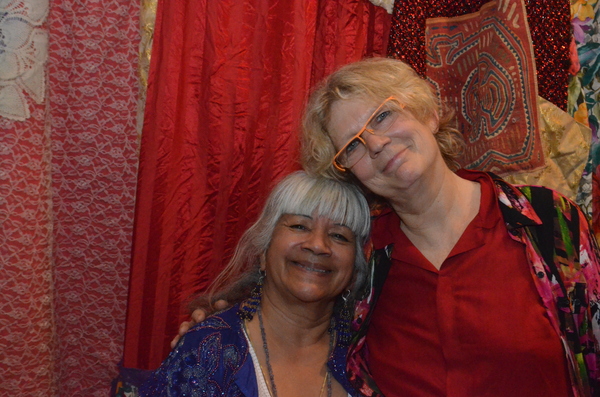 Soni Moreno, performer and set designer of Spiderwoman 40th Anniversary with Carey Lovelace, executive director of Loose Change Productions.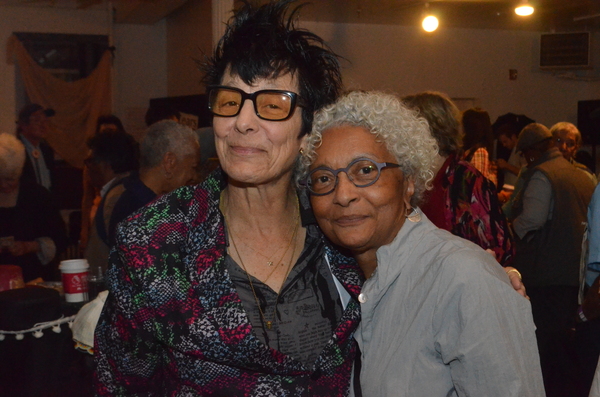 Elizabeth Streb and guest

JoAnn Chase, Pat Cruz (executive director Harlem Stage), Laura Flanders (broadcast journalist, The Laura Flanders Show), Carey Lovelace (executive director Loose Change Productions)

JoAnne Akalaitis, Mia Yoo (dirtistic director, La MaMa), and Nicky Paraiso (director of programming at The Club at La MaMa)

Zach Morris (left) and Tom Pearson (right), co-artistic directors Third Rail Projects

Gloria Miguel (founding member, Spiderwoman Theater), Mia Yoo (artistic director La MaMa)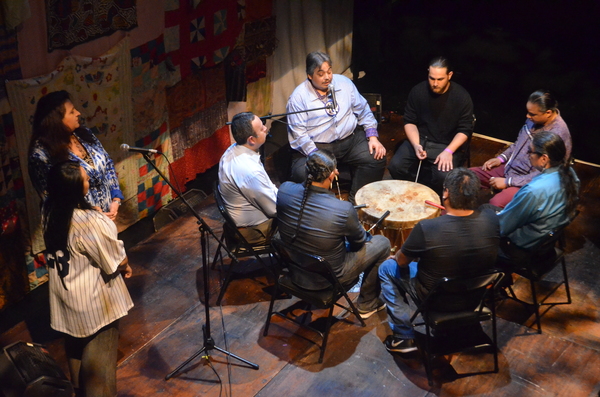 SilverCloud Singers

Laura Ortman

Peggy Shaw and Carmelita Tropicana

Bloolips (Paul Shaw left and Bette Bourne sitting) performing scene from The Importance Of Being Earnest

A scene from Spiderwoman Theater's Material Witness

Muriel Miguel surrounded by 40th Anniversary performers, Loose Change Productions staff, beneath slide of Spiderwoman founding member Lisa Mayo (1924-2013)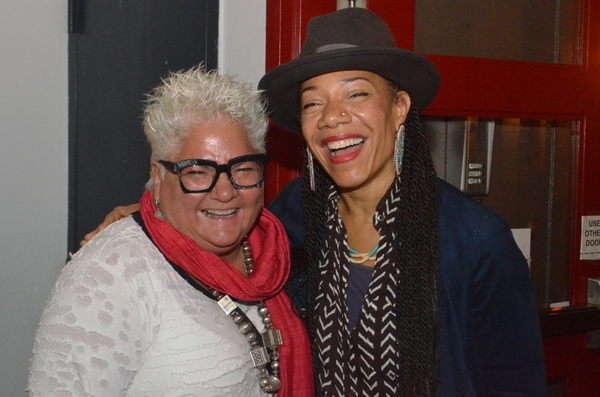 JoAnn Chase and Martha Redbone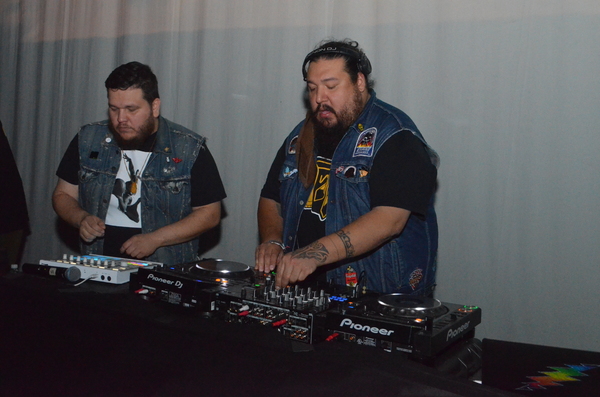 A Tribe Called Red's Tim 2oolman (left) and Bear Witness (right)

A Tribe Called Red (left to right: Ian Campeau, Tim 2oolman, Bear Witness)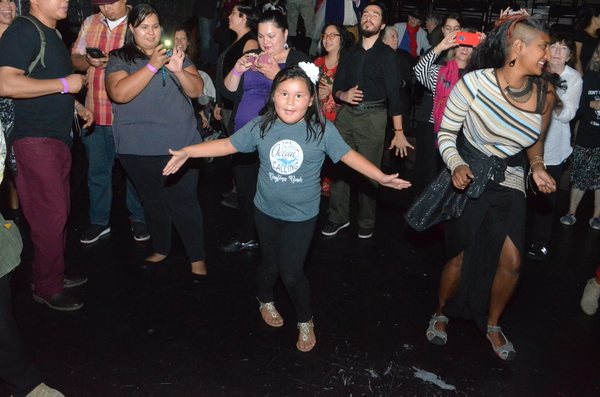 After-party with A Tribe Called Red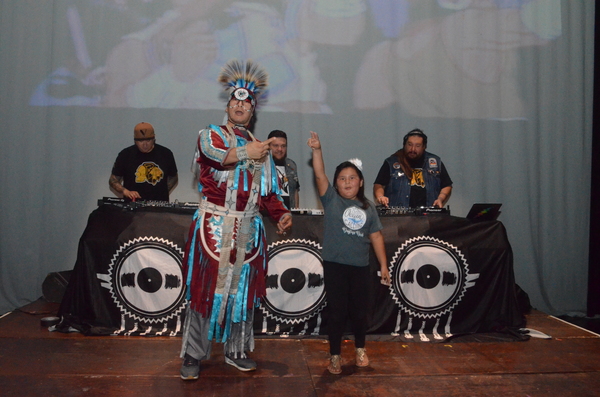 A Tribe Called Red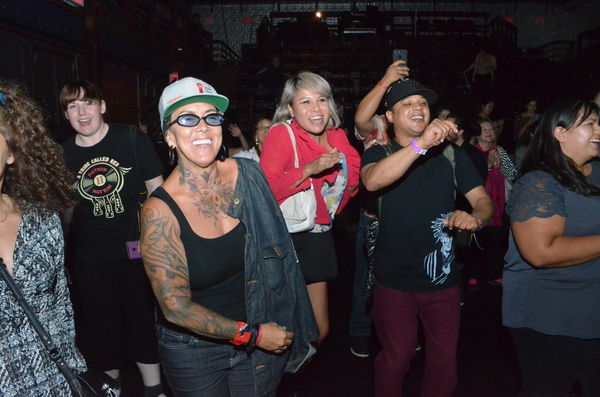 Laura Ortman and others dancing to A Tribe Called Red

Alessandra Belloni, Nancy Grossman and others at dance party

Murielle Borst Tarrant (Muriel Miguel's daughter) with Bloolips' Bette Bourne and Paul Shaw