SHOW
DATES
THEATRE

HOT PICK!





Hay Fever


Come witness Stag & Lion Theatre Co.'s production of Noël Coward's HAY FEVER at The Trinity Theatre (422 West 57th Street in Manhattan). With her New
2/9 - 2/18/2023


Trinity Theatre
422 West 57th Street
New York

HOT PICK!





Oh Yes! Burlesque


Every Thursday At Club Cumming, Tallulah Talons presents world class burlesque in a small, intimate setting. It's also one of the only burlesque shows in
3/18 - 12/30/2023


Tallulah Talons Presents at Club Cumming
505 E. 6th St
10009

From Broadway With Love


Nothing lights up the Broadway musical quite like great love stories, whether they are tales that reflect a star-crossed tragedy or that demonstrate the exhilaration
2/5

Loreto Theater
18 Bleecker Street
New York

Sweat


Road Less Traveled Productions Lynn Nottage
1/12 - 2/5/2023

Road Less Traveled Productions
456 Main St
Buffalo

The Machine Stops


Puppetry, Multi-Media, and Sci-Fi Collide in Theatrical Adaptation of E.M. Forster's "The Machine Stops" In an imagined future where everyone lives alone in identical, underground
1/27 - 2/5/2023

The Mark O'Donnell Theater at the Entertainment Community Fund Arts Center
160 Schermerhorn St, Brooklyn, NY 11201
Brooklyn

Bennett & Barton: We Know A Swing Or Two


      Elena Bennett  and  Fred Barton  will debut their new show, "We Know A Swing Or Two," at Chelsea Table+Stage on Tuesday, February
2/7

Chelsea Table + Stage
152 W 26th St, NY NY 10001
New York

BIG APARTMENT PRESENTS:


One of New York's best sketch groups, Big Apartment is putting on a BIG SHOW. A dynamic and diverse group of actors and writers, Big
2/7

Caveat
21 A Clinton St
New York

Peter Pan Jr


Wendy Darling loves to tell stories to her brothers, Michael and John. But when her father announces she must move out of the nursery, Peter
2/7 - 2/7/2023

St Marys Institute
10 Kopernick Blvd
Amsterdam

The Wildly Inappropriate Poetry of Arthur Greenleaf Holmes


A comedic saunter down the murky iambic back alleys of England's wickedly sly preeminent 16th Century poet of the perverse. Arthur fuses irresponsible humor with
11/9 - 2/9/2023

The Tank
312 West 36th Street
New York

Zeruzandah


+2348034806218 COME JOIN HOME OF RICHES, ZERUZANDAH OCCULT FOR MONEY RITUAL IN AFRICA INDONESIA DUBAI MALAYSIA ITALY GERMANY TURKEY AUSTRALIA OWERRI ABUJA KANO JOS MAKURDI
3/3 - 2/9/2023

Zeruzandah
Block 74 cable point Asaba
Asaba

Zeruzandah


+2348034806218 COME JOIN HOME OF RICHES, ZERUZANDAH OCCULT FOR MONEY RITUAL IN AFRICA INDONESIA DUBAI MALAYSIA ITALY GERMANY TURKEY AUSTRALIA OWERRI ABUJA KANO JOS MAKURDI
3/3 - 2/9/2023

Zeruzandah
Block 74 cable point Asaba
Asaba

Zeruzandah


+2348034806218 COME JOIN HOME OF RICHES, ZERUZANDAH OCCULT FOR MONEY RITUAL IN AFRICA INDONESIA DUBAI MALAYSIA ITALY GERMANY TURKEY AUSTRALIA OWERRI ABUJA KANO JOS MAKURDI
3/3 - 2/9/2023

Zeruzandah
Block 74 cable point Asaba
Asaba

Chevalier Ballet Season Preview and Butterfly Gala


Chevalier Ballet presents its  2023 Butterfly Gala  at Battery Dance studios on February 10th, 2023. The Butterfly Gala raises funds needed to support Chevalier Ballet's
2/10

Battery Dance Studios
380 Broadway, Floor 5
New York City

KILLDEER Album Release


KILLDEER, the bird (Charadrius Vociferous), pretends to have a broken wing to lure predators away from its nest. KILLDEER, the musical work, is a multi-movement
2/10

Tenri Cultural Institute
43A West 13th Street
New York

Up Close On Hope


The beloved Black Box series returns with a lineup of works from FBP's own choreographers. In honor of the company's 45th Season, we're turning the
2/10

Festival Ballet Providence
825 Hope St
providence

BILLY MAY: UNMASKED & UNPLUGGED


BILLY MAY READY TO ROCK BROADWAY! PRE-VALENTINE'S DAY CONCERT! Celebrate Valentine's Day early with NYC's HOTTEST Rockstar, Billy May, at Broadway's premiere destination The Green
2/11

The Green Room 42
570 Tenth Avenue, 4th Floor
New York City

I Need A Hero


I Need A Hero is a one woman show which features dancing, projection, singing, power points, voice over, and embarrassing home videos from 1998 to
2/4 - 2/11/2023

Under St. Marks Theater
94 St. Marks Place
New York

ROCKIN' PRE-VALENTINE'S DAY CONCERT STARRING BILLY MAY: UNMASKED & UNPLUGGED


ROCKIN' PRE-VALENTINE'S DAY CONCERT STARRING BILLY MAY: UNMASKED & UNPLUGGED Celebrate Valentine's Day early with NYC's HOTTEST Rockstar, Billy May, at Broadway's premiere destination The
2/11

The Green Room 42
THE GREEN ROOM 42, Located in YOTEL New York Times Square ON FOUR NYC, Fourth Flour, YOTEL NYC 570 10th Ave New York, NY 10036
New York

So This Is Love: A Valentine's Day Cabaret with Mikayla Petrilla


Valentine's Day is here, so come celebrate at Chelsea Table and Stage! Join  Mikayla Petrilla  in an evening of hilarious and heartfelt songs and stories
2/11

Chelsea Table and Stage
152 W 26th St New York, NY 10001
New York

Up Close On Hope


The beloved Black Box series returns with a lineup of works from FBP's own choreographers. In honor of the company's 45th Season, we're turning the
2/11

Festival Ballet Providence
825 Hope St
providence

Masked Vigilantes on Silent Motorbikes & Air-India's Maharaja: Advertising Gone Rogue


Poster House, the first museum in the United States dedicated to the global history of posters, is pleased offer tickets for the final weeks of
1/9 - 2/12/2023

Poster House
119 West 23rd Street
New York City

Ain't Misbehavin'


Geva Theatre Center
1/17 - 2/12/2023

Geva Theatre Center
75 Woodbury Blvd
Rochester

Fertile Ground


FERTILE GROUND has supported emerging and established artists for 15 seasons, showcasing the work of over 50 choreographers each year. The non-curated program features 6
2/12

Green Space
3724 24th St Fl 2 Suit 212
Long Island City

Girl With a Butterfly Heart


Join us in this world premiere, presented by Chevalier Ballet, of an original story about a transformational friendship between a Little Girl and a monarch
2/12

Theater at St. Jeans
150 East 76th Street
New York

Peter And The Starcatcher


A Magical Journey Thru Stages
2/10 - 2/12/2023

A Magical Journey Thru Stages
875 E Main St
Rochester

Teddy Pendergrass Band 20th Anniversary Reunion


The music of Teddy Pendergrass is on tour! On February 12th The Cutting Room NYC presents Teddy Pendergrass' comeback tour original band reuniting for their
2/12

The Cutting Room
44 East 32nd Street
New York

Gershwin Odyssey


An Epic Cabaret of Legacy and Brotherly Love Rachel and Peter are performing the songs created by George and Ira Gershwin in this epic cabaret
2/13

Don't Tell Mama NYC
343 W 46th St
New York




Back to the Main Page | Browse Local Theatres
---
Latest Off-Off-Broadway Reviews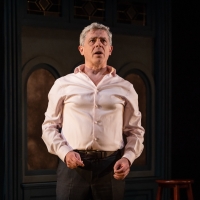 Review: HEAVEN by Fishamble at 59E59 is a Riveting Story of a Married Couple
by Marina Kennedy - January 17, 2023
Fishamble: The New Play Company is currently presenting Heaven at 59E59 Theaters, and this two hander is wowing audiences. ...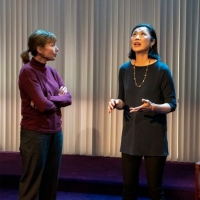 Review: THE UNBELIEVING at 59E59 Theaters- Compelling Play Presents A Meaningful Discussion of Religious Faith
by Marina Kennedy - October 28, 2022
The Civilians, NYC's highly acclaimed downtown theatre company, is currently presenting The Unbelieving at 59E59 Theaters through November 20th....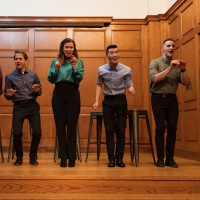 Review: YOU'RE GONNA LOVE TOMORROW! at Theater2020
by Kristen Morale - October 21, 2022
You're gonna truly love tomorrow, and it starts with what you're doing tonight!...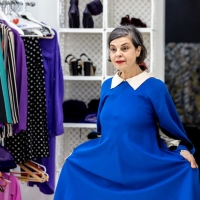 Review: LET ME COOK FOR YOU: THE TRILOGY at Theaterlab
by Kristen Morale - September 19, 2022
Family is truly everything, regardless of who you are or where you happen to come from. Sunday dinner at home with loved ones, sharing an end of the workweek meal with friends, or even among complete strangers - perhaps those who happened to attend the same show one evening, seated beside you in an ...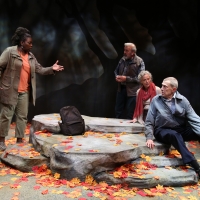 Review: MEMORY EXAM at 59E59 Theaters is Compelling Theater
by Marina Kennedy - September 12, 2022
Now is the time to see a play that has great significance about people dealing with the aging process. The Memory Exam by the Oberon Theatre Ensemble will be performed at 59E59 Theaters through September 25th in Theater C. Get your tickets. The show is already selling out!...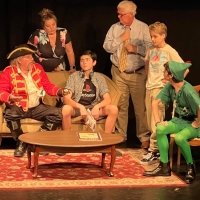 Review: PANDEMONIUM at Theater For The New City
by Kristen Morale - September 09, 2022
Recently concluding its run at both the People's Improv Theater (PIT) and Theater for the New City in New York City, Pandemonium is a new show written by Claude Solbik that, beneath its comical nature, questions whether our fate is truly written for us. A whimsical tale of swashbuckling pirates, tri...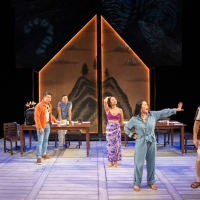 Review: ONCE UPON A (KOREAN) TIME at LA MAMA COMES IN HOT, STIRS THE POT
by Derek McCracken - September 05, 2022
Presented by Ma-Yi Theater Company and directed by Obie-winner Ralph B. Peña, the world premiere of Daniel K. Isaac's ambitious nested-narrative play, ONCE UPON A (KOREAN) TIME comes in hot and stirs the cultural pot, layering traditional Korean folk tales amidst a legacy of trauma, love, and endura...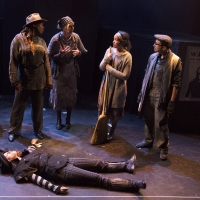 Review: Get Ready to Experience THE PANIC OF '29 at 59E59 Theaters
by Marina Kennedy - August 03, 2022
'The Panic of '29' is now being presented at 59E59 Theaters by Less Than Rent Theatre. Written by Graham Techler and directed by Max Friedman, it's a production that our readers will find very entertaining. The show will be on the Upper East Side stage through August 20, 2022....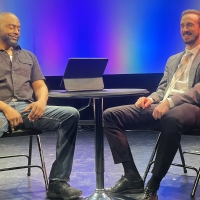 BWW Review: Downtown Urban Arts Festival Celebrates 20 Years This June at Theatre Row
by Kristen Morale - June 07, 2022
The Downtown Urban Arts Festival (DUAF) was founded in 2001 on this basis: to bring a collection of new American works that, in their words, 'speaks to a whole generation whose lives defy categorizing along conventional lines.' In its attempts to bring the spirit of real playwrights and characters t...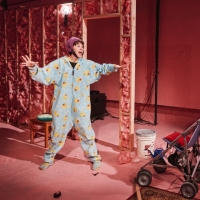 BWW Review: BUGGY BABY Zigzags Down A Humor-Horror Rabbit Hole at APAC
by Derek McCracken - June 06, 2022
Surreal and surreptitious, the comedy-horror BUGGY BABY centers on some displaced immigrants in London seeking normalcy despite the lunacy in their lives. Written by Josh Azouz and directed by Rory McGregor, the US premiere of this twisted tale also features a multi-talented toddler character and a ...