SHOW
DATES
THEATRE
HOT PICK


What the Rain Forgives


Two strangers meet in a church on a rainy night. What follows is a revelation that will force them to confront fate, vengeance, and the
7/7 - 7/24/2022



PHOTOS

VIDEOS

CAST

Players Theatre
115 MacDougal St, New York, NY 10012
New York
HOT PICK


Twelfth Night


Tony Nominee Kara Young will play Viola in the Classical Theatre of Harlem's free production of Shakespeare's Twelfth Night July 5-29 at Marcus Garvey Park
7/5 - 7/29/2022



PHOTOS

Classical Theatre of Harlem
Marcus Garvey Park, New York
Harlem
HOT PICK


The Man Who Shot Liberty Valance


"A Classic Tale of Law & Order Versus Intimidation & Violence in the Old WestWhen Ransome Foster, a scholar from New York City, first came
7/8 - 7/30/2022



PHOTOS

CAST

Gene Frankel Theatre
24 Bond Street, New York, NY 10012
New York
HOT PICK


Strongbox In The Park


A FESTIVAL OF STAGE AND SONG Bring a chair, pack a picnic, and prepare to be entertained! One-act plays and live music in Memorial Park,
7/22 - 8/7/2022



PHOTOS

CAST

Strongbox Theater
Memorial Park 376 Atlantic Avenue
East Rockaway
HOT PICK


Pandemic Burlesque


Every Thursday night, you're invited to a socially distanced burlesque show within Club Cumming! Tallulah Talons, New York nightlife diva and the 6'1 giantess of
3/18 - 12/30/2022



PHOTOS

Tallulah Talons Presents at Club Cumming
505 E. 6th St
10009

9 To 5, The Musical


9 TO 5: THE MUSICAL is a hilarious story of friendship and revenge in the Rolodex era. 9 TO 5: THE MUSICAL tells the story
7/7

Feinstein's/54 Below
New York

Character Parade


See some of the best up and coming character performers in this hilarious showcase. Each comedian gives their best 5-7 minute character set. See the
7/7

Asylum NYC
307 W 26th St, New York, NY 10001
New York City

Disney's Frozen Jr


For the first time in forever the theatrical take on a modern classic, Disney's FROZEN JR is set to be performed right here in the
7/7

Albany Academies
Albany

The Belle of Amherst


Visual content only
7/7

Janet Davies
Lake George

Annie Jr


It's upbeat plot and flamboyant characters have made Annie one of the most beloved musicals in history--what girl hasn't dreamed of performing the title role
7/8

Syracuse Childrens Theatre
Syracuse

Disney's Aladdin Jr.


Greasepaint Theatre for Youth presents Disney's Aladdin Jr. For tickets and information, visit the website.
7/8

Random Farms Kids Theatre
Peekskill

Disney's Camp Rock The Musical One Act Edition


Based on the hit Disney Channel movies, two bands battle it out in a rockin' summer they will never forget.
7/8

Chipinaw Playhouse
Swan Lake

Disney's High School Musical Jr.


Learning Stage: book: David Simpatico; lyrics: Greg Cham, Ray Cham, Andy Dodd, Matthew Gerrard, Faye Greenberg, Jamie Houston, David N. Lawrence, Bryan Louiselle, Robbie Nevil,
7/8

Kjk Productions Inc
Scarsdale

Disney's Newsies Jr.


Tenacre Country Day School
7/8

Syracuse Childrens Theatre
Syracuse

Disney's The Jungle Book Kids


The jungle is jumpin? with jazz is this exciting Disney classic! Join Mowgli, Baloo, King Louie and the gang as they swing their way through
7/8

Saratoga Childrens Theatre
Saratoga Springs

Disney's Frozen Jr


For the first time in forever the theatrical take on a modern classic, Disney's FROZEN JR is set to be performed right here in the
7/8 - 7/9/2022

St Stephens Church
Grand Island

Disney's The Lion King Kids


Introduce theatre to your classroom today! Explore, Create and Share the arts with this easy-to-use, multi-media program.
7/9 - 7/9/2022

Music Academy Of Western New York
Hamburg

GUSTAVO CASENAVE TRIO


Two-Time Grammy Winner Pianist Gustavo Casenave Returns With His Trio to Flushing Town HallThe concert will feature Latin Jazz elite bassist Ricky Rodriguez and drummer
7/9

FLUSHING TOWN HALL
137-35 Northern Blvd., Flushing, NY 11354
FLUSHING

Moving Verse


Moving Verse presents dance choreography inspired by poetic words and expressions, a collaboration between poetry & dance. A project supporting the Building Equity Initiative for
7/9

Jamaica Center for Arts and Learning
165 Park Row, Suite 11F
Jamaica

THE MUSIC CENTER'S SUMMER SOUNDWAVES: La Marisoul y Son California


The Music Centers Summer SoundWaves outdoor concert series returns to Jerry Moss Plaza where some of L.A.s favorite Latin music artists will take the stage
7/9

The Music Center
Jerry Moss Plaza at The Music Center
Los Angeles

Tick Tick Boom!


A musical look at the courage it takes to follow your dreams, strongTICK, TICK... BOOM!/strong is a href="http://mtishows.com/biography.asp?writerid=3622"Jonathan Larson/a's autobiographical tale of a young composer
7/9

Plaza Studios
Lynbrook,

Bragging Rights


A group of actors and comedians that have been randomly drafted into 2 separate teams go head to head as the audience and guest judges
7/10

Asylum NYC
307 W 26th St, New York, NY 10001
New York City

Red Light Winter


Matt and Davis are burgeoning, literary intellectuals off on a wild, dreamlike romp around Amsterdam. Well, at least Davis is. Matt is suicidaland ruining Daviss
7/7 - 7/10/2022

TheaterLab NYC
173 Humboldt St, Brooklyn NY 11206
New York City

Seussical Jr.


Horton the Elephant, the Cat in the Hat, and all of your favourite Dr. Seuss characters spring to life onstage in Seussical jr, a fantastical
7/9 - 7/10/2022

Tarrytown Music Hall
Tarrytown

Shrek The Musical Jr


Beauty is in the eye of the ogre in Shrek The Musical JR., based on the Oscar-winning DreamWorks Animation film and fantastic Broadway musical. It's
7/9 - 7/10/2022

Amt Entertainment
New York

The Parts I Keep Inside


The Parts I Keep Inside is a complex and impressive new [musical] (Cabaret Scenes Magazine) that delves deep into the many intertwining storylines that make
7/9 - 7/11/2022

The Triad Theater
158 West 72nd Street
New York

Ragtime


Forestburgh Playhouse
6/30 - 7/12/2022

Forestburgh Playhouse
Forestburgh

Make The Cut


Did your high school have losers? Were you that loser? Well nows your chance to laugh at an even bigger loser. Join comedian and student
7/13



PHOTOS

Asylum NYC
307 W 26th St, New York, NY 10001
New York City

Regarding David Beach


An actor's interview becomes a series of hilarious short form improv games!Actor David Beach (Something Rotten, Veep) sits down with an interview about the more
7/13

Caveat NYC
21a Clinton Street
New York

MYRIAM PHIRO'S BASTILLE DAY CELEBRATION


It's French National Day, and internationally acclaimed chanteuse Myriam Phiro invites you to a unique Soire en musique! Charles Trenet, Edith Piaf, Charles Aznavour, and
7/14

Joe's Pub
425 Lafayette Street (at Astor Place) New York, NY 10003
New York




Back to the Main Page | Browse Local Theatres
---
Latest Off-Off-Broadway Reviews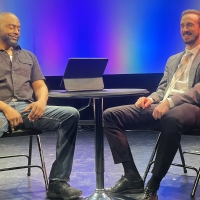 BWW Review: Downtown Urban Arts Festival Celebrates 20 Years This June at Theatre Row
by Kristen Morale - June 07, 2022
The Downtown Urban Arts Festival (DUAF) was founded in 2001 on this basis: to bring a collection of new American works that, in their words, 'speaks to a whole generation whose lives defy categorizing along conventional lines.' In its attempts to bring the spirit of real playwrights and characters t...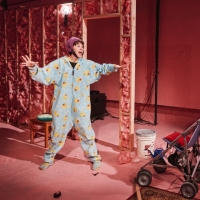 BWW Review: BUGGY BABY Zigzags Down A Humor-Horror Rabbit Hole at APAC
by Derek McCracken - June 06, 2022
Surreal and surreptitious, the comedy-horror BUGGY BABY centers on some displaced immigrants in London seeking normalcy despite the lunacy in their lives. Written by Josh Azouz and directed by Rory McGregor, the US premiere of this twisted tale also features a multi-talented toddler character and a ...
BWW Review: THE LUCKY STAR at 59E59 Theaters is a Compelling Drama in the Theater's VOLT Festival
by Marina Kennedy - May 06, 2022
We attended a poignant production of The Lucky Star produced by The Directors Company, that featured outstanding direction by Noah Himmelstein, and an excellent cast....
BWW Review: COSMICOMICS at The New Stage Theatre
by Derek McCracken - April 19, 2022
Thematically expansive within its intimate performance space, the paradoxical primordial soup swirling in COSMICOMICS blends the essential elements of earth, air, fire, and water with music, storytelling, ballet, and absurdist humor....
BWW Review: Peter Welch's LARRY AND LUCY A Work of Sheer Beauty at Theater for the New City
by Kristen Morale - April 14, 2022
A story of two people sets the stage for some wondrous things to happen. Each understands what the other is going through, and ultimately becomes what the other needs. The story of Larry and Lucy is such a story. An Uber driver jaded by life meets a teenage girl who has turned to drugs in her attemp...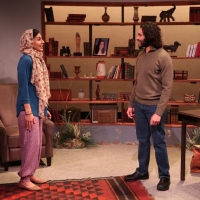 BWW Review: HEARTLAND at 59E59 Theaters-A Powerful Story Excellently Presented
by Marina Kennedy - March 29, 2022
Live theatre is back, and we are so pleased to visit 59E59 Theaters and see Heartland, a production presented by Geva Theatre Center. This outstanding play is written by Gabriel Jason Dean, superbly directed by Pirronne Yousefzadeh and features a top-notch cast....
BWW Review: SOMETIME CHILD: A RECLAMATION AND A REDEMPTION at Theater For The New City
by Joe Lombardi - March 18, 2022
On one side of the stage there is a tony law office with its desks, books and golf clubs.  The opposite side is a representation of a poor urban neighborhood.  Garbage litters the ground.  Stark contrasts between the 'haves' and the 'have nots' are on full display in the new play Sometime Child: a R...
BWW Reviews: The Conflicts of Fact, Fiction and Freedom in Solnik's THE UNAMERICAN
by Kristen Morale - March 18, 2022
Recently concluding performances at Theater for the New City, The UnAmerican questions the power that is supposedly given to those who believe they are above the consensus of the many. Directed by Joe John Battista, Solnik's play follows the troubled triad of relationships between Marilyn Monroe, El...
BWW Review: THE LEMON GIRLS OR ART FOR THE ARTLESS at La MaMa
by Derek McCracken - March 16, 2022
These ladies don't lunch; they launch, twist, lurch, pop and topple. Meet Lorca, Topo, Nivea and Pinny: the more-sweet-than-tart troupe in LEMON GIRLS OR ART FOR THE ARTLESS. The comedic performance-art-within-a-play follows a group of New York City senior (70ish) girlfriends, all alumnae of Lemon E...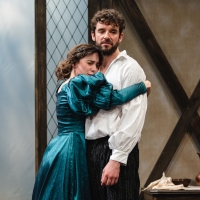 BWW Review: JANE ANGER at New Ohio Theatre Gets Even and Gets Laughs with a Shakespearean Twist
by Derek McCracken - March 14, 2022
Mixing history, mystery, sword play and word play, JANE ANGER takes a jab at right-sizing Shakespeare and does so with hilarious results. Billed as a "Jacobean feminist revenge Comedy," the one-act play written by Talene Monahon provides ample opportunity for us to hate on the egotistical bard while...