SHOW
DATES
THEATRE
HOT PICK


Pandemic Burlesque


Every Thursday night, you're invited to a socially distanced burlesque show within Club Cumming! Tallulah Talons, New York nightlife diva and the 6'1 giantess of
3/18 - 12/30/2022



PHOTOS

Tallulah Talons Presents at Club Cumming
505 E. 6th St
10009

American Dream


We talk a lot about the "American Dream," but what about the American nightmare? Playwright Manuel Ortiz Ossandon re-imagines Caldern de la Barca's "Life is
9/8 - 9/24/2022



CAST

Teatro LATEA
107 Suffolk Street
New York

And so you see...


AND SO YOU SEE... OUR HONOURABLE BLUE SKY AND EVER ENDURING SUN... CAN ONLY BE CONSUMED SLICE BY SLICE... NEW YORK CITY PREMIERECo-presented with Crossing
9/22 - 9/24/2022

New York Live Arts
219 W 19th St
New York

One Dame Funny Night


Dame Edna's award-winning Honorary Understudy is making her NYC debut at Dont Tell Mama! Named by the real Dames creator, Barry Humphries, as the Honorary
9/23 - 9/24/2022

Dont Tell Mama
343 W. 46th St
New York

Science Comedy Saloon


NYCs best science comedians gather together to throw you a big-ol nerd-tastic standup comedy party. Join dropout paleoanthropologist Kyle Marian (Asians Strike Back: Coronavirus Show,
9/24

Caveat NYC
21A Clinton St
New York City

The Book of Will


Allen Elizabethan Theatre: Lauren Gunderson; music: Paul James Prendergast; dir: Christopher Liam Moore.
9/9 - 9/24/2022

County Players Inc
Wappingers Falls

The Dinner Detective Comedy Murder Mystery Dinner Show


Americas LARGEST interactive comedy murder mystery dinner show is now playing in New York City, NY!At The Dinner Detective Murder Mystery Dinner Show, youll tackle
9/24

The Dinner Detective NYC
Downstairs at 22 Warren St
New York

You Are Not Alone: An Uplifting Show About Depression


SATURDAY, SEPT 24 - You Are Not Alone: An Uplifting Show About Depression, unites improvisers and artists that battle depression and mental illness in their
9/24

Magnet Theater
254 West 29th St (btwn 7th and 8th Ave.) New York City, NY 10001
New York

Fear of Clowns


New York Citys one and only circus-themed cabaret is coming back to Dont Tell Mama. FEAR OF CLOWNS: a Circus cabaret features Rachel Murdy, Peter
9/25

Don't Tell Mama
343 W 46th St
New York

Forbidden Broadway Greatest Hits Volume 1


Visual content only
9/22 - 9/25/2022

Glens Falls Community Theatre
Glens Falls

George D Hernandez Music Art Festival


FEATURING "AndreYAH Black...puts on a show that is drop-dead wonderful...."- Amsterdam News "Natalya Medvedovskaya.. the most significant addition..." - Los Angeles Times "Luana Sandoval sings
9/25



CAST

Triad Theatre
158 West 72nd Street @6pm
New York

Godspell-2012 Revised Version


Godspell book by John-Michael Tebelak music & lyrics by Stephen Schwartz conceived & originally directed by John-Michael Tebelak based on The Gospel According to St.
9/10 - 9/25/2022

Creative Theatre Group Incorporated
Monroe

Honeymoon In Vegas


A romantic romp from New York to Vegas to Hawaii, this musical about saying "I Do" is non-stop, laugh-out-loud fun.
9/9 - 9/25/2022

Post Theatre
Fort Tilden

How I Learned to Drive


Visual content only
9/9 - 9/25/2022

Albany Civic Theatre
Albany

Once


Schenectady Light Opera Company
9/16 - 9/25/2022

Schenectady Light Opera Company
Schenectady

Rabbit Hole


Visual content only
9/9 - 9/25/2022

Tim Gleason
BINGHAMTON

Rovaco Dance Party 2022


Rovaco Dance Company presents their fourth annual Rovaco Dance Party on Sunday, September 25th in Greenpoint, Brooklyn at Triskelion Arts. This evening of music, dance,
9/25

Triskelion Arts
106 Calyer Street
Brooklyn

The Beauty Queen of Leenane


Martin McDonagh Modern Classics Theatre Company of Long Island
9/16 - 9/25/2022

Modern Classics Theatre Company of Long Island
Syosset

The Edge of 30


Come join the birthday celebration! On The Edge of 30 is a variety show for the AGES! A night full of Sketch, Characters, Stand Up
9/25

Asylum NYC
307 W 26th St, New York, NY 10001
New York City

l'Odge d'Oor (all things with eyes must sleep) (2022) & The Suitcase


Directed by Preston Miller from a concept by producer Mark Jacobson, The Suitcase tells the story of a down-on-his-luck salesman who purchases a new valise
9/26

The brick
579 Metropolitan Avenue Brooklyn NY 11211 By the corner of Metropolitan Ave and Lorimer St
NYC

Shamilton


Ever heard of this show Hamilton? Shamilton is just like that, but (ahem) better! Expect the same level of hip hop, incredible songs, moving storytelling,
9/12 - 9/26/2022

Asylum NYC
307 W 26th St, New York, NY 10001
New York City

Shitzprobe


Shitzprobe! Where a special Broadway Guest Star improvises a musical for their very first time, based on an audience suggestion of a title of a
9/26

Asylum NYC
307 W 26th St, New York, NY 10001
New York City

Airline Highway


New York University
9/21 - 9/27/2022

New York University - Drama Dept
New York

Schoolhouse Rock Live! Jr


The Emmy® Award-winning Saturday morning educational cartoon series is now the basis for one of the most fun, energetic, and easily mounted musicals ever to
9/27 - 9/27/2022

Ps 84 Jose De Diego
Brooklyn

The Curious Incident of the Dog in the Night-Time


Evening Standard, Mail on Sunday, Sunday Telegraph, Sunday Express, Independent, Daily Mail Winner of seven 2013 Olivier Awards, this highly- acclaimed National Theatre production embarks
9/21 - 9/27/2022

New York University - Drama Dept
New York

Faith: The Competitive Edge with Lonnie Ali


The Sheen Center proudly presents Faith: The Competitive Edge a motivational speaker series featuring inspirational, one-on-one conversations with athletes, entrepreneurs, leaders, and artists of faith
9/28

The Sheen Center
18 Bleecker Street
New York




Back to the Main Page | Browse Local Theatres
---
Latest Off-Off-Broadway Reviews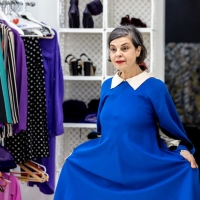 Review: LET ME COOK FOR YOU: THE TRILOGY at Theaterlab
by Kristen Morale - September 19, 2022
Family is truly everything, regardless of who you are or where you happen to come from. Sunday dinner at home with loved ones, sharing an end of the workweek meal with friends, or even among complete strangers - perhaps those who happened to attend the same show one evening, seated beside you in an ...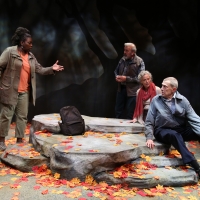 Review: MEMORY EXAM at 59E59 Theaters is Compelling Theater
by Marina Kennedy - September 12, 2022
Now is the time to see a play that has great significance about people dealing with the aging process. The Memory Exam by the Oberon Theatre Ensemble will be performed at 59E59 Theaters through September 25th in Theater C. Get your tickets. The show is already selling out!...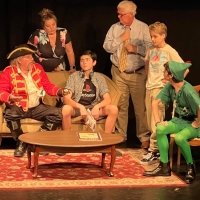 Review: PANDEMONIUM at Theater For The New City
by Kristen Morale - September 09, 2022
Recently concluding its run at both the People's Improv Theater (PIT) and Theater for the New City in New York City, Pandemonium is a new show written by Claude Solbik that, beneath its comical nature, questions whether our fate is truly written for us. A whimsical tale of swashbuckling pirates, tri...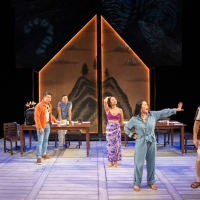 Review: ONCE UPON A (KOREAN) TIME at LA MAMA COMES IN HOT, STIRS THE POT
by Derek McCracken - September 05, 2022
Presented by Ma-Yi Theater Company and directed by Obie-winner Ralph B. Peña, the world premiere of Daniel K. Isaac's ambitious nested-narrative play, ONCE UPON A (KOREAN) TIME comes in hot and stirs the cultural pot, layering traditional Korean folk tales amidst a legacy of trauma, love, and endura...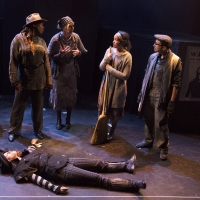 Review: Get Ready to Experience THE PANIC OF '29 at 59E59 Theaters
by Marina Kennedy - August 03, 2022
'The Panic of '29' is now being presented at 59E59 Theaters by Less Than Rent Theatre. Written by Graham Techler and directed by Max Friedman, it's a production that our readers will find very entertaining. The show will be on the Upper East Side stage through August 20, 2022....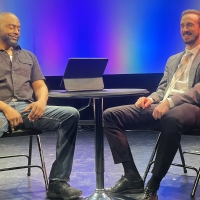 BWW Review: Downtown Urban Arts Festival Celebrates 20 Years This June at Theatre Row
by Kristen Morale - June 07, 2022
The Downtown Urban Arts Festival (DUAF) was founded in 2001 on this basis: to bring a collection of new American works that, in their words, 'speaks to a whole generation whose lives defy categorizing along conventional lines.' In its attempts to bring the spirit of real playwrights and characters t...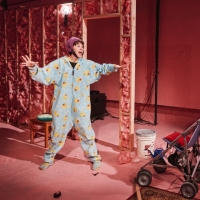 BWW Review: BUGGY BABY Zigzags Down A Humor-Horror Rabbit Hole at APAC
by Derek McCracken - June 06, 2022
Surreal and surreptitious, the comedy-horror BUGGY BABY centers on some displaced immigrants in London seeking normalcy despite the lunacy in their lives. Written by Josh Azouz and directed by Rory McGregor, the US premiere of this twisted tale also features a multi-talented toddler character and a ...
BWW Review: THE LUCKY STAR at 59E59 Theaters is a Compelling Drama in the Theater's VOLT Festival
by Marina Kennedy - May 06, 2022
We attended a poignant production of The Lucky Star produced by The Directors Company, that featured outstanding direction by Noah Himmelstein, and an excellent cast....
BWW Review: COSMICOMICS at The New Stage Theatre
by Derek McCracken - April 19, 2022
Thematically expansive within its intimate performance space, the paradoxical primordial soup swirling in COSMICOMICS blends the essential elements of earth, air, fire, and water with music, storytelling, ballet, and absurdist humor....
BWW Review: Peter Welch's LARRY AND LUCY A Work of Sheer Beauty at Theater for the New City
by Kristen Morale - April 14, 2022
A story of two people sets the stage for some wondrous things to happen. Each understands what the other is going through, and ultimately becomes what the other needs. The story of Larry and Lucy is such a story. An Uber driver jaded by life meets a teenage girl who has turned to drugs in her attemp...