Off-Off-Broadway Interviews
The latest interviews about live + streaming theatre in Off-Off-Broadway.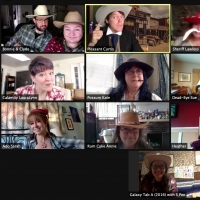 Shelby Bond Discusses Creating Virtual Immersive Theater Experiences Through 'Adventure Parties'
by Chloe Rabinowitz - March 12, 2021
For those of us (all of us) who are missing the joys of experiencing a live performance, actor and producer Shelby Bond has the perfect solution. Bond has created the exciting and interactive Adventure Parties, bringing immersive theater directly to you on Zoom....
Ivan Anderson Talks Improv, Emails and More About CyberTank's Weekly Live Performance Series EMAIL PRO
by Chloe Rabinowitz - September 15, 2020
Ivan Anderson has created an entirely original, completely improvised show around the concept of writing and sending emails to strangers, and the result is the highly entertaining and incredibly creative Email Pro....